Always fantasized about attending a big blow-out India wedding, complete with days of celebration, delicious food, vibrant interiors and spectacular clothing?
Crashing a random couple's nuptials isn't advisable, but there might still be a way to snag an invite.
That's where start-up JoinMyWedding.com steps in. A global initiative co-founded by entrepreneur Orsi Parkanyi in 2016, it connects Indian couples tying the knot with travelers keen for the ultimate cultural experience.
"You get to experience all the different cultural elements in one go: meet with local people, taste the local cuisine, dress [in] Indian attire, music, ambiance, entertainment, learn about the local customs, even architecture, depending on wedding venue," Parkanyi tells CNN Travel.
Cultural experience
When she was in her early 20s, Hungarian-born Parkanyi relocated to Australia and lived there for over a decade. She loved it, but being on the other side of the world meant missing the weddings of many of her close childhood friends.
About three years ago, Parkanyi found herself back in Hungary chatting with a woman who told her about the dozens of weddings she was attending that summer.
"She also shared that a few years back, she attended a traditional Indian wedding in India, and that it was the most amazing experience of her life," says Parkanyi.
Parkanyi found herself reflecting on all the wedding invites she had to turn down – and found herself increasingly interested in the traditions and festivities associated with an Indian wedding.
"So the idea formed, what if there was a way for people to join authentic weddings around the world?"
The concept appealed to her, surely it would appeal to others too?
Parkanyi saw a gap in the growing experiential travel market for wedding tourism.
Of course, for such an initiative to work there had to be both supply and demand. Couples would have to be keen to host strangers on the biggest day of their lives.
This was another reason why concentrating on Indian weddings made sense.
"We looked at different countries and India seemed the best option, because people there are really open to open up their wedding," says Parkanyi.
Plus, nuptials in India are usually on a pretty huge, grand scale – think thousands of guests – and the wedding industry there is flourishing.
It's also been very important for Parkanyi and her team to familiarize themselves with the traditions associated with Indian weddings of all religions.
"They are beautiful and amazing, but they are all different," she says.
She spoke to over 400 couples to familarize herself with proceedings, and says she's still learning.
Parkanyi has a background in the digital startup space – she ran a women's network called Women as Entrepreneurs in Australia.
"That's my background. I've been in the startup space for probably 10 years now," she says.
"How could you let a stranger at your wedding?"
Parkanyi began marketing the concept on social media, attracting the attention of Namrata Nataraj and her partner, who were planning their Banglore-based wedding.
The couple spotted an ad on Facebook for JoinMyWedding, immediately signed up and when their nuptials rolled around, they had six additional faces in attendance – from Australia, Ireland and New Zealand.
"We were thrilled," Nataraj tells CNN Travel.
"The two of us didn't get to interact with them a lot because we were busy, but my friends and my cousins who were taking care of them were with them constantly."
Perhaps unsurprisingly, some of Nataraj's friends and family were skeptical about her opening up her wedding in this way.
"Relatives and some of the friends, they were a little apprehensive. 'How could you let a stranger at your wedding?' They were not sure how to treat them or anything," she recalls.
But once her international guests arrived – and they were respectful, interested and engaged – everything worked out.
"My cousins were explaining them what was happening, why this ritual is taking place and everything," she says. "But I think they were mostly thrilled about the food and the music."
For guests, the experience costs $150 for one day and $250 for two or more days of the wedding.
The cost includes entry to the wedding, food and drink and advice and guidance from a dedicated guest – nominated by the couple – who takes the guest under their wing. Transport, accommodation and clothing rental isn't included.
"The most incredible and unique cultural experience"
So what's it like to pay to crash an Indian wedding?
For Carly Stevens and her fiance Tim Gower, it was unforgettable.
Stevens and Gower are an Australian couple living in Brisbane who run The Travel Status, a blog documenting their self-described "millennial sabbatical."
Stevens read a newspaper article about JoinMyWedding and her interest was immediately piqued.
"My mother was born in India and moved to Australia when she was five," Stevens tells CNN Travel. "I grew up always wanting to go back to my roots and find out more about my heritage and culture so in planning our round-the-world trip I made it a bucket-list item to visit India and experience a Hindu wedding."
The couple attended the wedding of Amarjeet and Surahabi in Delhi, in November 2017. "I wanted to experience the colorful rituals, grand feasting and traditional ceremonies," says Stevens.
Prior to attending, Parkanyi stepped in to introduce Stevens and Gower to the couple over the instant message app WhatsApp.
"They were so excited to have us join their wedding," says Stevens. "They also introduced to the wedding planner who made some suggestions on where we could rent outfits for the wedding, and what attire would be appropriate on each day."
"On the eve of the wedding, we were invited to the Mehndi ceremony – where henna is applied to the arms – as a way of wishing the bride good health and prosperity," says Stevens. "It was an intimate affair with the bride's closest friends and family so this made us feel really welcomed."
The following day was the wedding celebration, which Stevens calls "without a doubt the most incredible and unique cultural experience."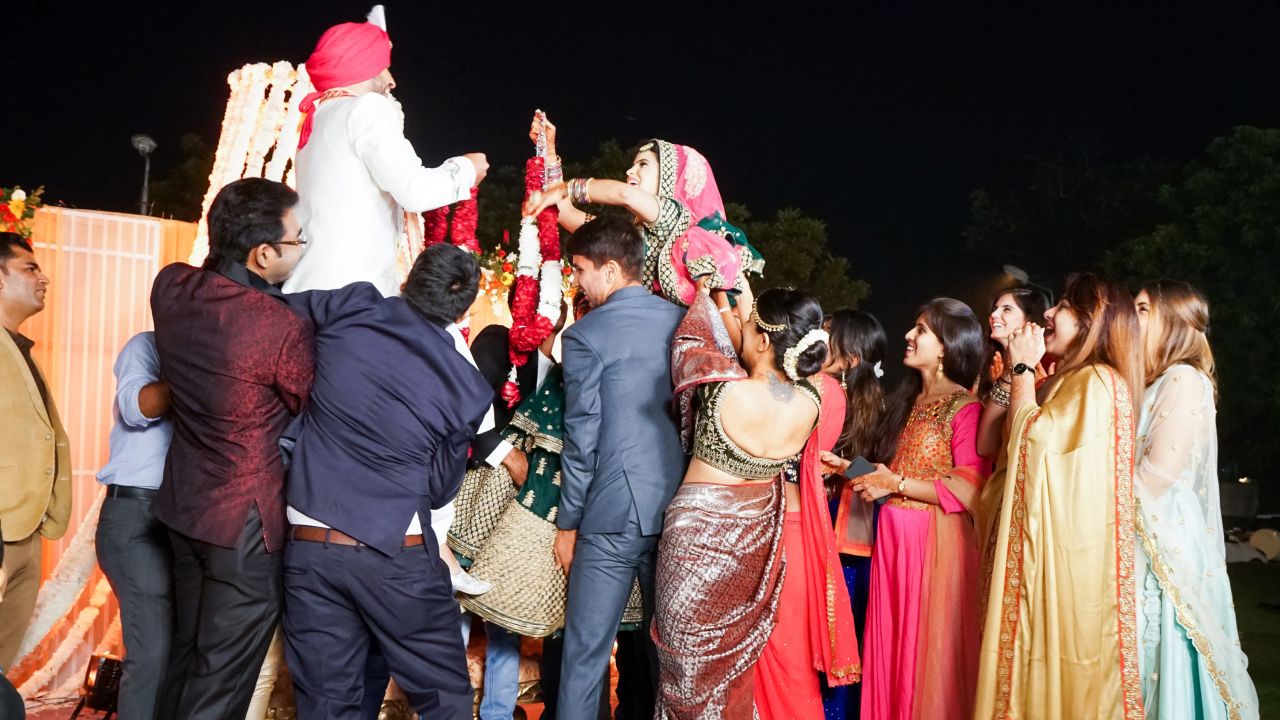 Stevens says she was struck by every detail, "from all the traditional elements of the ceremony, down to beautiful Mehndi, colourful outfits, genuine hospitality, and exotic food."
On top of that, it was incredibly social.
"We have never felt so welcome by complete strangers, and we went knowing nobody but left with so many wonderful new friends," she adds.
A year on, Stevens has been recommending the experience to all her friends and fellow travelers and covered it on The Travel Status' Instagram account.
"An Indian wedding should be at the top of every travelers' bucket list. We hope our experience inspires others to travel deeper and to seek out genuine cultural experiences," she says.
Onwards and upwards
Parkanyi says the best part about JoinMyWedding for both the hosts and the guests is the opportunity for cross-cultural connection.
She's pleased with how the first couple of years of the venture have panned out, but she knows there's still some way to go.
There've been one or two weddings where things haven't gone as smoothly – she says the team has learned the need for absolute precision with providing location.
"There's a lot of education involved in this as well," says Parkanyi. "So we want to make sure that this is a great experience for everybody and there's lots of different things that obviously the travelers need to be aware of."
On the whole, however, it's been a world of mouth and social media success.
"Every time we have a wedding, there's another 50 couples [who] register," she says.
Plus, the travelers share a wealth of updates on social media.
At first, JoinMyWedding was aimed more at people who were already traveling in India. Now, Parkanyi says, travelers are planning their trips around potential weddings.
Plus, the project is already expanding outside of India – JoinMyWedding is currently orchestrating guests attending an Indian wedding in Florida.
Parkanyi is confident about the future of JoinMyWedding:
"I think there's a really good buzz […] and we are leveraging that as much as we can – so hopefully we are creating a new trend, a new traveler trend globally where people can experience each other's cultures through attending."