Story highlights
Always a leader in safaris, Kenya is continuing to raise standards
Modern safaris camps come with comforts like Turkish baths and four-poster beds
The leisure safari was born in the 1920s when well-heeled Europeans and Americans flocked to Africa to see (and shoot) the remarkable wildlife.
Reflecting the excess of the Roaring Twenties they traveled in style – tented camps outfitted with satin sheets and silver servings, gramophones and gourmet food and, of course, endless gin and tonics.
With safaris led by the legendary big-game hunter Denys Finch Hatton and celebrity visitors as varied as Ernest Hemingway, Prince Edward (before he was Duke of Windsor) and Teddy Roosevelt, Kenya set the safari bar higher than anywhere else in Africa.
And it continues that way today. Kenya continues to push the outer edge of the wilderness envelope in ways that visitors in the 1920s could not ever have imagined.
From tricked-out safari trucks and lavish private planes to "tents" that could easily double as Park Avenue penthouses, the modern Kenyan safari doubles down on comfort and pampering.
Read on to discover eight over-the-top safari experiences in Kenya:
1. Finch Hattons Luxury Camp
Located in the middle of Tsavo West, one of Kenya's largest and oldest (1948) national parks, Finch Hattons channels the spirit of its celebrated namesake.
The famed aviator's favorite safari spot, Tsavo is where Finch Hatton segued from hunting to photographic safaris and where he died in a 1931 Gypsy Moth crash.
Completely rebuilt in 2013, the camp's roomy "tents" – including a $3,750 per night presidential canvas – perch on the edge of a natural spring inhabited by hippos, crocodiles and copious bird life.
Arrayed around the camp are a full-service spa with Turkish bath and open-air yoga platform, a lagoon-like infinity pool, air-conditioned gym, a small museum with natural history curiosities and a relic-filled bar that Hemingway would have lapped up.
In addition to the restaurant, guests can also reserve meals in a romantic roof-top area that's like something out of the "Arabian Nights" – pillow-strewn sofas and Oriental carpets set around a dining table with uninhibited views of the Milky Way.
"Finch Hattons is a place for people who have a feel for bygone romance," says camp manager Jonathan Mutisya.
Rates from $590 per adult (low season).
Loisaba
Almost completely destroyed by a 2013 bush fire, Loisaba reopened in May of this year at an even higher standard of luxury and comfort than its previous iteration.
In addition to regular luxury tents – all of which offer jaw-dropping views across the plains to snowcapped Mount Kenya – the reincarnated camp will soon feature a super-exclusive canvas enclave with private pool, scheduled to open in July.
Loisaba's most outrageous overnight experience are the mobile Starbeds – handcrafted four-poster beds built into the back of Land Rover flatbeds and rolled onto open-air decks at night so that guests can sleep beneath the star-filled African sky.
A dedicated oenophile, camp manager Jani Scheffer has stocked the wine cellar with a tasty selection of vintages from South Africa and beyond.
Rates from $385 per person (low season).
Ol Jogi Ranch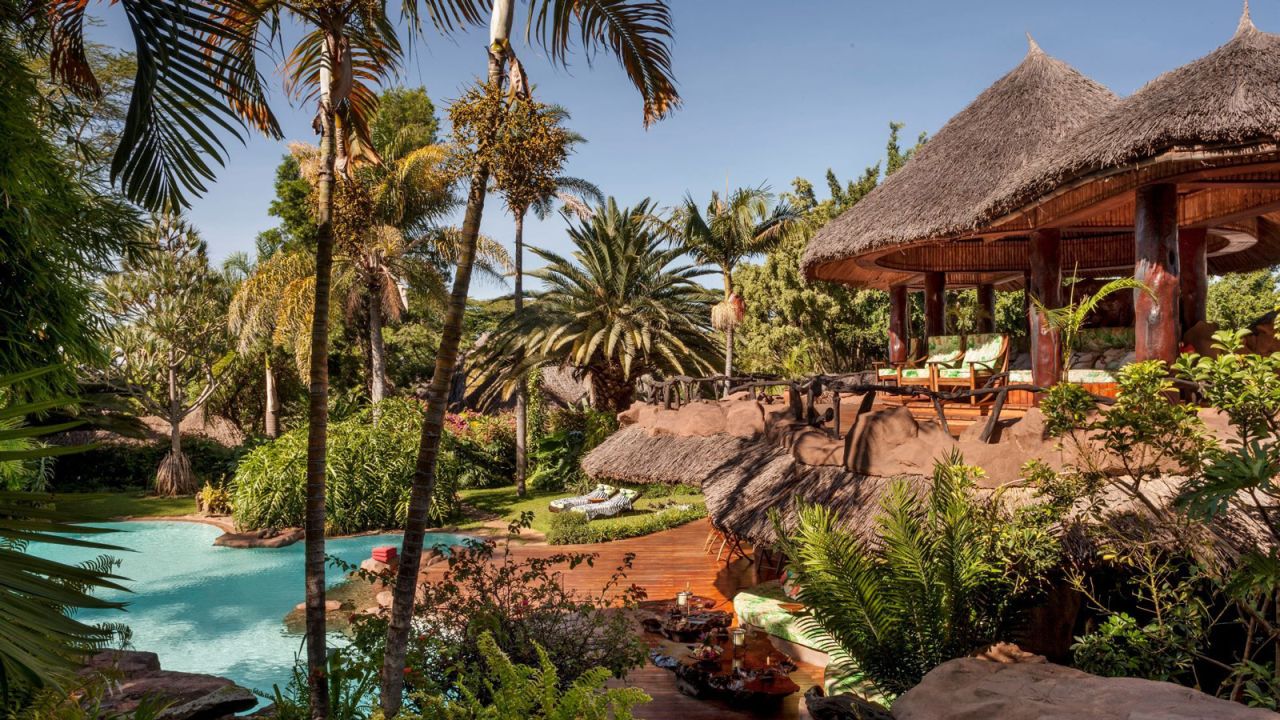 This private game reserve in the wilderness north of Nairobi offers one of Kenya's most exclusive safari experiences.
Once the domain of billionaire French art dealer Alec Wildenstein and his eccentric wife Jocelyne "The Cat Woman" Wildenstein, the one-time cattle ranch is now dedicated to the preservation of endangered species.
What makes Ol Jogi unique (and ultra-extravagant) is the fact the sprawling manor house, its satellite cottages and the rest of the ranch is only available for exclusive use for prices hovering around a quarter of a million dollars per week.
"The experience I'm trying to offer here is how you would have seen Africa maybe 20 or 30 years ago," says ranch director Alec Wildenstein Jr. on the reserve website.
"There is no other place in Africa where you can have an entire 60,000-acre wildlife conservancy entirely to yourself. You will never see another tourist, never see another mini van."
Exclusive use $200,000 to $300,000 per week.
Ol Jogi Ranch, Nanyuki, Kenya; info@oljogihome.com.
The world's best luxury dive resorts
Ol Pejeta House
The one-time safari retreat of Saudi Arabian billionaire arms dealer and jetsetter Adnan Khashoggi, this two-story wilderness manse is now managed by the upmarket Serena group.
Among Ol Pejeta's many opulent features are a drawing room with baronial fireplace, a personal chef who tailors menus to the tastes of each guest, four bedrooms and a guest cottage, as well as two swimming pools and extensive gardens.
Kashoggi's crash pad is located amid the Ol Pejeta Conservancy, a private game reserve on the west side of Mount Kenya renowned for its landmark rhino and chimp conservation programs.
Doubles from $311 (low season).
Elewana Flying Safari
Continuing the tradition set by Finch Hatton and Prince Edward (later Duke of Windsor) in the late 1920s when they pioneered the flying photographic safari, Elewana recently launched SkySafari Kenya.
Carried out in an executive class Cessna Grand Caravan based at Nairobi's Wilson Airport, the eight-day trips feature stops in Amboseli, Meru and Maasai Mara national parks, with optional extensions to Diani Beach on the Kenyan coast or Zanzibar in neighboring Tanzania.
Overnight accommodation is at luxury lodges in each location including Elsa's Kopje, Sand River and Tortilis Camp in the bush, and Hemingways Nairobi.
From $6,429 per person (low season).
skysafari.com; +255 27 250 0630 / 1 - 9; info@skysafari.com
Mahali Mzuri
With around 150 camps, lodges and other places to stay overnight – and dozens of vehicles surrounding the same pride of lions – Maasai Mara has morphed into the safari equivalent of Disneyland.
But several places buck the mass tourism trend including Richard Branson's Mahali Mzuri camp in Olare Motorogi Conservancy on the outskirts of the national reserve.
The architecture alone makes this wilderness retreat a standout: a dozen futuristic "tents" designed and fabricated by Nairobi-based canvas maestro Jan Allen and rustic chic interiors by London's Real Studios.
In Swahili the name means "beautiful place," and it certainly is that, set on a hillside overlooking the grassy plains where a million wildebeest and hundreds of thousands of other animals migrate each year.
From the Gordon Ramsey-trained chef to exotic spa treatments (like the Orinka stick massage), the camp reflects Branson's unique blend of panache and adventure.
The entire camp is available for exclusive use at $18,240 per night.
Doubles from $800 (low season).
Alfajiri
Overlooking the fine white sands of Diani Beach, this luxury villa complex offers a completely different take on the Kenya safari experience.
While proximity to the Indian Ocean is undoubtedly the main attraction – scuba diving and snorkeling, kite surfing and deep-sea fishing – Alfajiri is also an ideal base for exploring coastal game reserves like Shimba Hills and Mwaluganje Elephant Sanctuary.
With thatched roofs and huge wooden doors, two of the three villas flaunt local Swahili design while the third seems plucked straight from the Caribbean.
Alfajiri's private chefs blend local ingredients (like straight-from-the-boat seafood) with European cooking techniques introduced by the expatriate Italian owners.
British comedian Rowan Atkinson and Rolling Stones guitarist Ron Wood are among the celebrities who have realized "beach and bush" safaris at Alfajiri.
Villas from $1,000 for two people (low season).
Cottar's 1920s Safari Camp
If Richard Branson's camp represents the new way to do the Mara in style, then Cottar's is a throwback to olden days and ways.
Quiet elegance is the hallmark of a luxury camp created by the fifth generation of the Cottar family, which launched their Kenyan business right after the First World War.
Although the Mara camp was established just two decades ago, the digs look and feel as if they've been around since the golden age of East African safaris – roomy canvas tents outfitted with family antiques and heirlooms, sturdy four-poster beds and even khaki-colored pith helmets.
Guests can spin vintage vinyl on a gramophone in the dining room, enjoy tea from a silver service, compose their journal entry on an antique typewriter, or request an open-air soak in a portable canvas camp tub.
The five-bedroom Homestead, with its own staff of eight and a private swimming pool, is available from $4,610 per night.
Rates from $571 per person (low season).
Joe Yogerst is a freelance travel, business and entertainment writer based in California.