With the world's biggest obsession with plastic surgery and some of the fastest-evolving beauty technology, spas and cosmetic lines in the world, South Korea is a bona fide beauty destination.
According to a government survey, the items tourists want to purchase the most while visiting are Korean beauty products.
With good reason. Korean cosmetic brands introduce products made from exotic ingredients seemingly every month – Jeju Island volcanic clay, soybeans, traditional Korean medicine and, of course, snail guts.
Cool concept brands debut each year. In 2012, it was Frostine, "the world's first refrigerated skincare line."
Of foreign tourists, Chinese and Japanese shell out for Korean beauty products the most. According to Amorepacific, the country's largest cosmetics company, with 40% market share, Chinese tourists accounted for a whopping 40.1% of total domestic sales in 2011, while Japanese tourists accounted for 9.1%.
"We see Chinese customers buy three to five sets of the Sulwhasoo Timetreasure line at a time as gifts," says Amorepacific spokesperson Sunghae Kweon.
Here's what to snap up while you're in town. Incheon duty free is the one exception we'll make to our strict ban on buying gifts at the airport.
Skincare/cleansing
Iope Bio Essence Intensive Conditioning
"This was one of the hottest new items that debuted last year," says Yumi Cho, beauty editor of "Woman Joongang" magazine.
Cho puts Iope's Bio Essence at the top of her must-have list of skin products.
Meant to be used after toner and before moisturizer, "the effect is amazing – it smooths rough skin," says Cho.
The men's essence is massively popular with the Korean gents, and can be used in place of toner. It's a great gift for women and men in their twenties and thirties.
O HUI age recovery super anti-aging essence
One of the higher-end Korean cosmetic brands, O HUI spent two years developing its anti-aging line using collagen type III, also known as baby collagen, as an ingredient, which is supposed to make the skin return to childlike softness.
innisfree it's real mask
Here's an interesting fact: When North Korea conducted its nuclear test in February 2013 and the world reeled in shock, the top keyword searched on South Korea's main portal site was innisfree, due to the fact that the plant-based cosmetics brand was having a sale that day.
The innisfree masks come in a variety of options, work well and are cheap (during sales the company promotes buy-10-get-10-free deals). Recommended varieties: royal jelly and Jejubija.
innisfree also carries sleeping masks, which come in tiny capsule-like containers that make cute, fun gifts.
innisfree olive real cleansing foam/cleansing tissue
Made with organic olive extract, innisfree's organic olive real cleansing foam cleanses thoroughly without leaving oily residue, and has a lovely natural scent.
The same goes for its cleansing sheets, which are great for travel: Ziploc-bag a sheet for each day you're away, and use just before the cleansing foam.
Tip: the sheets don't work all that well with waterproof eye makeup.
VDL NAKED Cleansing Oil Cream (Strong)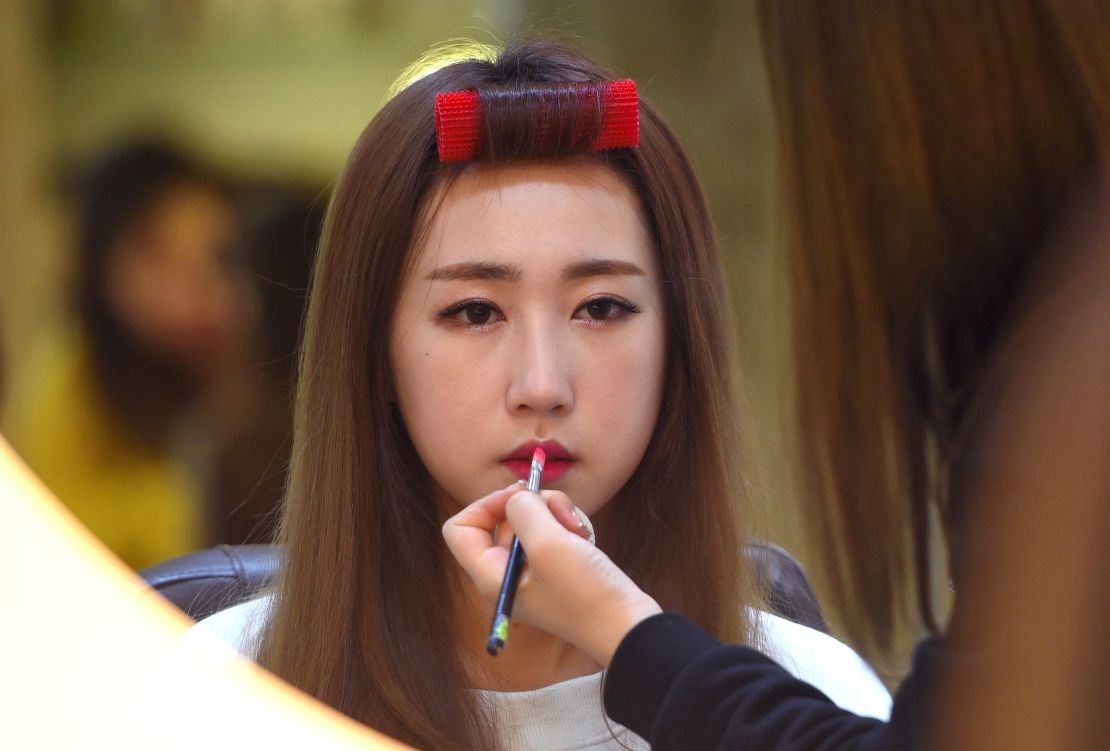 Launched in 2012, VDL's flagship store is located on the trendy tree-lined Garosugil in Gangnam.
Judging from the matte colors and font it's using, the brand seems to be channeling M.A.C., but has dreamed up some innovative products of its own.
Top recommendation: the Cleansing Oil Cream (Strong) is a clear jelly that spreads smoothly over skin and wipes off easily. All traces of even the most stubborn of waterproof mascaras are obliterated, and you don't have to deal with the dripping of oil cleansing products.
It's a good gift for women in their twenties – the brand explicitly states it markets at the 25-year-old.
su:m37 White award detox mask
One of the best-selling products at duty-free stores, su:m37's wash-off face mask uses naturally fermented ingredients including the acai berry for deep cleansing, brightening and soothing. Think Bliss Triple Oxygen mask, but with a more calming effect.
Convenient to use in the shower, after cleansing. Cover your entire face with a thick layer, leave on for five to seven minutes, then rinse off.
Hera Homme Cell brightening dual essential mask
Korea has the largest mens cosmetics market in the world, and most Korean cosmetic brands have an accompanying mens line.
Beauty editor Cho recommends the Hera Homme Cell brightening dual essential mask for men looking to lighten dull, damaged skin. Contains caffeine, horse chestnut seed extract and Nicotinamide – a water-soluble vitamin.
Laneige Water Sleeping Pack_EX
This best-selling intensive moisturizing mask took top honors at the Cosmo Asian Beauty Awards in 2011 and also received the Allure Korea Best of Beauty Award the same year. We know weary interns at hospitals who swear by this – it's the only thing that keeps them looking human, they say.
illi total aging care body oil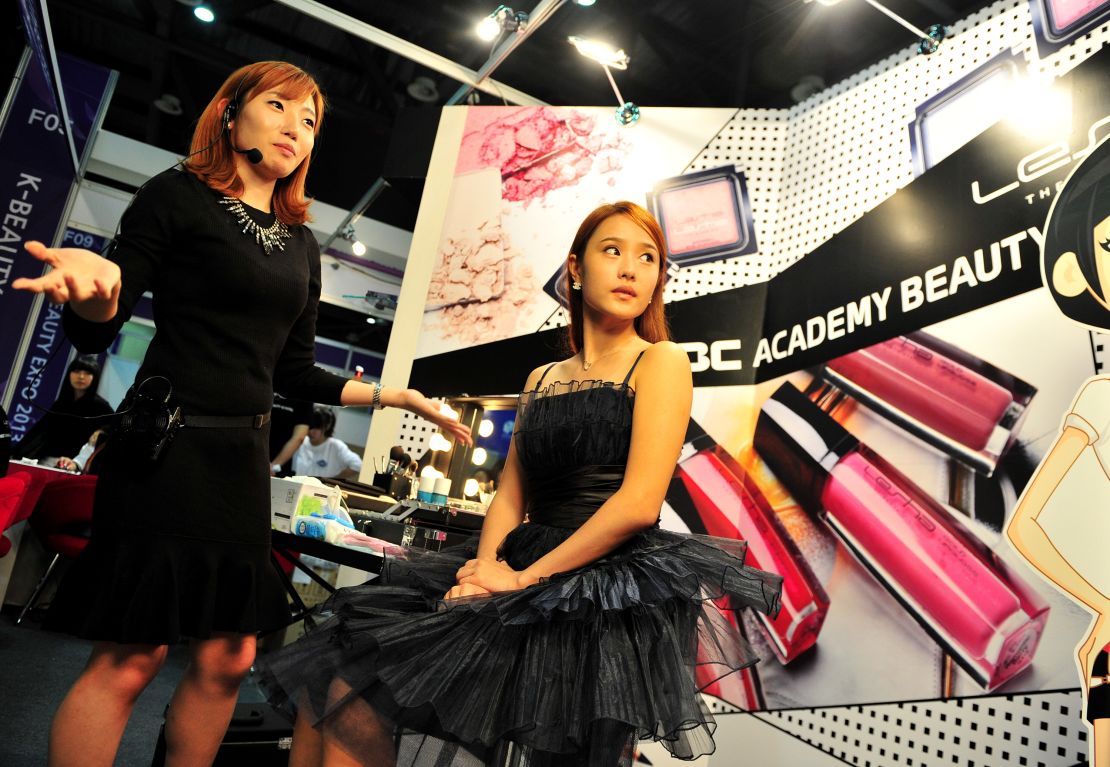 Hair and face products made with traditional Korean medicine ingredients have become massively popular in recent years, and now the trend is extending to body lines as well.
illi is the latest cosmetic brand launched by Amorepacific Group. It features 20 body products across five lines that use ingredients like ginseng, fermented beans, camellia and green tea extract.
Cho particularly recommends using the body oil on the thighs and stomach.
"There's no stickiness whatsoever, and I've noticed a definite change in my skin texture after I started using it," she says. "When I heard it was a traditional Korean medicine product I thought it would smell like ginseng, but was pleasantly surprised at the subtle floral scent."
Hera Rouge Holic in Seoulista
This creamy lipstick goes on divinely and stays on for hours, reminding you why lipstick should make a return over lip gloss – there's none of that goopy residue that spills out awkwardly over lip lines. The summery Camellia Orange color goes particularly well with darker skin. But the Seoulista – with its slightly tangerine hue – is the perfect gift from Seoul.
Amorepacific Treatment Color Control Cushion SPF 50+/PA+++
It started with the phenom that is BB cream – a light mix of sunscreen, moisturizer and foundation that was meant to be a quick facial fix.
Then Hera debuted the "mist cushion" – a moist compact that was an even quicker fix than BB cream.
Amorepacific's new color control cushion – abbreviated to "CC cushion" – is the latest, most evolved version that's probably the highlight of all Korean cosmetics combined. Counting bamboo sap and green tea treatment complex as its main ingredients, "it keeps your skin moist while giving you full coverage," raves Cho.
Etude House heart blusher
The Forever21 of Korean makeup, Etude House is geared toward the girliest of girls – and Japanese tourists.
Each store is decorated to look like Barbie's dream closet and everything in it is tiny, pink and heart-shaped.
The lip products here tend to be quite goopy, but the blushes have a great range. They're so affordable you can buy all the colors you've always wanted to experiment with – like bright orange or light purple.
The heart blusher – think Guerlain Meteorites but instead of "pearls" you get candy-like hearts. Most adult women won't think much of the baby pink plastic casing, but teens and tweens will love it. Matching cute pink brushes sold separately.
VIDI VICI Small Face Case in All That Face
VIDI VICI is Korea's most well-known makeup artist Lee Kyung-min's cosmetic line. She designed this small face case herself after seeing her clients' makeup needs, and it's pretty much the coolest single makeup kit ever created.
The round metal case has four sliding layers of face powder, highlighter, cheek blush and shading blush with SPF 15 respectively and is another favorite of beauty editors. The blush is light and natural while the highlighter gives skin a subtle glow.
VIDI VICI Illumi Styler in 02 Breeze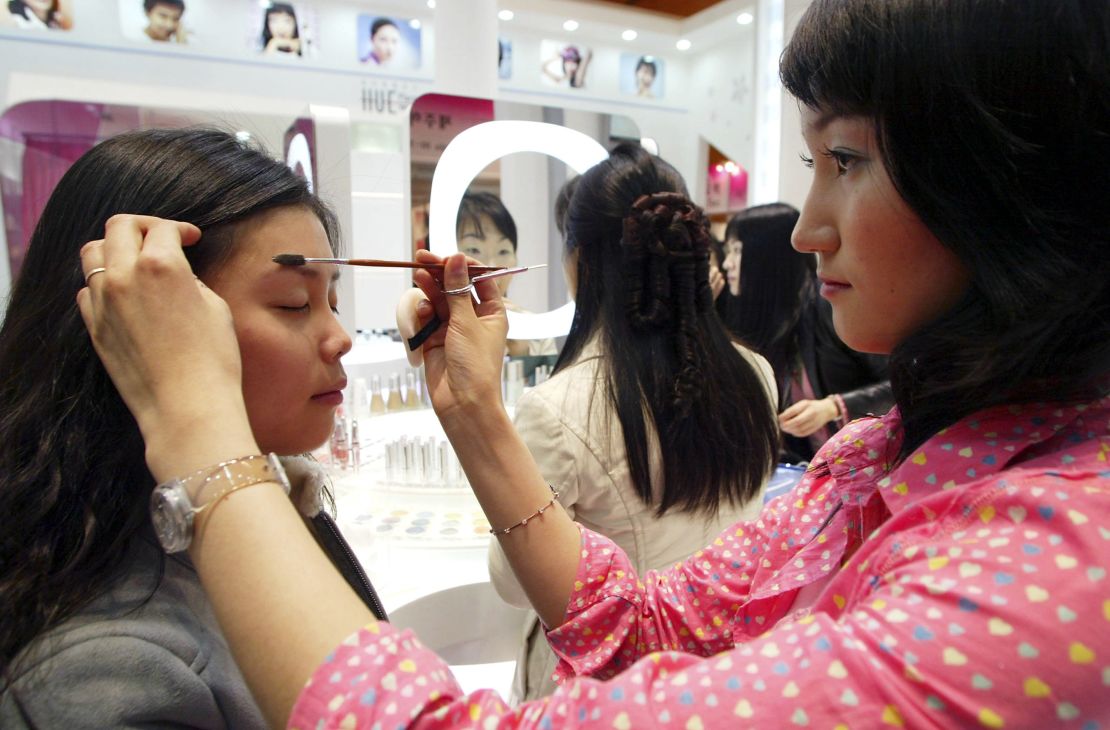 Although they're not as hefty as the small face cases, the VIDI VICI eyeshadows also come in convenient sliding cases with mirrors. The bright white and pink top layer of the 02 Breeze Illumi Styler, new for spring, is great to use as base shadows. The darker colors tend to crumble easily, so use sparingly.
O HUI eyeliner in Triple Brown
Three little pots of creamy colors make up O HUI's latest eye kit. Rather than three eyeliners, it's actually two cream shadows (colors: golden pink and light brown) and one deep brown eyeliner. It also comes with a mirror and mini-brush – perfect for travel.
Here's to hoping they'll add a eyeshadow applier to the next version.
Laneige Silk Intense Lipstick in Beige Chiffon
Good luck finding a Laneige store that isn't sold out of the Beige Chiffon or the Pink Garden (also recommended). After actress Song Hye-kyo applied the lipstick in a scene in the hottest Korean drama of the moment – "That Winter, the Wind Blows" – women across the country rushed Laneige stores. Which also makes this a perfect gift for Korean Wave fans.
CLIO Gelpresso waterproof pencil liner – Bloody series/ travel kit
Clio's Gelpresso mini-series is also great to bring along on your travels, especially if you plan on going out at night.
Our fave: the golden khaki liner.
The Face Shop Face It Concealer Dual Veil
This double-ended concealer took first place in a blind test on the popular television show "Get it Beauty," and subsequently became a best-seller for The Face Shop.
A creamy cover stick shaped like a lipstick on one end and in liquid form on the other end, the dual concealer covers dark circles and blemishes seamlessly.
Available in three shades of beige.
IPKN Professional Auto Foundation Set
IPKN's battery-powered vibrating foundation sponge applier allows you to put your foundation on without getting any on your fingers – the vibration gives you a smoother, consistent application. Although we're not huge fans of the actual liquid foundation, which comes in a separate compact with a highlighter, the applier itself is a must-have. Once you start using it, you can never go back to manual application.
Editor's note: This article was previously published in 2013. It was reformatted, updated and republished in 2017.