Editor's Note: CNN Travel's series often carries sponsorship originating from the countries and regions we profile. However, CNN retains full editorial control over all of its reports. Read the policy.
It's when hot days give way to balmy nights that Kuala Lumpur really comes alive.
Malaysia is a majority-Muslim population country, but its cosmopolitan capital has plenty of watering holes.
Following global trends, a new crop of dedicated cocktail bars – many conceived in the modern speakeasy style – are especially popular right now, offering up twists on classics and new inventions with Southeast Asian flavors.
There are also sky bars with city views, dance clubs, craft beer bars and live music bars.
Whether you're looking for a laid-back lounge or a party, here are some of the best places to spend your nights in Kuala Lumpur.
FOR COCKTAILS
PS150
This Chinatown cocktail bar sits in a colonial shophouse that was once a brothel.
It's all very "In the Mood for Love" with a tinge of "Mad Men" – swanky, illicit and whimsical all at once.
A vintage toyshop facade obscures the entrance.
Walk down a corridor lined with lovers' booths and an earthy courtyard outfitted in wood and leather before entering PS150's beating heart: the neon-lit bar.
The sign reads "Chee Cheong Kai," the Cantonese name for Petaling Street, referring to the tapioca mills that once occupied the area.
PS150 co-founder Angel Ng spent some soul-searching months living in Chinatown in her mid-20s, so it's a place close to her heart.
The cocktail menu is cheekily inscribed in composition books customarily used by Malaysian school kids.
Try the vodka-based Salty Chinaman, the Lychee No. 3 Martini or the Assamboi (preserved plum) Margarita.
On weekends, entry is restricted when it gets crowded, so make reservations.
PS150, 150 Petaling Street, Chinatown, 50000 Kuala Lumpur, Malaysia; +603 2022 2888
Omakase + Appreciate
O+A recently celebrated its fourth year in operation. The only bar from Malaysia on Drinks International's list of Asia's 50 Best Bars of 2016, it's in the basement of an office building behind a door stamped with a "No Admittance" sign that looks like it might lead to the utility room.
It fits just 20-25 people comfortably, but there's no limit on entry and no dress code.
The bartenders each have their own cocktail menu to encourage a loyal following.
The menu changes every few weeks, but the Jungle Bird remains.
A concoction of rum, Campari, pineapple juice, lime juice and sugar syrup, it was originally created in Malaysia in the mid-1970s at the old Hilton's Aviary Bar.
"Everyone knows Singapore Sling. Now we want to promote the Jungle Bird," O+A co-founder Shawn Chong says.
The bar is closed on Sundays and Mondays.
Omakase + Appreciate, Lower Ground, Ming Annexe, 9 Jalan Ampang, 50100 Kuala Lumpur, Malaysia; +603 2022 2238
JungleBird
At first, you might be tempted to call this a tiki bar, but there's nothing tiki-tacky about it.
There are no drinks with pink umbrellas, no hula girls, no one taking liberties with a ukelele.
There are bamboo and rattan furnishings, wallpapers of green palms, and bartenders sporting Hawaiian shirts – but all tasteful and understated, balanced by sleek lines and contemporary elements.
Joshua Ivanovic, an English transplant who's lived in Malaysia for years, co-founded JungleBird and describes it as "a tropical house of rum inspired by Old Malaya".
But there is one standout drink not made with rum, and it's called Closed on Mondays.
It's made of tequila, coconut milk, salted egg yolk, red chili and curry leaf syrup, and is inspired by the salted-egg squid – legendary among both locals and tourists – at Jalan Alor's Wong Ah Wah restaurant.
On Thursdays, Fridays and Saturdays, DJs play live sets of funk, soul, rockabilly, Motown, disco, or hip hop.
JungleBird, 15 Plaza Damansara, Jalan Medan Setia 1, Damansara Heights, 50490 Kuala Lumpur, Malaysia; +603 2011 7715
Coley
Nestled in the back of DR.Inc cafe in Bangsar, this sliver of a cocktail bar is a neighborhood gem.
It also seems to be a bartenders' favorite.
CK Kho, Coley's unassuming founder, is a stalwart of the local bar scene with more than 15 years of experience.
He named the bar after Ada Coleman, the legendary creator of the Hanky Panky cocktail who made her name at the London Savoy's American Bar in the early 20th century.
Coley has a retro-modern vibe and sits somewhere between a bar and a cafe – airy but intimate, buzzy but laid-back.
There's no pretense or fantasy here.
"I wanted to set up a bar where people could feel free to hang out at anytime," CK says.
Try the Saffron Sour, Kopi Old Fashioned, gin with coconut water, or whiskey with bubble tea.
Coley is closed on Sundays.
Coley, 8 Jalan Kemuja, Bangsar, 59000 Kuala Lumpur, Malaysia; +6019 270 9719
FOR THE VIEW
Heli Lounge Bar
The working helipad on the rooftop of Menara KH moonlights as a bar from 6 p.m. every evening – unless it rains.
You can enjoy a 360-degree view of the city as the sun sets, unfettered by even safety barriers.
Access the helipad via the companion bar on the tower's 34th floor, where you must buy at least a drink before heading the two floors up.
On Thursdays, Fridays and Saturdays after 9 p.m., bottle service – or a minimum spend of 100 ringgit per person (around $23) – applies to access the helipad.
During this time, there is also a strict dress code: no shorts or tank tops for men, and no flip flops.
Heli Lounge Bar, Level 34, Menara KH, Jalan Sultan Ismail, 50250 Kuala Lumpur, Malaysia; +603 2110 5034
Coppersmith
Coppersmith inhabits the shadowed walkways between a wine bar and a restaurant in the imposing Troika towers.
It's small but stately, with high ceilings and full-length windows with a view of the Petronas twin towers.
Uniquely, the copper bar is built facing the wall – accessible to the odd patron who may fancy making his own drink, with the guidance of a bartender.
The cocktails here look less like cocktails than works of art, each one topped with an edible decorative complement.
Copper Fairies, a mixture of tequila, blueberry and black pepper syrup and sparkling wine, is crowned with an intricate salted bancaramel structure.
The Banana Rama is banana beer mixed with Ron Zacapa rum, topped with dried banana dipped in dark chocolate.
Coppersmith also serves small bites, such as foie gras curry puff and smoked-eel doughnut with caviar cream.
Coppersmith, 23rd floor, Tower B, The Troika, 19 Persiaran KLCC, 50450 Kuala Lumpur, Malaysia; +603 2162 0886
FOR CLUBBING
TREC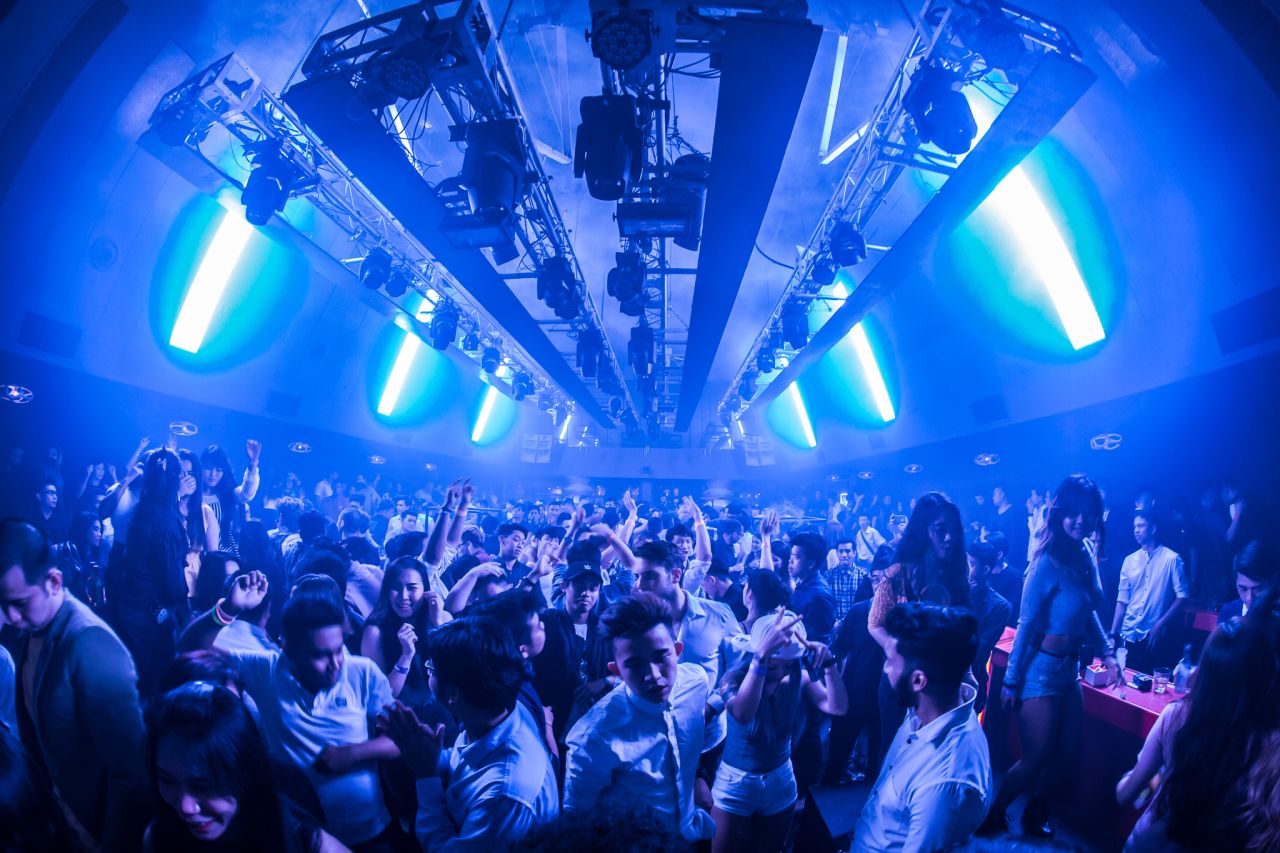 TREC (Taste, Relish, Experience, Celebrate) is the largest entertainment hub in Kuala Lumpur, with clubs, bars, restaurants, and live music and comedy venues.
Its most famous resident is Zouk – which, according to several locals, is still one of the best places to go clubbing in the city.
The superclub has lasted 13 years by constantly revamping itself, and now has a whopping 11 rooms.
TREC is also home to Como, a Spanish restobar which hosts live music and DJ sets.
IKKI, a speakeasy-style bar with the look of an English gentleman's club, serves Japanese-influenced cocktails and food.
There's also iPong KL, a beer pong bar, and Friendscino, a darts bar.
TREC, 436 Jalan Tun Razak, 50400 Kuala Lumpur, Malaysia; +603 2110 5095