The wood-beamed cottages, hand-painted decorations and flower boxes overflowing with red blooms are telltale features of a typical German mountain town, but La Cumbrecita is a long way from Bavaria.
The street signs are in German, cafes serve hearty goulash, sausages and schnitzel along with steins of German beer, and it is surrounded by a thick green forest of pine and spruce.
It's a fairytale setting, but La Cumbrecita, population 1,500, sprang from a once-barren patch of Argentinian countryside. It draws more than 300,000 yearly visitors who come for waterfall nature hikes and a slice of a completely different culture.
GALLERY: Photos of La Cumbrecita
"The little chapel, the style of the fountain, of the bridge at the entrance to the town. All of it could be in Central Europe," says Mayor Daniel Lopez, whose grandparents were living in the area when the town's founder came searching for a place to build a summer home. "We even have a maypole."
'Amazed at the beauty'
The man behind the project was Helmut Cabjolsky, a Berliner by birth who was working as a civil engineer for the German industrial giant Siemens when he was transferred to Buenos Aires in 1932. He and his family weren't impressed by the beaches near the capital, and they yearned for the mountains of home.
When a friend invited them to his remote farm near Córdoba, the country's second-biggest city, they traveled first by train, then car and finally by horse because there were no roads.
"When they got here, they were amazed at the beauty of the place, by everything, by the amount of rivers and resources the area had," says Ingrid Cabjolsky, Helmut's granddaughter, who runs a restaurant named after him in one of the town's first buildings.
"That grabbed their attention, and so they bought it."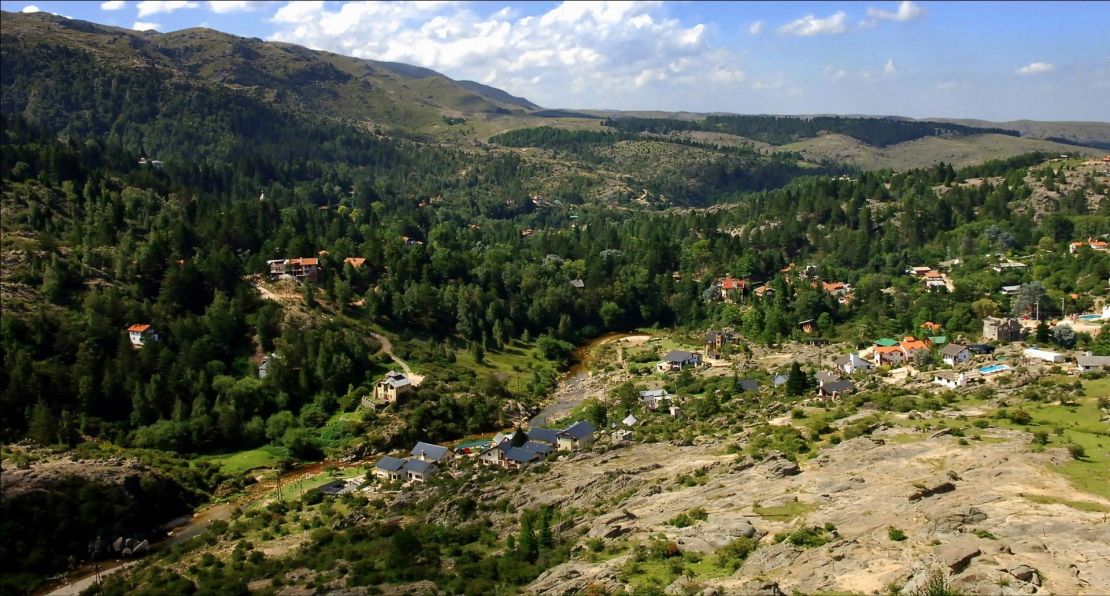 When Helmut purchased 500 hectares in 1934, there was almost no vegetation on the rocky landscape, a little grass and hardly any trees for miles.
He arranged for out-of-work family members to come from Germany to help build the first homes as well as a nursery.
They eventually planted thousands of trees in the sandy soil, creating a forest of evergreens and oaks that's found nowhere else in Argentina except for this speck of land in the Sierra Grande mountains.
Helmut started selling plots of land to family friends, mostly other transplants from Central Europe whom he knew through his children's German school in Buenos Aires. The one condition was that they design their homes in the style of a Swiss, German or Austrian village.
He continued to work for Siemens, designing 300 bridges around the country. But over time, his family built roads, brought in electricity and made other improvements. Before long, a little village had sprung up about 5,000 feet above sea level.
' I feel very Argentine'
Ingrid's father led the charge to develop it into a tourist destination.
It's still a small town, but there's a log-cabin spa, about two dozen restaurants serving a mix of German fare and Argentine cuisine, and guided hikes to the idyllic cascades along the crystalline Almbach River.
Visitors hear Spanish first when they enter shops, but some families still speak German in their homes, and the summer is filled with festivals celebrating the old country's food, music and traditions.
Ingrid's restaurant – an alpine lodge with a low-pitched roof and expansive mountain views from the terrace – doubles as her home and a town museum. Its walls are covered with old photos and framed documents laying out the town's development.
The menu features German classics like smoked fish, sauerkraut and spaetzle but also a seafood stir-fry and spaghetti bolognese, a reference to Argentina's other cultural influences.
"I feel very Argentine," Cabjolsky said as birds chirped outside her window. "But it's really difficult to explain because so many of my customs are German, like the language, that I carry in my blood. So, it's about half and half."