Programming note: To learn more about Hawaii, watch "United Shades of America with W. Kamau Bell" on Sunday at 10 p.m. ET/PT.
Running water. Fresh food. Endless cuddles.
Welcome to the Lana'i Cat Sanctuary, where nearly 600 cats of all shapes and sizes have a home in Hawaii for the rest of their lives.
"Our motto here is 'every cat has a plan and every cat matters,'" explains the cat sanctuary Executive Director Keoni Vaughn.
Established in 2006, the nonprofit organization was the brainchild of Kathy Carroll (Lana'i resident since 1999), who saw the need to provide shelter to the island's burgeoning population of feral cats as well as protect native endangered birds.
A 'purrfect' attraction on the smallest inhabited island in Hawaii
There are more than 3,000 people living on the 140-square-mile island of Lana'i, which is located approximately nine miles away from Maui, Hawaii's second-largest island.
Billionaire Larry Ellison bought 88,000 acres (or 98 percent) of Lana'i, the smallest publicly accessible inhabited island in the Hawaiian chain.
The sanctuary sits on about three acres of land and is less than two miles away from the island's airport.
Like life on Lana'i, the cat sanctuary is laid-back and low-key.
There's a mobile vet clinic used for medical care. A vet and two technicians fly in twice a month to check the cats' health, while a manager monitors the day-to-day operations, ensuring the cats have what they need.
But maintaining and managing a place like the Lana'i Cat Sanctuary is no easy – or cheap – task. Due to its location, many resources have to be shipped in.
For example, the cats consume about 75 pounds of cat food a day. That food has to be shipped in weekly, at a cost of about $35,000 a year.
The main source of income? Donations from guests and cat lovers around the world. The sanctuary has welcomed guests from as far away as Japan, Australia and India.
Within the last year, nearly 10,000 people visited, according to Vaughn. And there's more on offer than just hanging out: In 2016, the sanctuary hosted a wedding for cat lovers who wanted to be surrounded by feline attendees.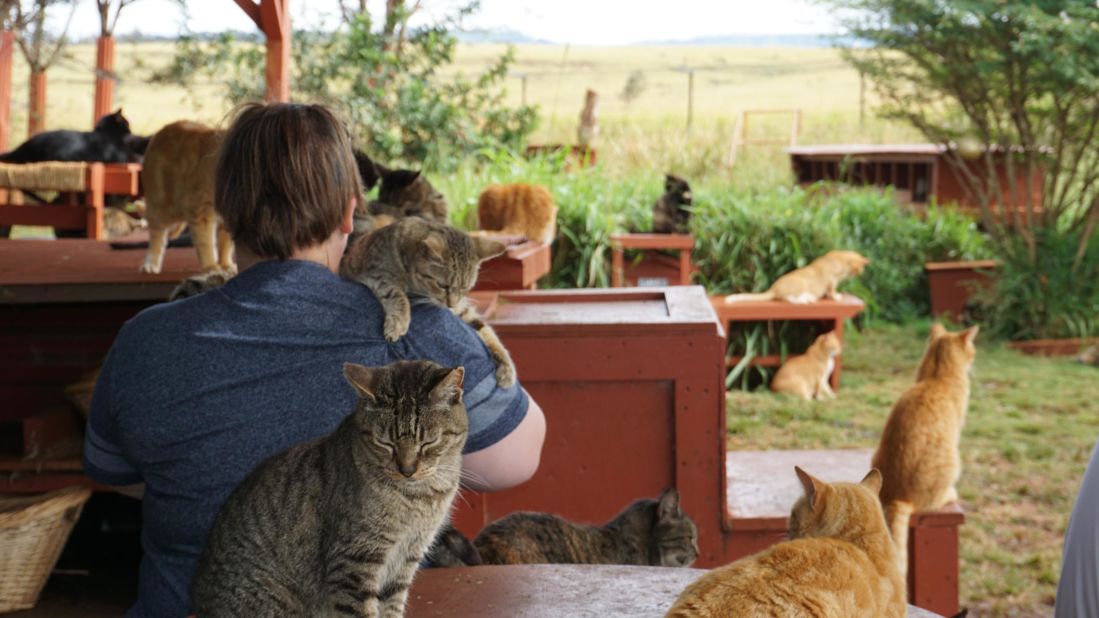 Lanai Cat Sanctuary: Where felines roam free
How it happens
When a cat arrives at the sanctuary, he or she is named, microchipped, given shots, then neutered or spayed. The staff makes sure the cats are healthy before releasing them into the enclosure with the others.
About 200 new cats come to the sanctuary per year. And once the cats arrive, a transformation takes place.
"We get to see these feral or unsocialized cats who never trusted humans to begin to come around," Vaughn said.
For many visitors, it's a chance to get some kitty-cuddle time without any distractions. Many visitors bring treats and spend hours petting and playing with the cats.
For the majority of the cats, the sanctuary provides an opportunity to live a life that's filled with food and lots of nap time – and It's also a chance to live with a loving family if a bond is sparked.
About 54 cats have been adopted by visitors so far, but those not in a position to adopt express their support in the form of monthly donations. In fact, almost 95 percent of the donations that support the sanctuary come from people who don't live on Lana'i.
The sanctuary's master plan is to eventually house up to 1,500 cats. That's at least twice as many cats as are housed there now.
The next immediate project is to create a senior center for the sanctuary's older cats – a quiet area separated from main enclosure. That project is nearly complete and will house the sanctuary's oldest felines who prefer a little less activity.
Vaughn's ultimate goal is to "remove all free-roaming cats from the landscape and bring them here to the cat sanctuary" To, he says, "essentially, work ourselves out of a job."
The Lana'i Cat Sanctuary is open is year around from 10 a.m. to 3 p.m. It is located at 1 Kaupili Road, Lana'i City, Lana'i, Hawaii.