Story highlights
A great pleasure of Lisbon, the country's still quaintly unspoiled capital, is the number of pastelarias
Pastelarias form the social center of nearly every neighborhood
What happens when you combine plenty of egg yolks, flour and butter with copious amounts of sugar? In the case of Portugal, you get the underpinnings of a national way of life.
A huge array of pastries, forming a yellow-tinged expanse of soft, chewy variants displayed in endless curvy cases beneath bar counters, are standard throughout the country.
A brilliant book pays tribute to this culinary tradition, "Fabrico Proprio: The Design of Portuguese Semi-Industrial Confectionery."
Penned by two local designers and available at the famed Lisbon shop A Vida Portuguesa, it lists about 40 specific forms of bun, roll and cake, well beyond the iconic pastel de nata (cream custard tart).
Portugal: Europe's best-kept foodie secret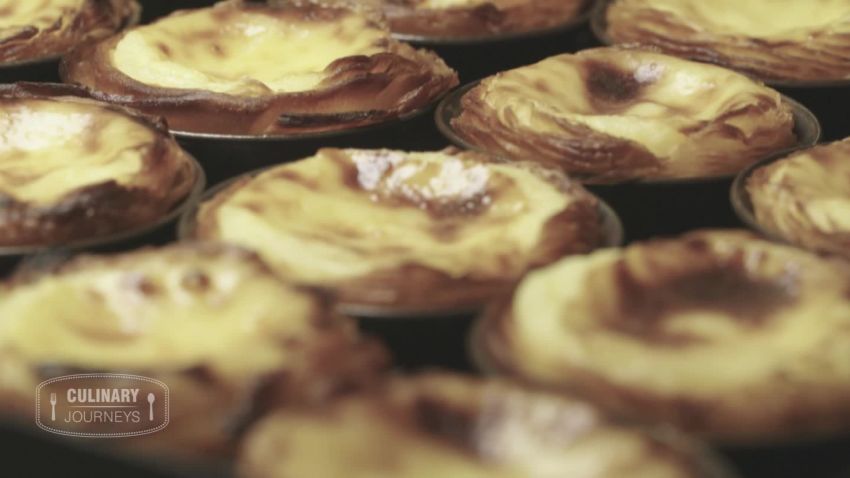 This video is no longer available
Many have colorful ancient names like Jesuita (Jesuit), bispo (bishop), travesseiro (pillow), brisa (breeze), borboleta (butterfly), imperio (empire), maravilha (marvel).
And most still really fulfill the common claim of "fabrica proprio," meaning they're baked in-house.
As a result, one of the great pleasures of wandering Lisbon, the country's still quaintly unspoiled capital, are the number of pastelarias that form the social center of nearly every neighborhood.
They offer plenty of opportunity to pick up stately atmospheres, a whiff or art deco or older, while interacting with courtly waiters and genteel old folks taking their sweet fare to start the day, or end it.
Though the Portuguese are addicted to their shots of espresso, ordered simply as "cafe," there's no such institution as "the cafe" in the country – it's the pastry shops that do double duty.
In fact, many of the nation's most treasured sweets were first concocted in convents, where nuns busied themselves at ovens and ending up raising church funds by coming up with sinful creations.
Portuguese sailors' role as early explorers of the spice route is also reflected in the heavy use of cinnamon.
While well-known institutions like Pastelaria Benard and Confeitaria Nacional are most often cited for their showy decor, a survey of pastry-sampling experts has yielded the following list of establishments that are most local, luscious and truly "Lisboeta."
Jose Avillez: Portugal's one-man food revolution
Centro Ideal de Graca
One of the city's best and in a historic hilltop neighborhood, Centro Ideal de Graca is a short walk from Lisbon's most spectacular miradouro (viewing point), represented in painted tiles on the pastelaria's walls.
Excellent for all sorts of cream puffs, including the stuffed Russo (Russian) and for the caracois (snail), a Portuguese version of France's pain au raisin that replaces the raisins with candied fruit.
Cister
Principe Real, centered around the gracious park of the same name, is now one of the city's trendiest areas, home to many independent fashion designers and the gay scene.
But it's not immune to tradition, represented ably by the charming corner outlet Cister, founded in 1838 and just across from the Museum of Natural History and Science.
Baloico
A popular spot with retro '60s decor in a nondescript area near the Lisbon Zoo, Baloico features almond cookies and broa (cornbread) highly sweetened with honey. There's also a terrace restaurant serving fish.
Best festivals for serious food fanatics
Versailles and Sequeira
The most opulent of all Lisbon's cafes, the Versailles, along the outlying Avenida da Republica, is nearly always packed by a loyal older set, drawn by its elegance and huge selection.
But some residents prefer Sequeira, a more functional breakfast place at the corner of the next block.
Careca
With most of its tables set outside to take advantage of long summers, this is the focal point of Restelo, Lisbon's only truly upscale suburb, best visited on a trip to Belem.
The sugar-dusted croissants and custard-stuffed Bolas de Berlim are in the upper echelons as well.
Marques de Pombal
A somewhat stark establishment just off the city's main transport roundabout, Marques de Pombal's front counter looks humble, but out back there's a large dining room with an endless selection.
Casa Brasileira
Somewhat spoiled by its location in Baixa's tourist strip, and now featuring fresh fruit juices, this old-time outlet still has local clientele inside, and lots of scrumptious Portuguese-style almond Danish.
Portugal's stunning Douro river region
Bolos Praca de Chile
For those whose sugar cravings suddenly hit before dawn, this is one of Lisbon's unique eating attractions a grungy basement where the sweet-toothed line up for doughnuts, turnovers and all sorts of junk food served hot from an all-night factory.
Bolos Praca de Chile; Av. Almirante Reis, 149; Lisbon
John Krich is a veteran travel and food writer, previously with Asian Wall St Journal, known for his "Around the World in a Bad Mood" and "Won Ton Lust" travelogues and PEN/Hemingway awarded novel, "A Totally Free Man" – now based in Lisbon. Twitter: Krichyland