Editor's Note: Sign up for Unlocking the World, CNN Travel's weekly newsletter. Get news about destinations opening, inspiration for future adventures, plus the latest in aviation, food and drink, where to stay and other travel developments.
You check your luggage for a flight, but it doesn't appear on the carousel at your destination.
For decades, your only course of action has been an internal scream, followed by a report to your airline, in the hope that it will locate your bag and deliver it back to you.
But increasingly over the past few years, passengers are taking a more active part in the process, by tracking their own bags and informing the airlines where they are.
So what happens if you check your luggage, it doesn't appear, but you can see it sitting pretty at terminal four of London Heathrow?
For Steve O'Dwyer, the answer is: absolutely nothing.
O'Dwyer's missing bag has been at Heathrow since January 21, when he was transferring flights en route to the Bahamas.
Thanks to his use of a GPS tracker – an Apple AirTag in his case – he has evidence that the bag has been at Heathrow for the past 13 days.
Unfortunately for him, the airline he booked with, Lufthansa, doesn't appear to have spent those 13 days trying to get it back.
Now, in desperation O'Dwyer has used a totally unrelated TV appearance to call out the airline for its failure to reunite him with his property.
Not beating the odds
Traveling with checked luggage is increasingly a high stakes game, as Steve O'Dwyer would know better than most. He's a professional poker player – ranked first on the Global Poker Index in 2016, and currently number 14 on the industry's All-Time Money List.
And yet, even one of the world's best poker players can't beat the odds when it comes to airlines losing luggage.
O'Dwyer, who lives in Ireland, was traveling to a tournament in the Bahamas with his girlfriend, Elisabeth Wels, on January 21.
The pair had bought an AirTag earlier in the summer, with the aim of tracking their luggage. "Elisabeth thought it would be a good idea, since she'd read some good things about it," O'Dwyer told CNN over email. She popped it in her case for the trip.
The pair booked with Lufthansa: Dublin to Frankfurt on the German carrier's metal, and then Frankfurt to Montreal, and Montreal to Nassau, on Air Canada – a Lufthansa codeshare. A simple enough journey thanks to the codeshares, with their two bags (one each) checked at Dublin, to reemerge at Nassau.
Things got less simple at Frankfurt, where the couple were denied boarding for the Montreal flight because O'Dwyer's Canadian visa was found to be out of date. The pair bought new tickets, still with Lufthansa, on the spot: on the German carrier to London Heathrow, where they would connect to a direct Virgin Atlantic flight to Nassau the following day – just in time for O'Dwyer to make the tournament.
"We changed our flights at the ticketing counter in the departures terminal and gave our bag claim tags to the ticketing agent to transfer our bags to our new booking. They also made some phone calls to confirm that the bags would be transferred over to the new flight," says O'Dwyer.
Crisis averted, they booked a hotel at Heathrow to bunk up for the night and headed to the gate – where the boarding agent delivered some bad news about their luggage.
"She said it didn't look like they were going to make it onto the flight, and that we should report them missing if they didn't come out at the baggage claim at Heathrow," he says.
Sure enough, their bags weren't on the carousel. They filed a missing bag claim with Lufthansa, but "weren't really concerned," says O'Dwyer – partly because the staff member assured them their bags would be forwarded to Nassau, and partly because they were able to see the AirTag was working.
"I've been traveling frequently for the last 15 years for poker tournaments and had bags not arrive with my flight many times and I've never had a tough time retrieving them," he says. They bought toiletries at the airport, and headed to their hotel.
'Have more patience'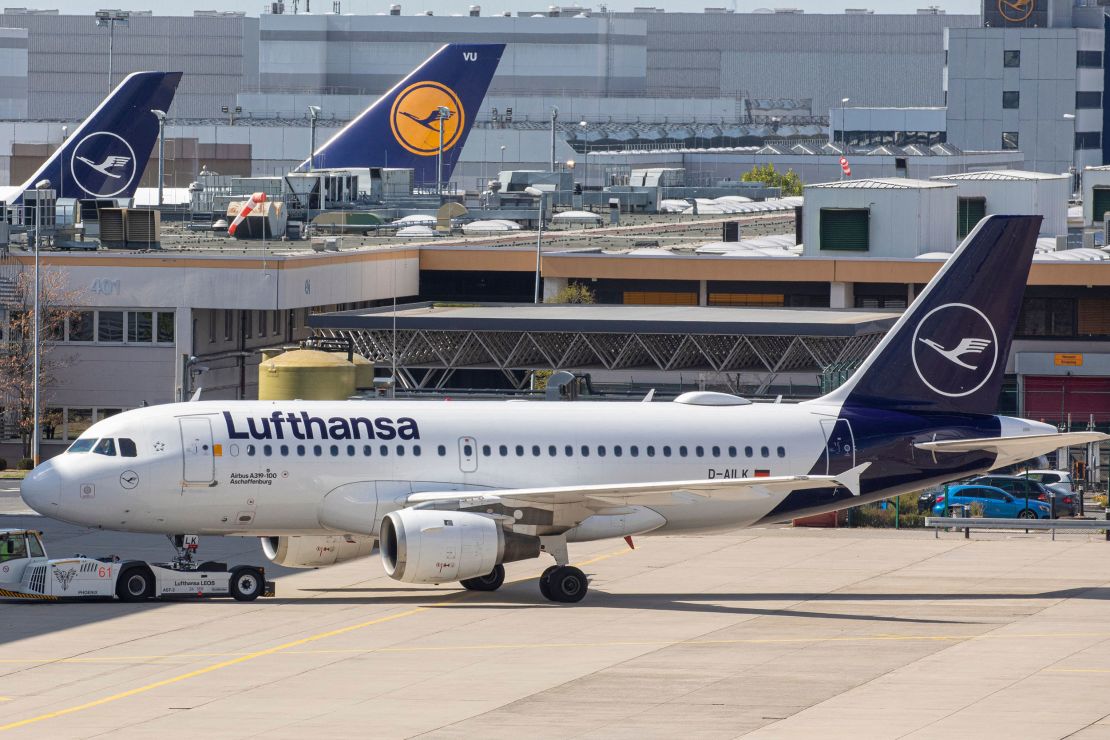 Everyone who follows these increasingly frequent stories knows how the next part goes. The pair boarded their flight the following morning at Heathrow, noting happily that the AirTag was still registering as being at the airport – only to find that, as they arrived in Nassau, it was still blinking at Heathrow.
They called Lufthansa. "They told us they had our bags and that they would be forwarded asap," says O'Dwyer.
Thirteen days later, they're still waiting, despite calling every day.
"On some of the phone calls early on, they would tell me they were still searching for my bags, other times they would say they had them and they were ready to be forwarded to me," he says.
"I would tell them that one of the two bags has an AirTag and that I could see it at Heathrow Terminal 4. I'd ask how I could send them the screenshot and they would tell me that they do not have any way for me to send that information.
"They would say that they have our bags, they're doing everything they can to forward them, that they will request an update from the baggage handlers at LHR, and that I just needed to have more patience. It was clear to me that they were just reading a script and their goal was to get people off the line as soon as possible."
On day three, he tweeted Lufthansa, was asked for his details and told they would look into his case, but "never got an update." After his tweets got more traction, on January 31, he received a DM saying that they were requesting an "urgent update" from their colleagues, and requesting the AirTag coordinates of the bag. Since then: nothing.
And on day seven, the member of Lufthansa staff who took his daily call "seemed far more interested in helping me than anyone else" and promised to escalate his case to management, who would call him within three hours. But, says O'Dwyer, the call never came. "I have not been called one single time or received a single email that wasn't automatically generated."
'Give me back my luggage you thieves'