Editor's Note: This CNN Travel series is, or was, sponsored by the country it highlights. CNN retains full editorial control over subject matter, reporting and frequency of the articles and videos within the sponsorship, in compliance with our policy.
There's a party going on in Lusail.
The palm-fringed Marina Walk, leading from the Arabian Gulf to the wide expanse that is Lusail Boulevard, is full of food stalls representing pretty much every nationality living in Qatar, and the boulevard is buzzing with life. This annual International Food Festival – the next edition is slated for January 24 - February 4, 2024 – is one of many events in Lusail. Like others, it has moved from the capital Doha to this, Qatar's newest city – 10 miles north.
Touted as Qatar's "City of the Future," construction of Lusail began in 2006, long before Qatar was announced as the host of the 2022 FIFA World Cup – yet you'd have been hard pushed to have found many people who had visited before the grand Lusail Stadium became the main stage for the soccer tournament.
Those who came found there's more to the city than event spaces. Lusail is home to grand shopping malls, theme parks, a wealth of international restaurants, islands, and two iconic new additions to the Qatar skyline.
The Katara Towers, the near-circular building modeled on the scimitar swords that make up Qatar's emblem, play host to two luxury hotels, the Fairmont Doha and the all-suite Raffles Doha, the country's first six-star hotel. Both are the first properties for their respective hotel groups in Qatar – and while they're Doha by name, they're firmly Lusail by location.
Then there are the four subtly twisting Lusail Plaza Towers, which seem to morph in height and shape as you approach the city. They're the work of Foster + Partners, who also designed the Lusail Stadium. Suspended between them is a shimmering metallic sculpture – a great whale-shark, "Al Nehem," by Italian artist Marco Balich.
Nineteen residential, business and mixed districts make up Lusail, some more developed than others – since the city is still under construction. The stadium and Lusail Plaza Towers are connected by Lusail Boulevard, which regularly plays host to parades and events, from the food festival to the annual Classic Car Show.
The anticipated Lusail Museum, which is still under construction, was designed by Swiss architects Herzog & de Meuron. Exhibiting orientalist and Middle Eastern art, it's slated to open in 2029.
Tethered to the city shoreline by a six lane highway is entertainment-focused Al Maha Island, home to the Winter Wonderland theme park and a slew of international restaurants.
It's swiftly becoming a rival in the livability stakes to crowded Doha.
A city from the sand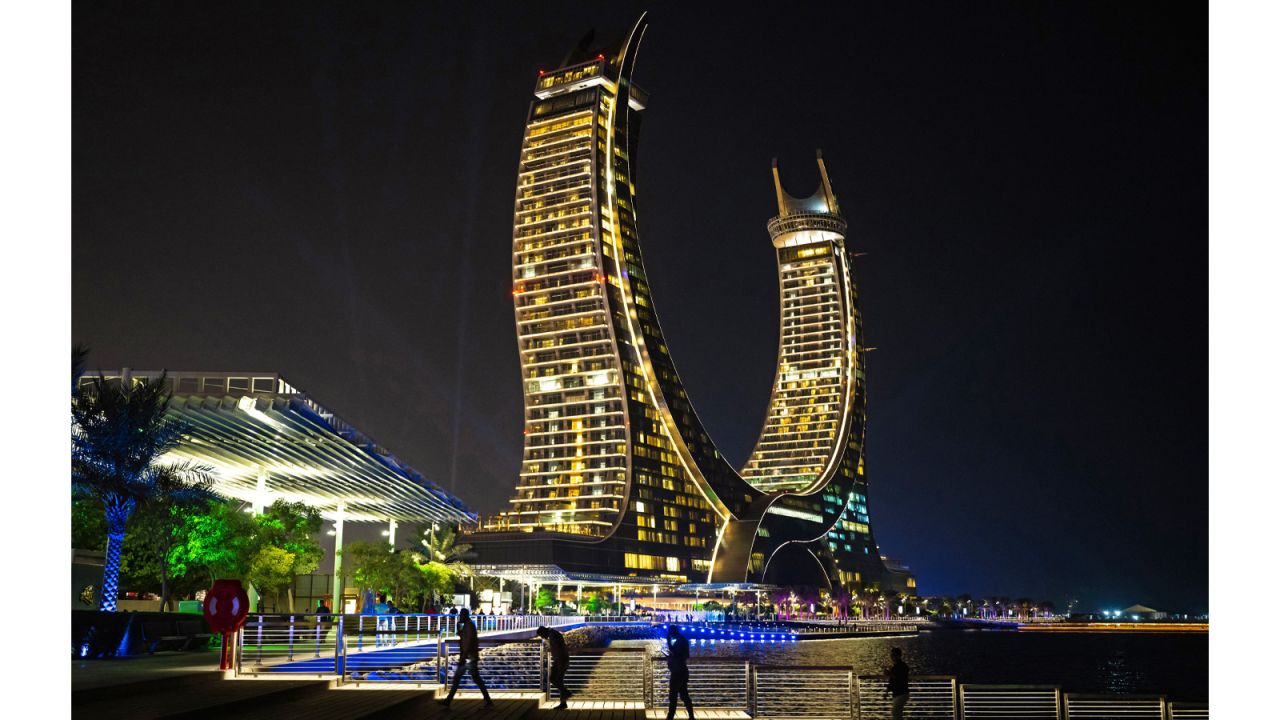 Lusail claims to be Qatar's first sustainable city – no easy task for a newbuild in the desert.
Raising a city from the sand needs a lot of imagination.
"The future of infrastructure is unlimited in the Middle East," says Bryce McDevitt, vice president of Parsons Corporation, which is overseeing construction. "There is a sense of imagination and possibility that doesn't exist anywhere else. Building a clean-sheet city allows for tailored design of your objectives: sustainability, accessibility and economic equality."
He adds: "One major advantage of the 'from the sand' approach is that when designing and building a city from scratch, we are not fettered by existing infrastructure. Roadways, airports, public transit, landscape, and urban design can all be built with smart sustainability in mind."
Over the past few decades, little thought has been given to sustainability in Qatar – a desert state which has used its oil and gas resources to bring life to the barren land. Parks in the country's cities stay green all year round, and even have air-conditioned walkways to allow residents to take strolls even during summer, where temperatures can exceed 50 degrees Celsius (122 F).
Lusail is changing that mindset, with sustainable tweaks built into the construction. There is a tram system designed to reduce the need for cars (essential elsewhere in Qatar), and systems to conserve and reuse water – for example, planting native vegetation which will reverse desertification and reduce rain runoff, as well as watering plants with non-potable water. An artificial reef is being built along the Lusail shoreline to encourage marine life to settle.
It's the sustainability, space and amenities – as well as plenty of green spaces – which appealed to Katie Warner, a mobile travel agent originally from Australia. She and her husband swapped Doha for Lusail because it felt more ecologically minded. "It was pleasing to discover our building had sustainable systems in place like recycling water for the gardens, solar panels to heat the building's water, gas services for all cooking appliances, regulated electric use, and separate recycling and general waste chutes on each floor," she says.
But that's not the only reason they moved: "I love this area full of greenery, the gorgeous boardwalk, and views of the Persian Gulf. It has all the day-to-day needs for groceries, transport, entertainment, and dining. There's an extensive choice from food trucks at the Lusail Marina Food Arena, abundant cafes, and fine dining restaurants."
A sprawling city of the future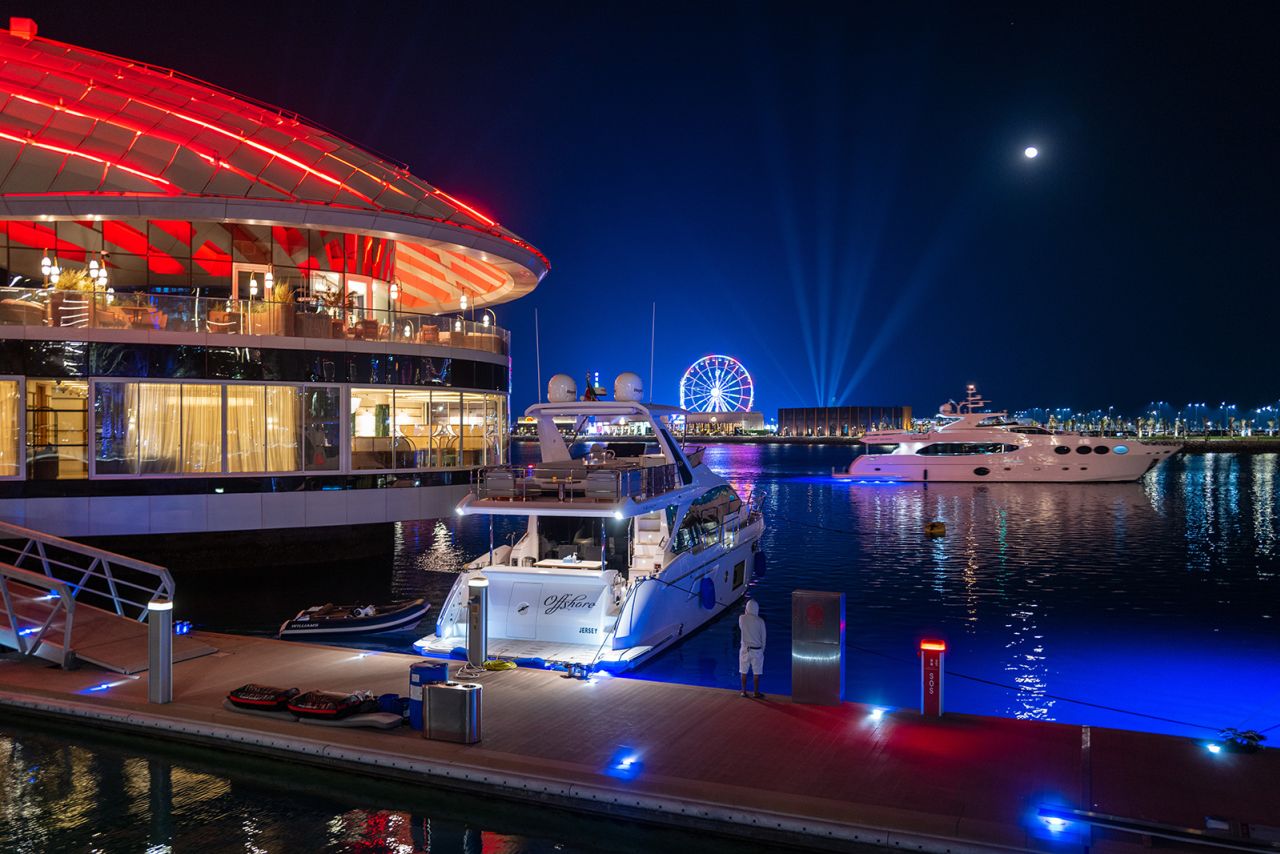 While Lusail's districts are each pretty much self-contained, and similar to the "15-minute city" concept loved by urban planners, overall Lusail – which sprawls across nearly 15 square miles, with an anticipated population of around 200,000 – still suffers a little from the disjointedness of many Gulf cities.
Al Tara – the district, by Al Maha Island, where Warner lives – is home to the Lusail Marina. There are footpaths overlooking the water, art installations, small cafes dotted along the marina, and the Katara Towers. From here, it is just about possible to walk to Place Vendôme, a grand Paris-inspired shopping mall, and beyond it the Waldorf Astoria hotel, which sits on Lusail's only private beach. Trying to reach Lusail Boulevard is still somewhat of an undertaking, but one that is being addressed by the tram line, which began operation in 2022 and connects with the Doha metro.
But while Lusail has superb – even newly iconic – architecture, grand outdoor spaces, and festivals and events, it will never have the organically grown, higgledy-piggledy layout of old Doha, which draws the tourists.
Instead, it aims to be a modern, sustainable "City of the Future." Will it fall foul of the repeated curse that seems to befall many previous attempts of newly constructed cities, such as Canberra, Brasilia, Islamabad and Milton Keynes, where natural atmosphere and joie de vivre seem to be somewhat lacking? Only time will tell.
There is a rumor – as yet unsubstantiated – that Lusail might eventually become Qatar's capital city. It's not actually a crazy idea – Sheikh Jassim Bin Mohammed Bin Thani, regarded as the founder of Qatar, built Lusail Castle, his 19th-century (and long gone) home, on the coast here. Watch this space.