New York City's world-famous skyline has dazzled viewers for around a century now. But for four days a year, the sun aligns perfectly through spaces between buildings to cast an amazing beam of light at sunset that reminds people of England's ancient Stonehenge.
This very modern version, dubbed "Manhattanhenge," marks its first 2023 showing at sunset tonight (8:19 p.m. EDT).
Viewers will see a half sun hovering over the city's street grid at 8:13 p.m. tonight, and there's a full-sun viewing on Tuesday at 8:12 p.m., according to astronomer Neil deGrasse Tyson on the American Museum of Natural History's website.
The effect lasts only a few minutes when light from the sunset shoots down thoroughfares running east to west that aren't blocked by any of the island's behemoth buildings.
According to CNN Senior Meteorologist Dave Hennen, the weather looks very favorable this evening.  As the sun is setting, he said expect mostly clear skies with a temperature in the upper 60s F.
If you miss this week's showing, there's another coming in mid-July.
Where to see Manhattanhenge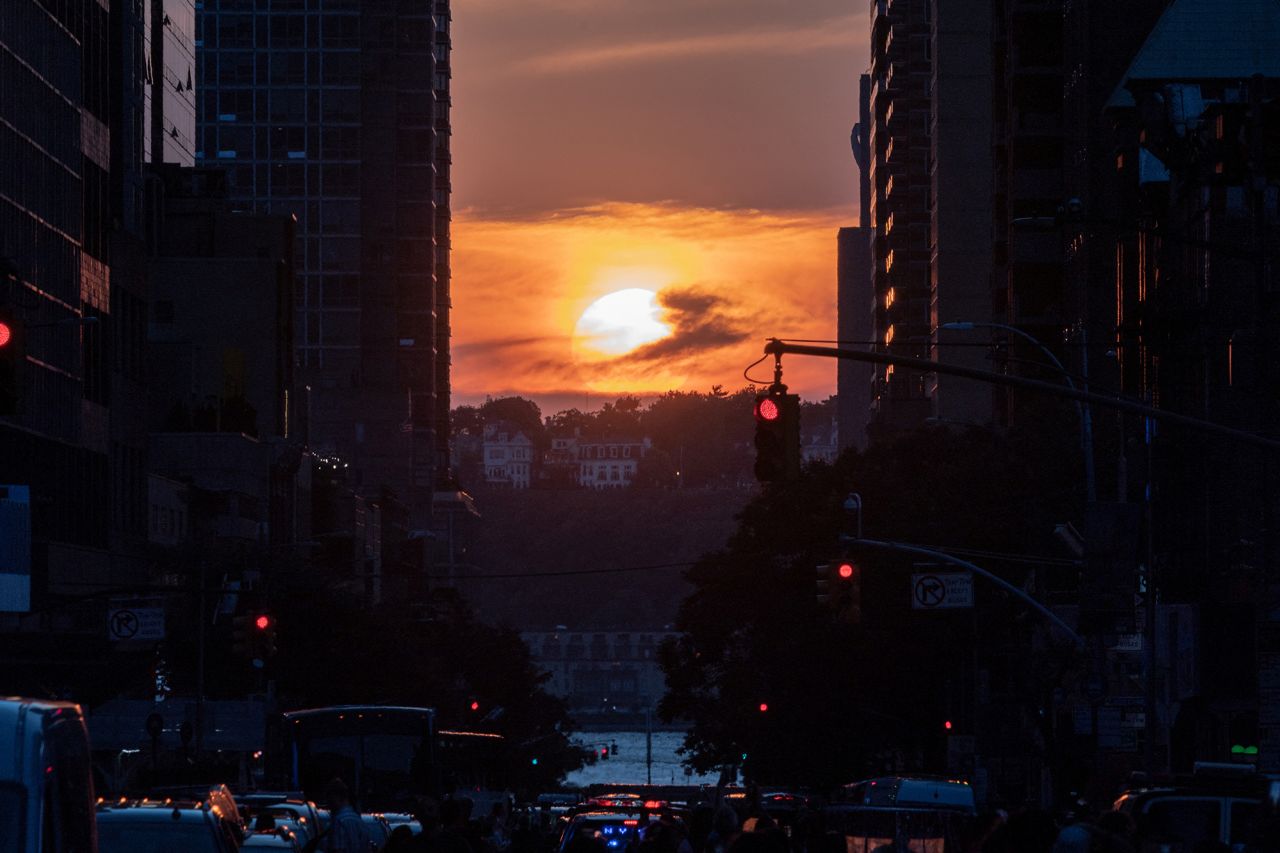 Tyson has some advice for where to see it. For the best effect, position yourself as far east in Manhattan as possible. Be sure that when you look west across the avenues, you can still see New Jersey. He lists the following streets as particularly good ones:
– 14th Street
– 23rd Street
– 34th Street
– 42nd Street
– 57th Street
The New York City Department of Parks & Recreation also suggests the Tudor City Overpass in Manhattan and Hunter's Point South Park in Long Island City, Queens.
While this is called "Manhattanhenge," you can also get this effect in parts of Queens, too.
You can thank Manhattan's easy-to-use grid system, which dates back to the early 1800s, for the phenomenon. This happy alignment starts at Houston Street and runs up to just south of 155th Street.