Story highlights
A three-peat for southern Australian city of Melbourne
Damascus drops 10 places to bottom of the rankings
Canadian, Australian, New Zealand cities make up eight of top 10
What makes a city user-friendly? Apart from being able to make a buck and rest your head, what sets one metropolis above another?
Melbourne, Australia, was named the world's most livable city by the Economist Group, publishers of "The Economist" magazine.
Whether it's relaxing, dining, people watching or shopping, Melbourne seems to have it all in a colorful and artistic heritage environment. In no particular order, here are 50 reasons Melbourne fans think it's the best place in the world to live (and for travel):
50. Invented its own dance move
The Melbourne Shuffle, also known as Rocking, is a rave and club dance-style that evolved in the 1980s and involves fast heel-and-toe action.
49. Back alleyways where it's safe to hang out
An organic development arising out of Melbourne's planned, ultrawide streets, its laneways are a hive of activity. From shopping on Degraves Street to dining on Hardware Lane, people-watching is covered.
48. Streets have musical names
Something about Corporation Lane just didn't have a ring to it. Didn't sound so funky. That's why the same laneway is now called ACDC Lane, where you can rock out at Cherry Bar, which claims to be the nation's rock 'n' roll capital.
Cherry Bar, AC/DC Lane, +61 (0)3 9639 8122
47. Vinyl capital of the world
While the rest of the world goes digital, there are still about 50 vinyl record stores around Melbourne, staying alive in musical worship of everything from Bollywood funk and hip-hop and retro rock.
As well as the hottest seven-inches from local DJs, there are bins of pre-loved and once-loved discs. That's more stores and more records, per capita, than any other place in the world.
"None of us are making much money," says Chris Gill, owner of Northside Records in Fitzroy. "But we're happy."
Northside Records, 236 Gertrude St., Fitzroy, +61 (0)3 9417 7557
46. Beers during haircuts
There are more than a few combination hairdresser/barber/tobacconists. At the Bearded Man in Prahran, you can get a beer while they attend to your coiffure. It's the discerning man's choice.
The Bearded Man, 1203 Chapel St. Prahran 3181 +61(3) 9510 0563
45. Melbourne Arts Centre looks like the Eiffel Tower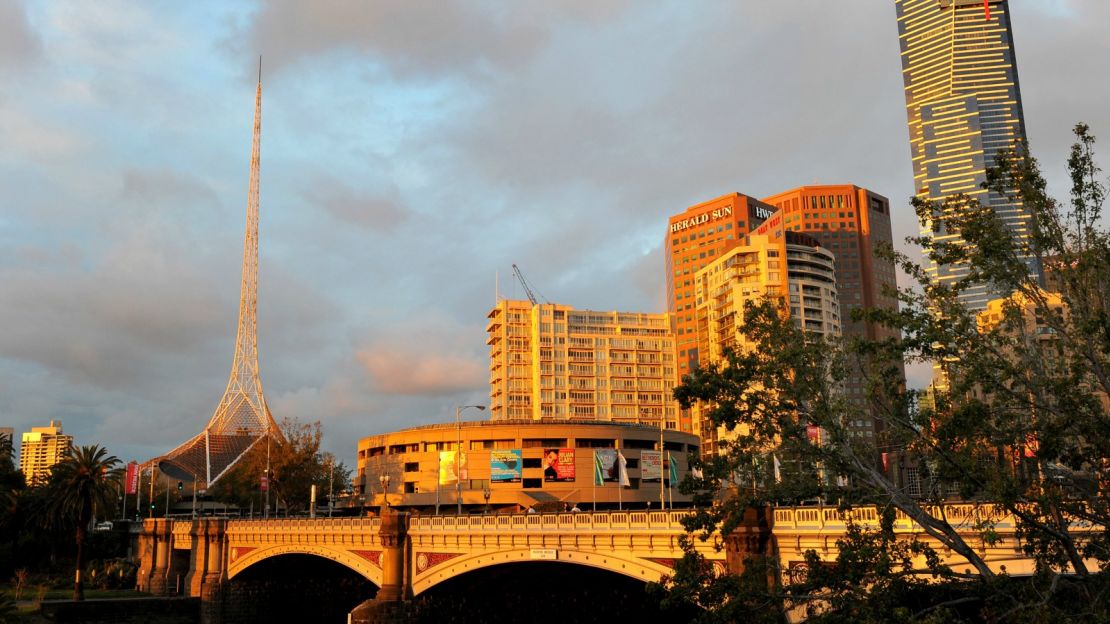 Most cities have to look at a postcard to dream of tower romance, but Melbourne has its own 168-meter-high imitation. At the base, performance halls are home to opera, symphony and the Melbourne Festival.
Melbourne Arts Centre, 100 St. Kilda Road, City, +61 (0)3 9281 8000
44. An esplanade that's worth a harbor
Australia's unofficial poet laureate, folk singer Paul Kelly, sings, "I'll give you all of Sydney Harbour, all that land and all that water, for that one sweet promenade." "From St Kilda to Kings Cross" is an ode to the palm-lined bay and pier in Melbourne's bohemian suburb of St. Kilda.
This grungy beachside precinct oozes character even if it is a little rough around the edges at times. Check out the Arts and Crafts Market on Sundays, eat at one of the many excellent restaurants or head to the Espy: the legendary Esplanade Hotel and catch live music from mod rock to hip hop.
The Esplanade Hotel, 11 The Esplanade, St Kilda, +61 (0)3 9534 0211
43. St Kilda is so cool that aliens have landed
For real. And it doesn't look like they're leaving. Maybe they like the bayside coffee. Thank Smik Studio on Acland Street, who got local artists onto making a UFO crash through its roof.
42. Pub grub on a film set
The Union Club Hotel is a regular set for the TV series, "Offspring," and many other shoots. The old-fashioned, round bar and lounges make it ideal.
It's also a good place for a pot and pub grub at Lazy Susan's Kitchen, where you can score Fat Chris' Breakfast Burger, served with the lot and chips ($20).
Union Club Hotel, 164 Gore St., Fitzroy, +61 (0)3 9417 2926
41. Cafes serve LSD
Too much coffee is unhealthy — that's why it's always good to have mind-altering alternatives.
A latte of soy and dandelion (commonly known as LSD) is a fairly good taste imitation and healthier option than the much-ingested bean. Pick it up at a range of cafes, including local haunt the Galleon Cafe, just off Acland Street in St Kilda.
Galleon Cafe, 9 Carlisle St., St Kilda, +61 (0)3 9534 8934
40. Free trams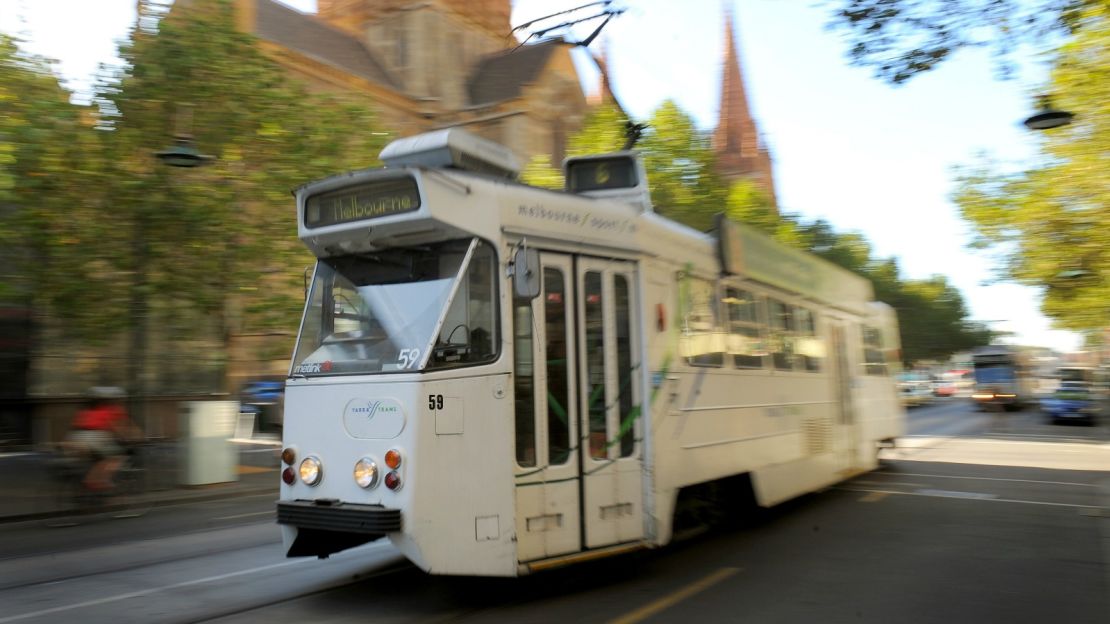 Ever since tram conductors were replaced by automated ticketing systems, Melbournians have joked that tram rides are free.
They can be, unless you're caught by roaming ticket inspectors, in which case it's a very expensive tram ride.
One tram that is truly free is the maroon City Circle tram, for which you really don't need a ticket.
39. Soapboxes for clean speech
The soapbox on the State Library lawns is always open for whoever wants to vent. You can also venture into a grungy, inner-suburban pub on a weeknight for some performance poetry. Bring your spiel for open mike opportunities.
Passionate Tongues fortnightly Monday night event at the Brunswick Hotel. Spinning Room is on Tuesdays at ET's in Prahran. Drunken Poets on the first Thursday of the month at The Drunken Poet, West Melbourne. The Dan Poets meet Saturday afternoons at the Dan O'Connell Hotel, Carlton. Westword is at the Dancing Dog Cafe in Footscray on the second and fourth Sunday of the month.
38. Galaga in bars
You walk around some cities and wonder where all the pinball machines and video games have gone. Not in Melbourne, where vintage pinball machines and video games can be found in many bars and pubs.
You can enjoy a pot of tea or beer and play Galaga at the Black Cat, all while taking in alternative nights of hip-hop, dub step and garage.
The Black Cat, 252 Brunswick St., Fitzroy, +61 (0)3 9419 6230
37. Neon signs that people actually like
The Skipping Girl Vinegar sign in Richmond – known as Little Audrey – was Australia's first girl or guy in bright lights. She came to neon life in 1936 and after short breaks in the 1960s and last decade she recently came back to life after her bill was paid much to the delight of the community.
36. It's so bright it's black
In Melbourne, black is the new black. Everyone wears it, especially women.
35. Culture vultures go Burlesque on Mondays
Monday nights are fairly diverse around the inner city. While some consider TV, the Burlesque Bar Showboat – the floating version of the Burlesque Bar that closed its doors in 2013 – is all about that 1920s renaissance.
Burlesque Bar Showboat, Berth 14, Central Pier, Docklands, Victoria 3008
34. Monday is the new Saturday
To keep local students (and everyone else) happy, Cinema Nova on Lygon Street has half-price tickets on Mondays. Lygon Court even lets you park for free with a ticket.
Cinema Nova, 380 Lygon St., Carlton, +61 (0)3 9347 5331
33. Public holiday for a horse race