When it comes to travel, most of us usually look for hotels that are conveniently located, affordable and comfortable. But sometimes, we want something out of the ordinary.
Need inspiration? These 12 eccentric hotels highlighted by TripAdvisor provide an unforgettable sleep:
1. Inntel Hotel Zaandam (Amsterdam)
At first glance, this hotel appears to be made up of a series of houses stacked one on top of another.
Inspired by the architecture of traditional houses of the Zaan region, the green facade of Inntel Hotel Zaandam is eye-catching even from afar.
Located next to the Zaandam train station, it takes only 12 minutes to get to the Amsterdam city center.
9 outrageous luxury hotels coming soon
2. Faralda Crane Hotel (Amsterdam)
Originally part of an Amsterdam shipyard that operated between 1894 and 1979, this historic crane has been transformed into a cool hotel.
The Faralda Crane Hotel is located at the top of the 50-meter-high structure and there are only three suites available for booking.
If staying atop a former industrial monument isn't exciting enough, you can rope-jump off the crane and free fall 164 feet.
3. Sheraton Huzhou Hot Spring Resort (Huzhou, China)
Famous for its donut-like shape, the Sheraton Huzhou Hot Spring Resort in China offers amenities and services that are even more attractive than its architecture.
For one, there's an underwater bridge that connects the two towers of the hotel.
At night, there's a spectacular light show during which the building's distinctive structure is illuminated.
China's crop of outrageous new hotel designs
4. Hotel Jested (Czech Republic)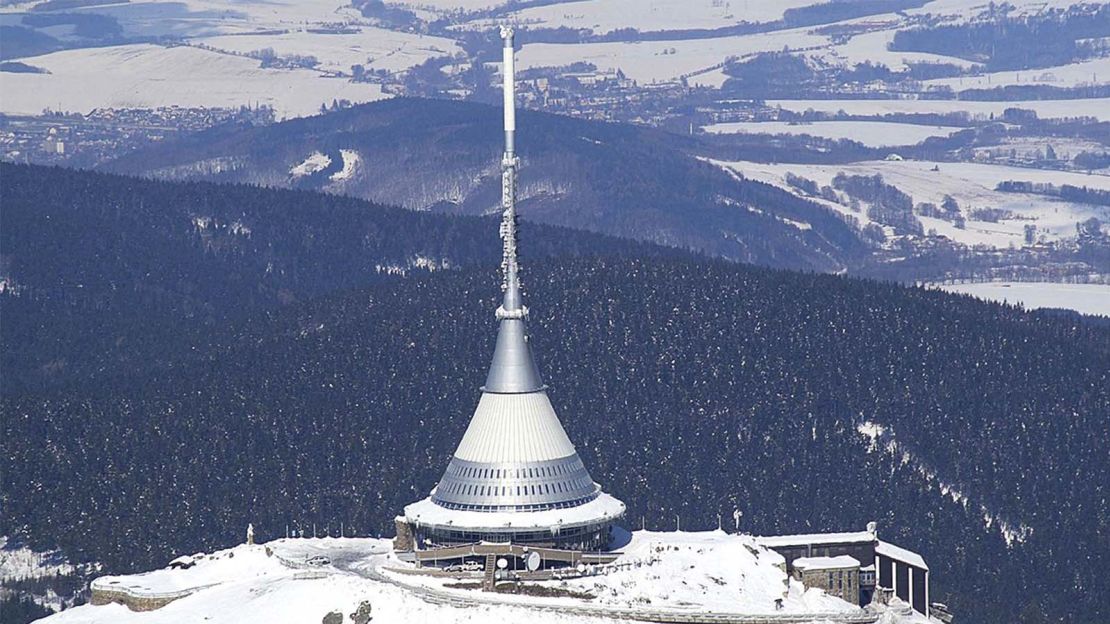 Built in the 1960s, this hotel looks more like something from a sci-fi movie than a place to spend the night.
Located 1,012 meters above sea level, Hotel Jested offers stunning panoramic views of the Czech Republic countryside.
According to the hotel's website, railings in the interior of the hotel are made of discarded pieces of steel that have been welded together, giving the place an industrial feel.
5. The 9 Hours Capsule Hotel Kyoto (Japan)
This one's definitely not for claustrophobics.
At 9 Hours Capsule Hotel Kyoto, you sleep alone inside a capsule.
Inside each sleeping pod is a sleep ambient control system, which claim to support sleep-wake rhythms to help you get a better rest.
12 hot new hotels to check into in 2016
6. Sun Cruise Resort (Donghae, South Korea)
Want to go on a cruise but afraid of getting seasick?
South Korea's Sun Cruise Resort may be your answer.
Calling itself the "first luxury cruise ship on land," the resort offers everything you'd experience on a luxury cruise ship – except maybe seasickness.
There's even a rotating sky lounge offering great views of the ocean.
7. Spitbank Fort (Portsmouth, England)
Spitbank Fort sits right in the middle of the sea.