Story highlights
In some of Mumbai's trendiest bars, drinks evoke memories of Indian childhood favorites
Mixologists are creating versions of classic banta or goti sodas spiked with gin and vodka
Mumbai's cocktail scene may be growing up, but it's refusing to grow old.
In some of the city's trendiest bars, drinks are spiked with a dose of nostalgia.
"I wanted to recreate some of my favorite flavors from my childhood," says Arjun Chaudhary, the assistant restaurant manager at Farzi Café, a bar and restaurant that opened in 2016 and is already one of the city's hottest dining venues.
In addition to its haute Indian fare, Farzi has developed a reputation for innovative cocktails.
Among its signature drinks is a selection of boozy banta – a riff on the carbonated beverages that have been a local summertime kiddie treat (much like soft serve ice cream or cotton candy) for decades.
Banta, or goti soda, predates big brands like Pepsi and Coke, and has long been a staple on the streets of India's bigger metropolises.
Alcoholic slushies
Served in distinct green bottles, the beverage came in flavors native to the country, like masala and shikanji (a spicy, cumin-infused take on lemonade).
Now, Mumbai's mixologists are creating versions spiked with gin and vodka.
(Farzi Cafe, Kamal Mills Compound Ground Floor, Kamala Mills, Near Radio Mirchi Office S.B Marg, Lower Parel, Mumbai; +91 8800 690 418)
Another new restaurant and bar, Bombay Canteen, goes one step further, serving up not only boozy bantas out of an in-house soda machine, but alcoholic slushies and popsicles, to help patrons really regress.
Two in-house slushie machines churn out sangria and margarita variants (both infused with Indian flavors).
Customers can also opt for a pina colada-cherry duet popsicle, with white rum, pineapple juice, coconut syrup and cherries and cream.
(The Bombay Canteen, SB Road, Lower Parel Process House, Kamala Mills, Mumbai; +91 22 4966 6666)
Smoke and mirrors
In many of Mumbai's bars, you'd be forgiven for mistaking the cocktails for science experiments.
MasalaBar is the newest addition to Bandra, the trendy suburb that's a favorite with the Bollywood set.
It uses molecular mixology to evoke a sense of time and place in its cocktail menu.
Each of the bar's 10 signature cocktails is based on a famous Mumbai location, whose essence is captured by the use of innovative ingredients and techniques.
An Evening at Chowpatty – a reference to a popular Mumbai beach – incorporates coconut water – a typical beach thirst-quencher.
This version, though, comes with curry leaves and vodka and is topped with coconut foam.
(MasalaBar, Level 1, Gagangiri Apartments, Carter Road Bandra, Mumbai; +91 845 1900 257)
Theatrical drinking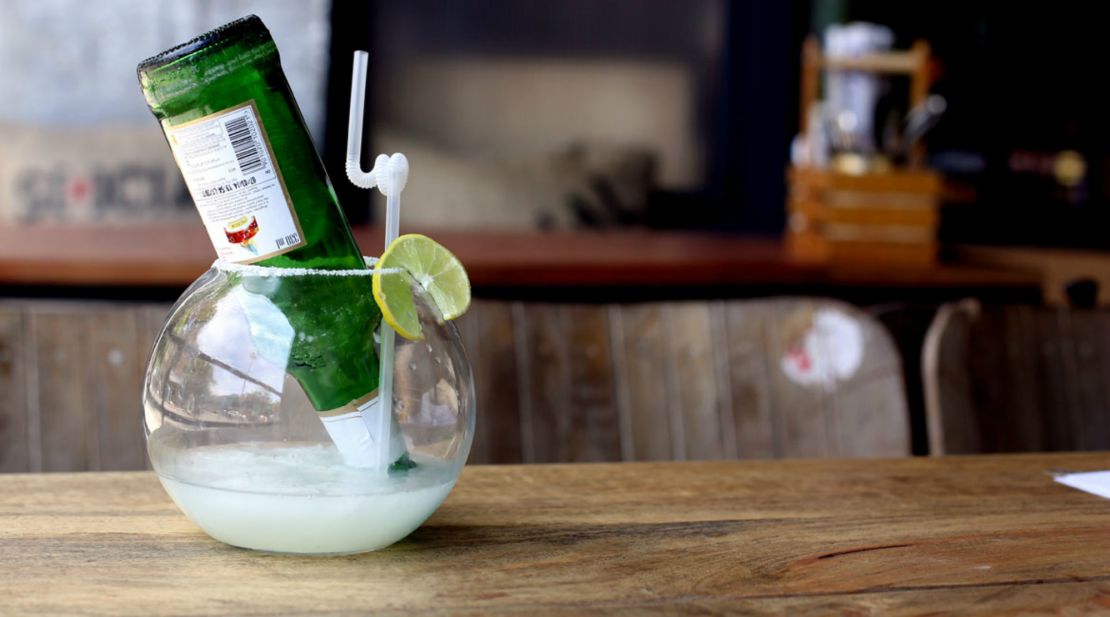 Trendy new drink spot Colaba Social has a more tongue-in-cheek approach to its cocktail list, which values theater above all else.
Take, for instance the Schizophrenia, a vodka-lavender mix that comes served hidden behind a mirror with a straw poking out.
Other concoctions take on an even more surreal approach, such as the trippy-titled Two Lost Souls Swimming in a Fish Bowl, a mix of domestic beer and margarita.
(Colaba Social, 24, Ground Floor, B.K.Boman Behram Marg, Apollo Bunder, Colaba, Mumbai; +91 80970 05123)
Shhh, it's a secret