Story highlights
Namibian capital Windhoek has a population of just 322,000 but produces more than a dozen beers
Windhoek Lager and the slightly darker Tafel Lager and Hansa Pilsner are among local favorites
Namibians insist that the quality of their beer prevents hangovers
After clocking off, office workers meander through Windhoek, Namibia's well-kept streets toward an old warehouse.
Admittedly, at first it seems a bit ramshackle compared to the rest of this modern city, a place somehow both charmingly small town and utterly cosmopolitan.
But behind the walls is a living monument to one of Namibia's most iconic commodities: beer.
Top-quality brewing is a legacy of German colonialism.
Although South Africa took over in 1920 and imposed its own laws, the reinheitsgebot stayed – the famed German purity law of 1516 mandated that beer must only include water, barley and hops.
That tradition remains today, not by law but by choice.
Windhoek may have only 322,000 people, but it produces a dozen beers that hold their own against the neighboring giant, SAB Miller, next door in South Africa.
Most of the beers made in Namibia are for export, fueled by a legendary commitment to the reinheitsgebot.
During World War II, Namibia Brewery founders, Carl List and Hermann Olthaver, couldn't source good enough ingredients.
So they stopped production rather than make inferior beer.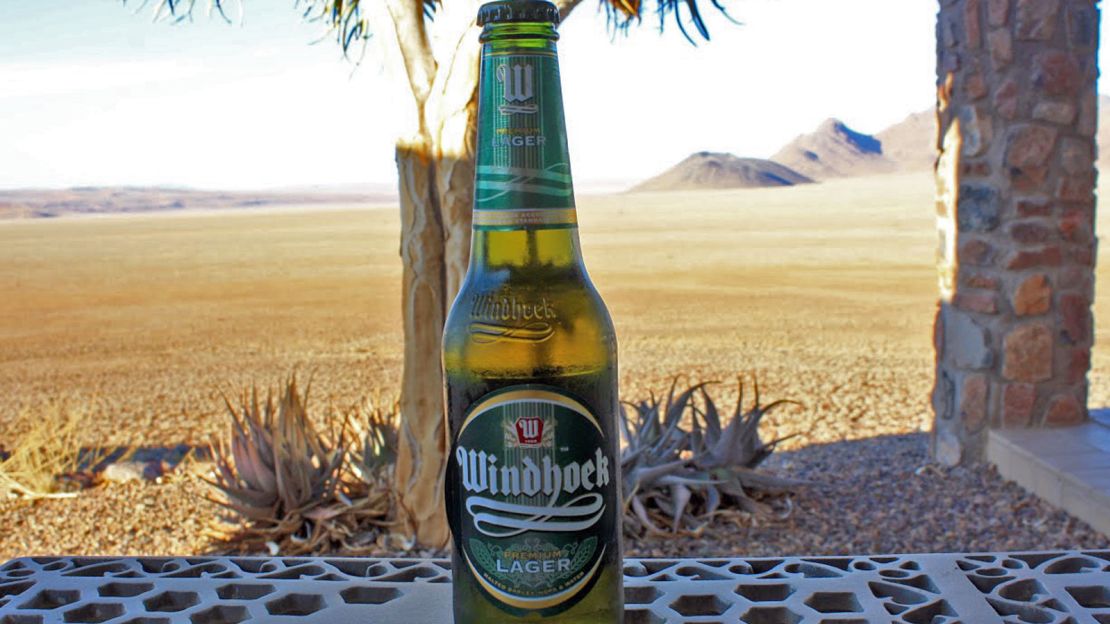 Hangover-free
Today, Namibians insist that the quality of their beer prevents hangovers.
Or, at least that's what they tell tourists to encourage them to drink more.
The Old Brewery complex in Windhoek was one of the first to put the purity law into practice in Namibia.
Production has long since moved to an industrial area – the buildings have been repurposed into shops and a theater.
The original Boiler Room now houses a restaurant and bar, where the happy hour crowd fills the open-air courtyard.
Later, velvet ropes will be strung along the sidewalk to handle music fans coming to see who's on stage, which could be spoken-word poets, local musicians or international successes like the Parlotones.
Inside a glass cabinet, old steins sit alongside early bottles and cans of Windhoek's eponymous beer.
At the bar, Windhoek flows freely in its three most common variants: draught, lager and light.
All three are golden-amber, easy-drinking beers that are go-to choices for cooling off on Namibia's hot and dry days.
For armchair travelers, these are the easiest to find overseas as well.
Namibia Breweries does make a limited run of Windhoek Special, which is usually less interesting than its occasional batches of maibocks or other specialty beers.
In Windhoek's bars, it's more likely the other local options will be the slightly darker Tafel Lager or Hansa Pilsner, which both originated in the coastal town of Swakopmund.
In winter, NamBrew produces Urbock and Urbock Draught.
With a dark, Munich barley malt, they're made only in May and last just through the chilly months.
These "true bock" beers are steeped in German tradition, with a more distinctive and flavorful taste than the country's lighter lagers.
They also have a higher alcohol content.
Beer that tastes like tea
On the craftier side is Camelthorn Weizen, on tap when it's available.
Also an amber, it's made with ingredients imported from South Africa, Europe and the United States for a slightly different taste.
Camelthorn started out as a promising independent brewer, but has been absorbed into the NamBrew empire.
It's experimented with different flavors, including rooiboos, the red bush popular for tea in southern Africa.
Really comparing the quality of all of Namibia's beers to the imports requires a trip to Joe's Beer House.
Joe's serves hearty food, which fits well with the beers.
Joe's also boasts one of the biggest selections of game on any menu, anywhere: kudu loin, zebra steak, oryx schnitzel and crocodile skewers are just a sampling.
Trophies of some of these same animals are mounted on the walls, alongside beer memorabilia and knickknacks from the owners' travels.
It's the kind of place that could easily slide into a caricature of itself as an African rest stop, but the total lack of irony keeps it genuine and warmhearted.
And in all honesty, kudu are beautiful creatures, but they taste good too.
Griffin Shea is a writer and traveler based in South Africa. His latest project is a travel app for African cities for iPhone and Android.