Sustainability is one of the key themes at Dubai's World Expo, and with more than 190 countries represented at the six-month event, few have embodied that better than the Netherlands.
Its pavilion is itself a cutting-edge sustainable innovation, a structure whose centerpiece is an 18-meter-tall, cone-shaped vertical farm.
The brainchild of Dutch architect Michiel Raaphorst of V8 Architects, it's described as a "biotope" (basically, an area with a uniform biological environment) that aims to "unite energy, water and food," allowing farming even in places where the temperatures are typically too high, like in the desert heat of Dubai.
"We built a system of technology to harvest energy from the sun and water out of air," Raaphorst tells CNN.
Growing food in the desert
Over the past few years, Dutch companies have been looking at innovations to produce energy from renewable sources, cultivate food sustainably and scale-up production from indoor vertical farms. They're now using the biotope pavilion to showcase some of their green achievements.
A chimney at the top of the cone sucks in air to capture moisture and produces water through a condensation process powered by solar panels installed on the rooftop. With this technique – developed by Dutch company SunGlacier Technologies and designer Ap Verheggen – the pavilion can produce up to 1,200 liters of water a day. Some is available for visitors to drink and some is used to feed around 9,300 mint, basil and tomato plants dotting the surface of the cone.
The condensation process leaves high levels of CO2, making the cone the ideal place to grow other kinds of food. "It's humid, dark, cold," Raaphorst says. "These are the perfect conditions for edible oyster mushrooms. You can smell them here as we grow them inside the cone."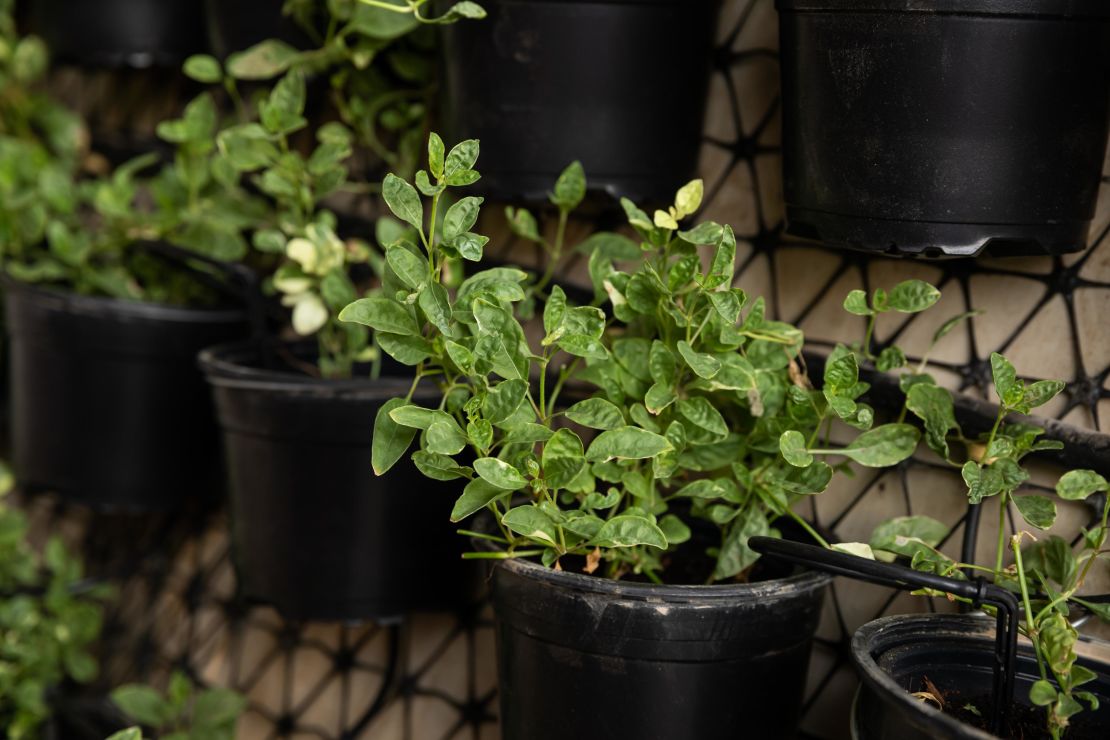 The pavilion's temperature is regulated using energy from the solar panels, so it doesn't feel like being in the middle of the desert. Although the cone is a controlled environment, it's more open than conventional vertical farms and uses less energy, says Raaphorst, and it can be used anywhere in the world.
Visitors to the pavilion can learn about the cone through an immersive and interactive experience. Inside the cone, a short film showing how the biotope works is projected on umbrellas given to visitors. The three-minute show ends with water falling like rain from the top of the cone.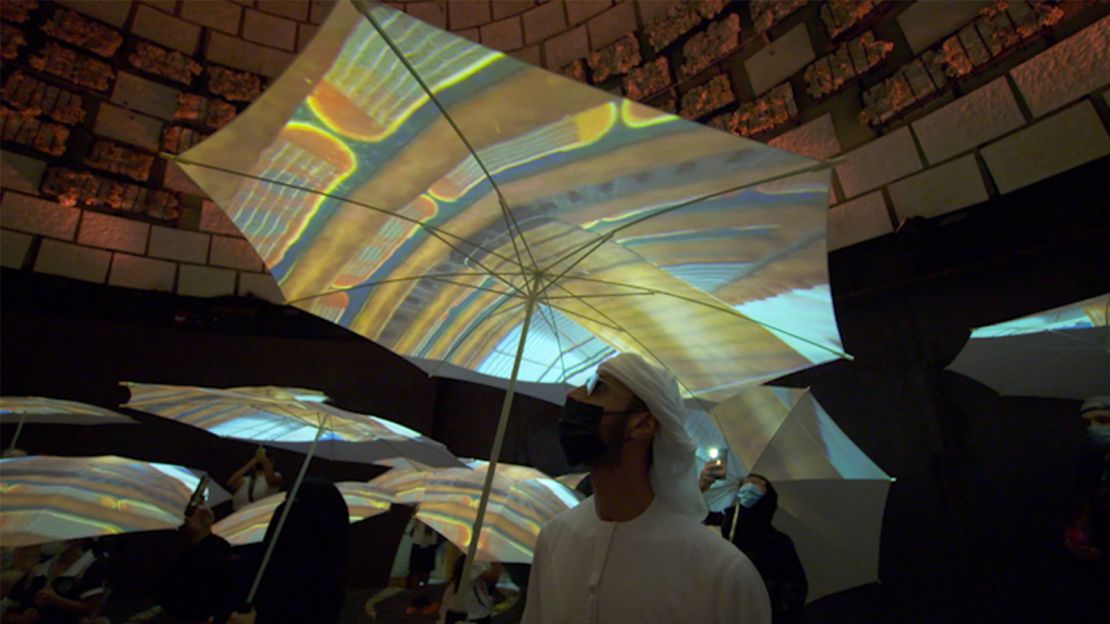 A sustainable solution for vertical farming?
The Dutch pavilion also aims to reduce waste in other ways. The façade and the external walls are made with used industrial materials like steel pipes, while the floor is made from a combination of mushrooms and straw. Once Expo 2020 is over, all the building materials will be recycled locally.