It's been a good year for fans of rail travel, with speedy new train services opening around the world, linking major cities and slashing rail journey times.
Whether travelers are looking for an alternative to flying, or just want a faster train ride, these services are offering new travel opportunities.
Guangzhou-Shenzhen-Hong Kong Express Rail Link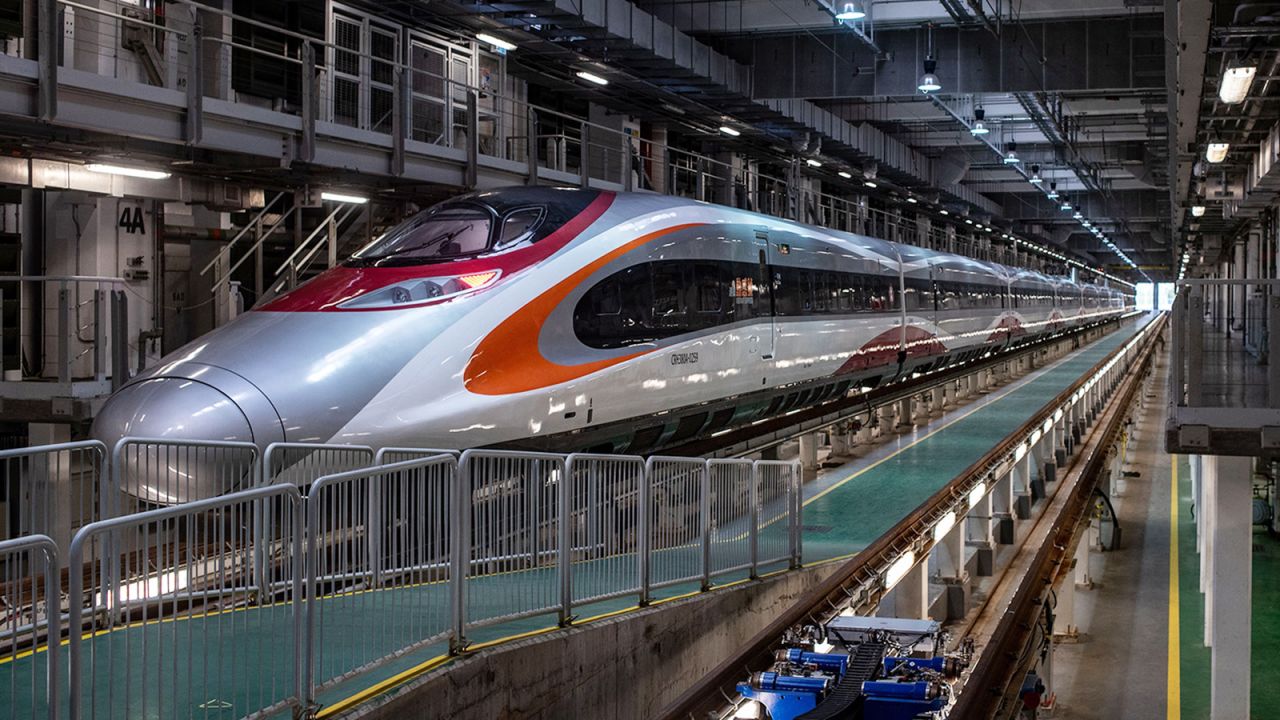 Also known as the XRL, the Guangzhou-Shenzhen-Hong Kong Express Rail Link opened in September.
The 26-kilometer (16-mile) service connects the semi-autonomous city of Hong Kong with mainland China's extensive high-speed rail network.
Read: What to expect from Hong Kong's new bullet trains
Bullet trains run from Hong Kong's newly opened West Kowloon station to 44 destinations. The journey between Hong Kong and Guangzhou, previously two hours by train, takes just 47 minutes. Trips to Shenzhen take 14 minutes.
Direct trains from Hong Kong to Beijing take nine hours and to Shanghai, eight hours. They each run once a day.
Read: 40 beautiful places to visit in China
In an unprecedented arrangement, West Kowloon station is divided into Hong Kong and Chinese immigration controls – which means passengers can avoid an additional check when traveling in and out of Hong Kong.
The move has not been without controversy: part of the station is governed by Chinese authorities and patrolled by mainland police. Travelers from Hong Kong still need to have a valid Chinese visa or travel document to ride the train.
Tel Aviv-Jerusalem railway
The Tel Aviv-Jerusalem railway – Israel's first electric train line – partially opened in September.
It currently links Ben Gurion Airport, 13 miles (20 kilometers) southeast of Tel Aviv, to the Jerusalem-Yitzhak Navon railway station. The journey takes around 20 minutes.
Once completed, the direct link between Tel Aviv and Jerusalem will reduce travel between the two to less than 30 minutes, with trains that run at a top speed of 100 miles (160 kilometers) per hour. It will be an alternative to the existing train route between Jerusalem and the ancient town of Jaffa, 6 kilometers from downtown Tel Aviv, which takes one hour and 40 minutes.
Read: Guide to Israel, West Bank and Gaza
Originally slated to open in 2008, the project has been plagued by delays and no completion date has been announced. It's another controversial project: two sections of the line – largely underground – run through the West Bank, which is considered occupied Palestinian land by the international community.
Tangier-Casablanca high-speed line
Officially opened last month, this high-speed rail line will link the Moroccan cities of Tangier and Casablanca via the capital city of Rabat, and Kenitra in the north.
Read: Africa's first high-speed train opens in Morocco
The line will have French-made double decker TGV trains that reach speeds of 200 miles (322 kilometers) per hour.
Located on the northwestern coast, Tangier has traditionally been a gateway between Africa and Europe. Casablanca is Morocco's largest city and its economic powerhouse.
Tangier is known for its bohemian vibe, abundance of cafes, and rich multicultural heritage – while Casablanca is famous for its architecture and beautiful beaches.
The two cities are 340 kilometers apart, and the new line will reduce travel time to two hours – down from almost five hours on existing trains.
London-Amsterdam Eurostar
The high-speed Eurostar has long offered daily services between London and various cities in mainland European, including Paris (two hours and 16 minutes) and Brussels (just under two hours).
In April 2018, Eurostar launched the first ever direct service between London and Amsterdam, which takes three hours and 41 minutes.
Read: Insider's guide to Amsterdam
There are currently two direct trains daily from London to Amsterdam. There is no direct return, however, because the British and Dutch governments haven't yet reached an agreement regarding border control.
Eurostar is "planning to introduce a direct return once the governments have come to an agreement," which is expected to happen by the end of 2019, according to a spokesperson.
Baku-Tbilisi-Kars Railway
The Baku-Tbilisi-Kars Railway (BTK) actually opened in 2017. Connecting the capitals of Azerbaijan and Georgia with the ancient city of Kars in Turkey, the BTK stretches 513 miles (826 kilometers).
Read: Best things to do in Azerbaijan, from volcanoes to tea culture
But in 2019, the railway will introduce a new route that will take passengers between Baku and the Turkish cities of Ankara and Istanbul – the first direct train link between Azerbaijan and Turkey that doesn't require stops in Georgia, which shares borders with the two countries. Trains will have a maximum speed of 100 miles (160 kilometers) per hour, according to Stadler Rail Management, which is manufacturing the carriages.
Read: 6 Turkish adventures beyond the beaches and bazaars
While journey times on the routes have not been announced, the direct services will be a vast improvement on existing train lines. Currently, those traveling by train have to endure a 40-hour journey with multiple stopovers to get between the two capitals. Trains from Baku to Istanbul take three days.