Think of New Zealand and you probably picture vast tracts of unspoiled nature that provide everything from ski slopes to big waves.
Here are our picks of the 10 best wild places in New Zealand:
1. Great Barrier Island
"The Barrier," as it is locally known, is the fourth largest of New Zealand's islands. This rugged, mountainous landmass is the last stop on the outer edge of the Hauraki Gulf before the vast blue of the Pacific Ocean. Ninety kilometers from downtown Auckland, it's off the national electricity grid, and boasts a range of stunning beaches, from wild surf to lazy lagoons.
Accommodation is provided with a wide range of "baches" – the traditional New Zealand equivalent of a basic cabin. Today, this can mean anything from a luxury beach house to a one-bedroom eyrie in the mountains. During summer, get there via a two-hour Fuller's Ferries journey or fly year-round in 30 minutes with Great Barrier Airlines.
2. Learn to surf at Raglan
Reenact your own "Endless Summer" at one of New Zealand's classic surf towns. Raglan's Manu Bay was featured in the iconic 1966 film, with good reason – it's well known for possessing the longest left-hand break in the world.
A particularly good wave can carry a surfer up to two kilometers. Which implies one mean paddle to get back to the original drop-in point. The town itself is as laid-back and surfer-friendly as a Kiwi small town can be, with a pretty main street and plenty of hearty fare, beer and local accommodation on offer.
3. Maruia Springs
Head inland along Lewis Pass, off the well-beaten route down the east coast of the South Island, to the stunning Southern Alps and the Hanmer Springs spa village.
Drive further west to the smaller and less touristy Maruia Springs, which has thermal mineral pools in an idyllic natural setting. Camping is available here or at the small Department of Conservation-run Deer Valley site 10 kilometers up the road.
4. Auckland's west coast beaches
Karekare, Muriwai, Piha and Bethell's Beach occupy special places in the hearts of Aucklanders.
Though within easy driving distance of the city centre, the beaches are separated from it by the misty Waitakere Ranges, through which narrow roads gradually wind down to the wild coastline. They are big in every sense of the word: big beaches of black volcanic sand disappearing into the distance, big rocks and big surf.
Generations of hippies, artists and surfers have made their homes here. Each beach has its own character, from the aching isolation of Karekare (captured in the 1993 film "The Piano"), to the surfer community at Piha, to the dozens of outdoor activity spots at Muriwai Regional Park.
5. Milford Sound
Described by Rudyard Kipling as "the eighth wonder of the world," Milford Sound is justifiably New Zealand's top tourist destination.
Situated in Fiordland National Park, the narrow sea entrance hides wide, pristine interior bays – actually a fiord – framed by sheer rock faces rising to more than 1,200 meters, lush rain forest and waterfalls. Seals, penguins, dolphins and the occasional whale visit the waters.
Several scenic cruises are available, as well as an underwater observatory providing views of the black coral and marine life. Getting to Milford Sound is easiest by plane or helicopter – both are perfect ways to get a great view of the Sound. Driving is also possible, though the route is long and winding.
6. The Milford Track
The Sound is also the end point of the 53-kilometer Milford Track, the jewel in the crown of the Department of Conservation's (DOC) "Great Walks" – a set of well-maintained hiking tracks specifically designed to allow visitors to see the country's best, and otherwise inaccessible, scenic areas.
The DOC also manages comfortable, well-equipped cabins which, due to their popularity, operate on a booking system to manage visitor numbers.
The Milford Track begins at the head of Lake Te Anau, which can be reached by ferry or by climbing Dore Pass from the Milford Sound Road. Likewise, Sandfly Point, at the Milford Sound end, can be reached only by sea.
7. Tongariro National Park
Tongariro, New Zealand's first national park and a World Heritage area, contains three major peaks – Tongariro, Ruapeha and Ngauruhoe.
A natural hotspot for hikers, its most famous track, the Tongariro Alpine Crossing, passes through spectacular volcanic terrain – much of it still active.
The six- to-eight hour route takes in lava flows, an active crater, steam vents and emerald-colored lakes. The small ski town of Ohakune is also located at the southern end of the park, on Ruapehu's Southwestern slopes, and acts as a base for skiers and snowboarders using the nearby Turoa ski field.
8. Rotorua geothermal zone
Three hours' drive from Auckland, Rotorua is the country's primary geothermal area, boasting a wide variety of hot springs, geysers and Maori cultural attractions.
It's well worth spending an hour or two at Wai-O-Tapu hot springs on the geothermal high road of SH5 to inhale the sulphur and see different types of thermal pools and bubbling mud in action.
The Polynesia Spa is routinely voted one of the top 10 spas in the world, and offers bathing in alkaline rock pools of varying temperatures.
9. Queenstown
Visitors come to this beautiful alpine town at the edge of Lake Wakatipu for the skiing in the colder months and for its spectacular beauty year-round. They also get a lively atmosphere.
Queenstown manages to combine a down-to-earth small town vibe with top-notch slopes at nearby Cardrona Alpine Resort, Coronet Peak, The Remarkables and Treble Cone.
Also within reach is Arrowtown, a former gold rush site, that maintains its heritage status without being twee. It's home to Saffron restaurant, which showcases the best central Otago cuisine with a global influence.
In Queenstown, the dining scene is well established with some top restaurants. Wai and The Bunker offer excellent finer dining feeds. Advance bookings are recommended. Fergburger is a required pilgrimage for burger fans. Just expect to join a throng of other worshippers.
10. Franz Josef Glacier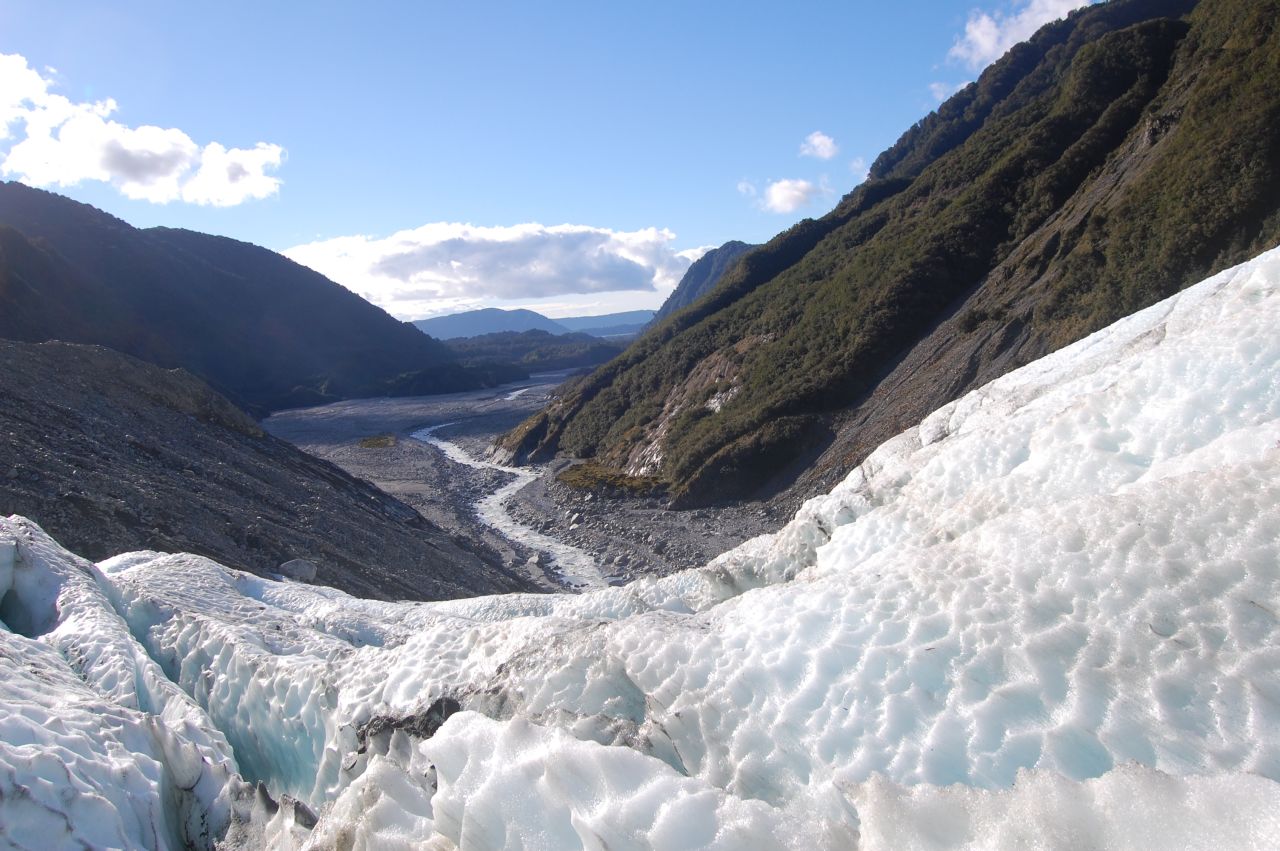 The 12-kilometer-long Franz Josef Glacier in Westland Tai Poutini National Park is one of the fastest flowing glaciers in the world. Its cyclic process of advance and retreat has at times seen it extend more than 70 centimeters a day; a flow rate 10 times that of other glaciers.
It is also unique in that it runs from the peaks of the Southern Alps to a rain forest growing just 300 meters above sea level.
The glacier's Maori name (Ka Roimata o Hinehukatere) refers to the legend of the tears of adventurous, mountain climbing Hinehukatere, whose lover Wawe was swept away by an avalanche, leaving her brokenhearted. The most popular way to access the glacier is via helicopter, which drops visitors at the first or second icefall for a guided walk through the daily changing glacial landscape and ice tunnels.
Editor's note: This article was previously published in 2011. It was reformatted and republished in 2017.