Editor's Note: This article was originally published in June 2016.
This story complements the Culinary Journeys TV series, airing monthly on CNN International. See more of the show here: cnn.com/journeys. Share photos of your own Culinary Journeys on Instagram with the hashtag #CNNFood for a chance to be featured on CNN.
Norway's a destination that lends itself to storytelling.
From the gods of Norse myth and fairytale trolls roaming mountain and forest to sailors' yarns swept in from the fjord-studded coast, there have always been tales to tell during Norway's long winter nights.
Danish chef Esben Holmboe Bang, co-owner of Maaemo, one of the world's most northerly Michelin-starred restaurants, is the country's latest storyteller extraordinaire – and in February 2016 he got a third Michelin star to prove it.
Maaemo is old Norse for "Mother Earth" or "all that is living," and the nightly set menu of 20+ dishes is a work of culinary theater: a retelling of Norway's history and food culture, from soil to sea.
An emotional experience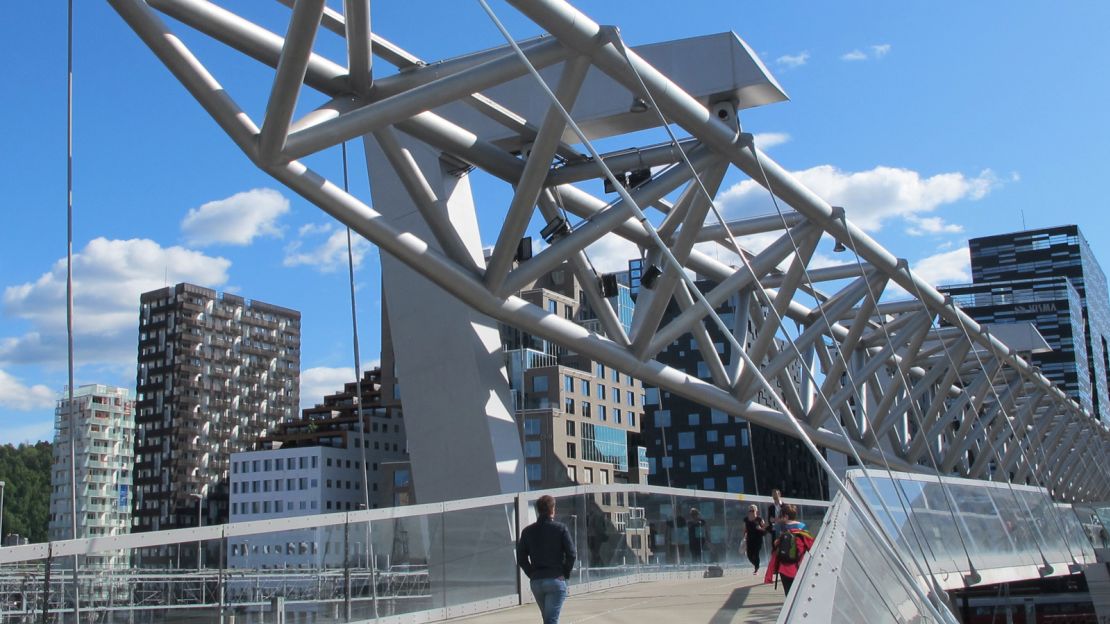 "We try to give people an emotional experience," Holmboe Bang tells CNN Travel. "Coming to a restaurant is one of the single most beautiful things in the world. We get to hold people's hearts for three and a half hours and completely control their experience. It's all about reading the guest and trying to see what are their expectations."
All the food is made from seasonal, organic or biodynamic ingredients from Norwegian producers – from skate cooked on bone with wild garlic and salted butter, to green asparagus with buckwheat miso, roses and nettles – and changes throughout the year.
The restaurant's clean modern lines, simple blond-wood furniture and monochrome artwork including Norse mythology-inspired pieces by Holmboe Bang's friend Danny Larsen allow the food to take center stage.
There are just eight tables, holding up to 30 guests, allowing for a tailored evening.
A trip to Maaemo is often a once-in-a-lifetime event for guests – the tasting menu costs 2,300 NOK ($276) per head, with wine pairings an additional $203 – and Holmboe Bang does his best to ensure that the three to four hours they spend there are memorable.
For Norwegians, it might be about revisiting the tastes of their childhood; for overseas visitors it might be an introduction to a whole new food culture.
Norwegian summer
Culinary Journeys spent a week with Holmboe Bang in May, as Norway entered its summer season of long days and flowering fruit and vegetables.
We ate freshly caught scallops beyond the Arctic Circle, learned how to prepare klippfisk – dried and salted cod – in Nordskott and sniffed dung-filled cow horns at a biodynamic farm outside Oslo.
Midweek, Holmboe Bang did a Facebook Live with the CNN International audience, demonstrating how to prepare a mackerel dish with ramson gel and apple and ramson vinaigrette and taking questions from users.
He talked about his trip to the Arctic, his favorite place to eat, and what he makes of current food trends.
We didn't have time to cover all the Facebook questions during the chat, so we caught up with him afterward to ask a few more. We've edited these for clarity and length:
CNN's Lidz Ama Appiah: What are the newest flavors you've discovered or rediscovered recently that you've incorporated into your meals?
Holmboe Bang: We always try to work on new things. The newest thing is actually fermented white asparagus.
I've tasted that before, but then we tried to mix the brine of fermented white asparagus with cow's whey and it tastes just like an insanely mature cheese.
CNN: What goes on in your test kitchen?
Holmboe Bang: It's basically just a kitchen where we can experiment freely. We work on new dishes; we work on techniques, preserving methods, anything really.
We can go a stretch of time where we don't even cook in there, it's just conversations and planning.
It's a space which is detached from the actual day-to-day kitchen, where we can go really in to depth with what we're trying to do.