CNN Travel's series often carries sponsorship originating from the countries and regions we profile. However, CNN retains full editorial control over all of its reports. Read the policy.
Say "Penang" and images of street food and heritage buildings pop into most people's minds.
Truth be told, if I'd spent my eight years living on this Malaysian island just because of the capital George Town's great eats and atmospheric shop houses, I'd either be seriously overweight or completely blind.
Because even without the food and the decadent buildings, Penang is a very special place.
It's also a rich tropical egg-yolk that's hard to break for first-timers.
Here are nine ways to go beyond George Town's gentrified façade and get to know some of the real multi-ethnic, artistic and natural depth that the entire island of Penang has to offer.
Penang's eclectic art scene
George Town's street murals have become a tourist attraction in their own right.
But it's the young international artists behind them who have really transformed the island into one of Asia's premier art destinations.
The local art scene is based out of Hin Bus Depot (31 Jalan Gurdwara, George Town), a former parking lot turned decadent-chic art and dining space.
"In Penang it doesn't matter where you come from or how long you will stay. Local and international artists collaborate seamlessly," says Wanida Razali, Hin's gallery manager.
Penang's mix of old and new certainly attracts international creative spirits.
"The art scene has many different cliques for anyone to get into, and the island's vibes inspire people to get up and do s—," says Alvin Neoh, a musician, visual artist and manager of artsy bar Narrow Marrow (252 Lebuh Carnarvon, George Town; +60 (0)16 553 6647), another haven for Penang's creatives.
To Trevor Hampson, who lived in London for 14 years before opening Run Amok art gallery (59A Jalan Timah, George Town) in Penang in 2014, "the street art put the local art scene out to the general public, but differently from London, the island has many places to meet and mingle with artists who are always ready to strike a conversation."
Ancient stick-fighting
Since 1936 Penang has been preserving silambam nillaikalakki, a traditional Dravidian Indian stick-fighting martial art transplanted from Tamil Nadu.
Grandmaster Dr. Anbananthan, who began studying the style under Madurai-born Asan Mariapakaiam in 1962, still teaches this elegant footwork-based, self-healing martial art.
"We still preserve silambam's 5,000-year-old syllabus, conserving Tamil cultural heritage," says Saravanan Ramasamy, one of the group's senior members.
The best part is that one can study silambam for free on the top of Balai Rakyat Tun Sardon, a community hall tucked away in Gelugor district.
"It doesn't matter where a student is from, because if they manage to arrive here, it means that, like us, they are also looking for the truth," says disciple Aravindan Kamalanathan.
Balai Rakyat Tun Sardon, 25 Pintasan Pemancar 5, Taman Tun Sardon, Gelugor. Silambam training takes place Monday-Tuesday, Thursday-Friday from 7-9 p.m.
Underground music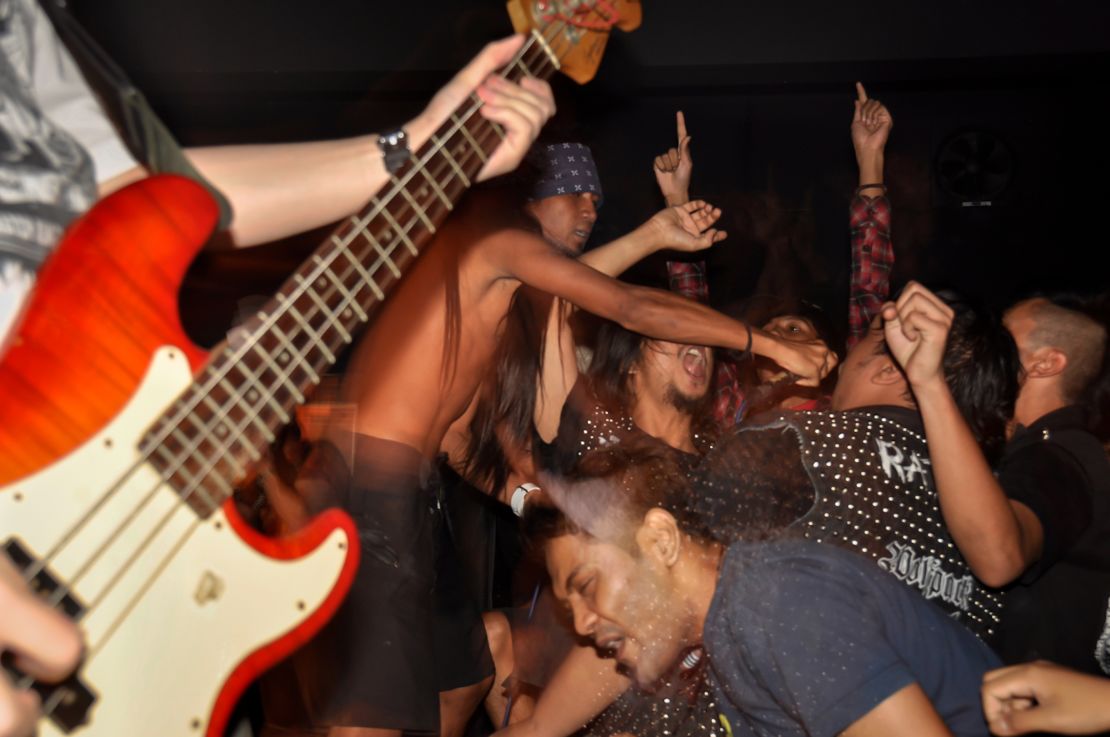 Punk rock, metal and alternative music thrive at Soundmaker (2nd Floor, 62 Weld Quay, George Town), one of Asia's best underground clubs.
Hidden away on the first floor of a building facing Weld Quay's Chinese jetties, it packs throngs of alternatives who come to head bang and raise the horns to the loud guitars of an increasing array of Asian and international touring bands.
"We host original music and support real local talent," says wiry Cole Yew, Soundmaker's prime mover for the past decade.
"You won't find the lame cover-band entertainers that flock any Malaysian bar here."
Check their show schedule online, or just drop by to grab a drink and bite into Penang's hidden side.
Potehi Glove Puppet Theater
One of Penang's dying traditions, traditional Hokkien glove puppet theater is kept alive by a mere four troupes who squeeze a living performing at temples for religious purposes.
"Chinese cultural associations don't promote this art, preferring Chinese orchestra and lion/dragon dances as markers of their identity," explains Professor Tan Sooi Beng, a prominent Penang-based ethnomusicologist.
To help revitalize the art, she founded a Potehi group under the Ombak-Ombak Art Studio.
Learning from the original Beng Geok Hong troupe, the young puppeteers adapt potehi's three-hour-long plays to shorter versions that fit Penang's festival schedules.
For details on upcoming potehi and other Penang art performances contact the Ombak-Ombak Art Studio through its Facebook page.
Hungry ghosts
According to legend, during the seventh month of the Lunar year (August/September), King of Hell Tai Su Yah opens the gates of the netherworld, unleashing the dead upon the Earth.
They look for mundane entertainment and the comfort foods they can't find on the poorly stocked shelves of Hell's Kitchen.
Penang's lanes and street corners fill up with lean-tos housing impromptu shrines, each adorned with one watchful paper statue of Tai Su Yah.
This is where roaming ghosts come to get pampered and fed with comfort foods – including beer and the odd opium lump.
There are singing shows performed by skimpily attired, leggy Chinese starlets – a modern-day substitution for the Chinese opera.
Just don't sit in the front rows, even if the seats are empty: That's team Hell's VIP area.