Sign up for Unlocking the World, CNN Travel's weekly newsletter. Get news about destinations opening and closing, inspiration for future adventures, plus the latest in aviation, food and drink, where to stay and other travel developments.
One of Southeast Asia's most interesting cuisines, Peranakan food is primarily found in Singapore, Malaysia and Indonesia.
Bursting with flavors and colors, it's distinct for its mix of Chinese, Malay, Indian and Eurasian ingredients and cooking methods.
Main dishes are usually rich in gravy, and full of herbs and spices (the Malay influence), but often use pork and fermented soy bean paste (the Chinese influence).
Food was often served at room temperature, because they ate with their hands, a Malay practice.
"It's one of the first fusion cuisines," says Lloyd Matthew Tan, author of "Daily Nonya Dishes: Heritage Recipes for Everyday Meals."
The roots of a culture and a menu
Peranakan culture was birthed in the 15th century when Chinese men moved south to seek their fortunes, later marrying the local Malay women.
Being "Peranakan" means to be "locally born," a term used by the community to set themselves apart from the newer Chinese immigrants who arrived in Singapore and Malaysia in the 19th and early-20th centuries.
Men were called "Babas" and women "Nonyas." There were also Peranakans not of Chinese ancestry, such as the Jawi Peranakans and Arab Peranakans, but the Chinese Peranakans were the largest group.
By then, the Chinese Peranakan community had already established their own identity. Instead of speaking Mandarin, they spoke a mix of English, Malay and Hokkien. They were Anglicized and built good rapport with the colonial settlers. Many became bureaucrats or traders. Some became ultra-rich – a stereotype that continues today, as seen in the movie "Crazy Rich Asians."
The Peranakans have been known to hold on to their family recipes tightly, especially in the past. They spent days preparing and perfecting their meals. And since Peranakan women who didn't work were in charge of the home, how a dish looked and was presented became a way to show their skills off.
"We are not zen," says Alvin Yapp, who runs The Intan, a Singapore-based Peranakan museum.
In Singapore, interest in Peranakan cuisine has been revived over the past two decades.
You can find Peranakan food everywhere, from hawker centers to high-end restaurants. In 2016, it received international recognition when Candlenut became the first Peranakan restaurant to win a Michelin star.
Getting the award was a proud moment for Malcolm Lee, Candlenut's chef and owner. The fourth-generation Peranakan picked up the cuisine from his mom, aunt and grandmother.
"It shows that even simple, home-cooked meals can be lauded," he says.
Here are 10 classic dishes that provide a great introduction to Peranakan cuisine.
Ayam buah keluak (chicken stewed with black nuts)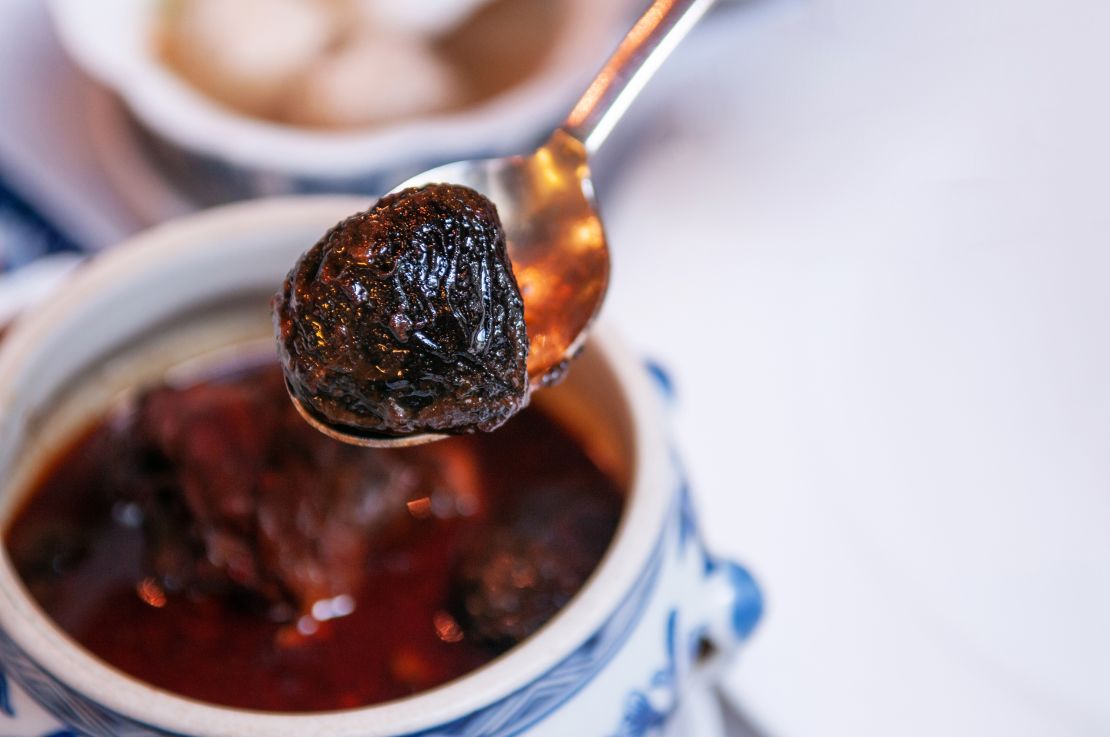 Think Peranakan food, and ayam buah keluak is the first dish that comes to peoples' minds.
The star of the dish is the buah keluak, also known as the "black gold of the east" for its truffle, dark chocolatey taste with a foie gras-like texture, says Sharon Wee, author of the cookbook "Growing Up in a Nonya Kitchen."