Story highlights
Phuket Elephant Sanctuary has five rescued elephants
Sanctuary visitors do not ride the elephants, which roam freely during the day
"They put the hook repeatedly into the most delicate part of her head, in order to control her," says Louise Rogerson.
Rogerson, co-founder of the Phuket Elephant Sanctuary, is describing the treatment endured by Gaew Ta, a blind elephant also known as Darling, before she was rescued.
"Before we opened, there was nowhere on the island for old, sick, injured, tired or overworked elephants to go, no retirement home.
"They were worked until they died."
Long famed for its beaches and tropical idyll, Phuket has attracted millions of tourists over the last few decades.
Many of these visitors will have ridden elephants at one of the destination's dozen or so trekking camps.
At these attractions, which dot the hills throughout Thailand's largest island, people pay a small fee to go on a 15-minute ride on the back of elephants.
They sit in hard bamboo seats while a mahout, as the elephant's trainers are known, controls the animal by sitting atop its neck, holding a spiked stick.
Your elephant riding selfie could kill the animal
Crushing an elephant's spirit
Every visitor to the Phuket Elephant Sanctuary begins their tour by watching a video that explains the dark practice – known as phajaan, or "crush" – used to control the elephants.
It involves taking baby elephants from their mothers, who are often killed in the process.
The calves are then trained to obey human commands, a process that involves subjecting them to confined spaces, beatings, sleep deprivation and hunger.
The end result is a docile and obedient animal, but also one whose spirit has been broken – or crushed.
"I remember the first time I was close to an elephant [at the sanctuary]," says Rogerson.
"To be in the presence of an elephant takes the breath away. I find them peaceful and calming, and they do listen to you."
The 30-acre sanctuary now has five elephants, three of which were rescued in December.
Once the sanctuary is alerted to an animal in need of rescuing through its network of contacts from the island, they then buy it from the owner.
The elephants are free to roam as they please during the day. At night they stay in large shelters, measuring 28 meters by 12 meters.
Sanctuary visitors do not ride the elephants. Instead, they feed and observe them as they roam, play and bathe.
"What amazes me is that we have taken in these elephants, some in their 60s, which have spent their entire life in cruel servitude to man, and they have recovered so quickly," says Rogerson.
"Elephants are emotional animals, they feel happiness, sadness and show love, and here we allow them to be themselves again, unafraid."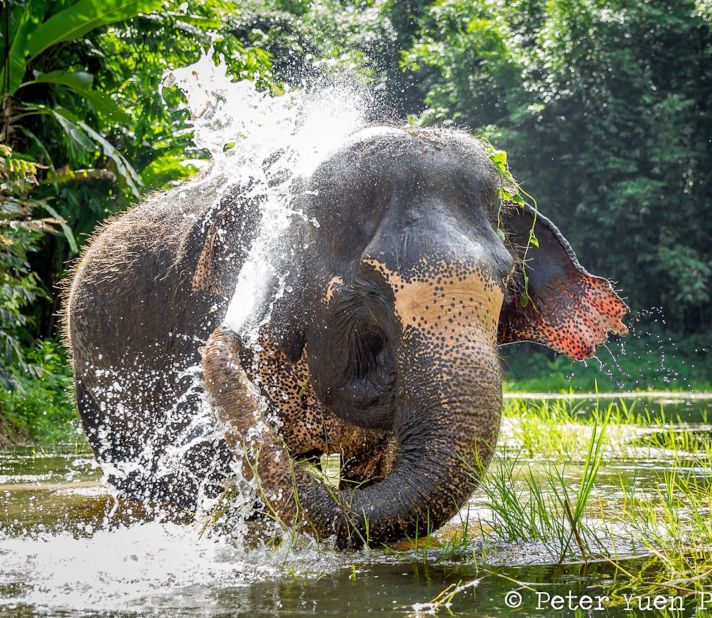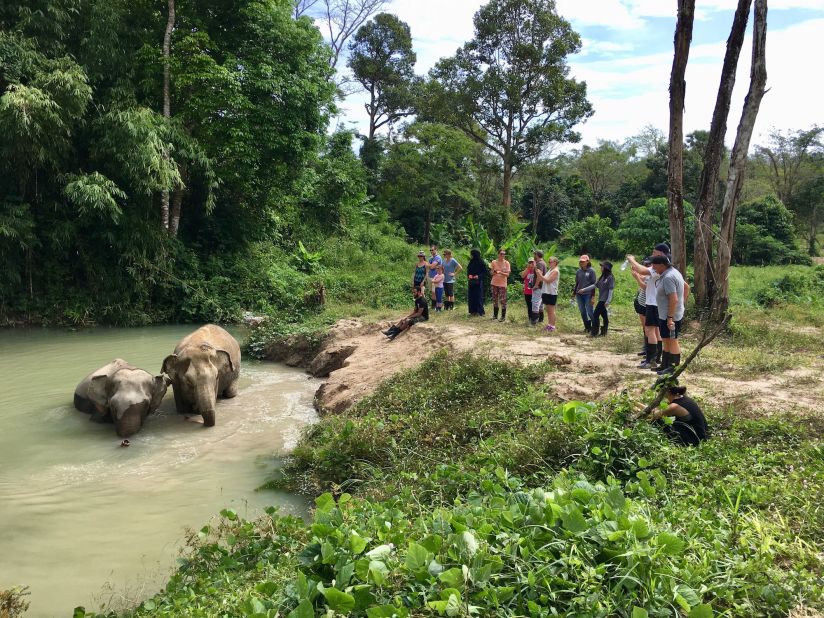 Elephant sanctuary treads new ground in Phuket
"I didn't know about the cruelty"
Rogerson remembers a nine-year-old girl who visited the sanctuary shortly after it opened in November last year.
"After her tour, this little girl came to me and said 'I think animals are cleverer than people, because what people are doing to the world right now, animals wouldn't do if they were in charge'.
"What is lovely about what we're doing here is we have had children come and watch elephants playing in water and not riding them in a show. We need the next generation to understand the importance of compassion to animals."
Joe Appel, an attorney from Oakland, California, recently visited the sanctuary while on honeymoon with his wife Ashley.
"Being able to interact so closely with such massive and beautiful creatures gives you a new, and perhaps healthier, perspective on your place in the world," he says.
"Their sheer size commands respect, but their friendly and sensitive nature is so endearing, it invites you to fall in love with them. They really are special animals."
Wife Ashley Appel adds: "It was incredible to be around these gentle giants, so playful and sincere. You can tell in their eyes that they're really happy, and the squeaks and trumpets show that they can express themselves."
It's not just the tourists Rogerson hopes to educate.
"As a new elephant center on the island, we naturally have had several curious Thai tour guides come and visit us.
"After seeing how the elephants are treated, one lady became visibly upset and told me that, 'For 10 years I have been telling tourists to visit the trekking camps. I didn't know about the cruelty, or how they can behave in their natural environment. This [Thailand] is my land, and the elephant is our national animal. I feel so guilty for recommending the camps'."
The 'saddle off' approach
With interest in allowing elephants to be themselves, Rogerson and her team are keen to spread the word globally that allowing people to observe and understand elephants can be an alternative to forcing the animals into a lifetime of hard labor.
"We call it the 'saddle off' approach. If there is any camp that wants to embrace change and follow what we're doing, we're happy to help them in any way possible."
The sanctuary, the first of its kind in Phuket, is modeled after Elephant Nature Park, a successful rescue and rehabilitation center in Northern Thailand.
The sanctuary has already attracted its first celebrity guest.
Actor Aaron Paul, better known as Jesse Pinkman from TV series "Breaking Bad," surprised his wife Lauren with a tour of the sanctuary last November.
His unannounced visit received global coverage in international media, giving Rogerson hope that high profile visits such as his will help raise positive awareness of elephants.
MORE: Inside Thailand's incredible Four Seasons Tented Camp
PETA's stamp of approval?
Ashley Fruno, manager of international operations for activist animals rights group PETA Asia, says that any legitimate elephant sanctuary would follow certain guidelines.
Visitor numbers would be limited to minimize stress to the animals, abusive training or control methods like bullhooks would be banned, as would rides and performances of any kind.
Visitors would not to come into contact with the elephants unless the animals initiate it.
In one sign of progress, last October TripAdvisor announced it would stop selling tickets to certain attractions including elephants rides and other activities that physically and psychologically "break" elephants' spirits.
This, says Fruno, shows a sea change in public opinion.
"Consumers are more aware than ever of the suffering that wild animals endure whenever they're kept in captivity, and they don't support it," she says.