September is an excellent month to catch the travel bug.
The weather is beginning to moderate from the extremes of summer in the Northern Hemisphere and winter in the Southern. You may find some hotels starting to lower prices from the high season. And crowds are starting to thin out. If you can arrange the time off, this month has much to offer the traveler.
Check out five of the best places to visit in September, including a revitalized US city and one of South America's under-the-radar destinations:
Sicily
This rugged, mountainous and autonomous island below the Italian Peninsula is an excellent late-summer, early autumn choice. The later in September you go, the more likely you'll find cooler weather, fewer crowds and lower prices.
Don't come here expecting a carbon copy of Italy on an island. Sicilians are a distinct people with a strong regional identity. So even an old hand at travel to Italy might find some interesting cultural differences.
As far as tourist destinations, we'll start with the one that looms over everything: Mount Etna.
It's one of the world's most active volcanoes, a UNESCO World Heritage site and as long as you keep abreast of any news of volcanic activity, a fascinating but safe place to explore.
If hiking up and back down 1,800 meters (about 5,900 feet) is too daunting, you can go via a cable car from the base. It connects with a four-wheel drive bus that will transport you to an excellent vantage point. (Funivia Dell'Etna: Parco dell'Etna, Nicolosi, Piazzale Rifugio Sapienza, 95030 Nicolosi CT; +39 095 387426)
If you're in a beach frame of mind, you're at the right island. Here are three beaches worth considering:
– Calamosche and Vendicari Nature Reserve: On Sicily's southeast coast, you can enjoy snorkeling, bird watching and hiking.
– Mondello: If you're staying in Palermo, Sicily's biggest city, and don't want to venture too far away, this long, white-sand beach could be for you (and a good many other tourists).
– Isola Bella: Near Taormina on the northeast coast, this pebble-laced beach is considered by many to be one of Sicily's prettiest ones.
Admirers of ancient ruins will hit the jackpot with the so-called Valley of the Temples on the southern coast. Agrigento became one of the premiere cities of the Mediterranean after it was founded as a Greek colony in 6 B.C. you won't soon forget the remains of the Doric temples at the site.
Here are a couple of events you'll find only in September:
– Santa Rosalia Climb: September is dedicated to Santa Rosalia, The Times of Sicily reports. "Santuzza," who lived in the 1100s, is credited with saving Palermo from plague in the 1620s. She is venerated by followers with an arduous but rewarding trek from the city to nearby Mount Pellegrino. (Every September 4)
– Cous Cous Fest: Enjoy cooking workshops, seminars, talk shows and a professional chef cook-off, all revolving around this popular Mediterranean grain. (Held in San Vito Lo Capo; September 21-29, 2019)
Pittsburgh, Pennsylvania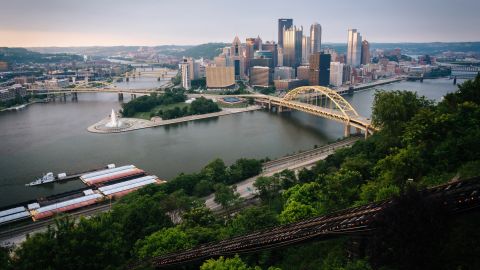 Some people may ask: Why would you visit Pittsburgh? Those in the know may ask: Why haven't you visited Pittsburgh yet?
September is good time to find out why Pennsylvania's second-largest city makes for such a great destination.
Before autumn chills and winter blasts set in, you may want to consider a boat tour in this city of rivers where the Allegheny and the Monongahela meet to form the Ohio. The Gateway Clipper Fleet is an option. They have a variety of sightseeing, holiday and dining cruises. (350 West Station Square Drive, Pittsburgh, PA 15219; +1 412 355-7980)
Another interesting way to see the city is from its two incline railways: The Duquesne Incline and the Monongahela Incline. Still-working incline railways are rare, and these are a fun and historical way to get great views of this hilly city. (Duquesne: 1197 West Carson Street, 15219. Phone: +1 412-381-1665. | Monongahela: 100 West Station Square Drive,15219; +1 412-442-2000)
In September the football season is still at the "high-hopes" stage, and Pittsburgh is a sports-crazy town, so you may want to take in a Steelers game at Heinz Field. If you'd rather see some college ball, the Pittsburgh Panthers play here, too. If you're not able to attend a game, you can still book a tour of the stadium. (100 Art Rooney Avenue, Pittsburgh, PA 15212; +1 412 697-7150 – press 4 for guest services)
The nice weather of September also makes the Phipps Conservatory and Botanical Gardens a good choice. Phipps is a civic treasure house of plants and art dating back to 1893. (One Schenley Park, 15213-3830; +1 412-622-6914)
A few other attractions among the city's many:
– Cathedral of Learning: At the University of Pittsburgh, you can explore the 42-story Gothic Revival skyscraper that is the signature building of the campus. It's the second-tallest building in the world dedicated to education after the University of Moscow's main building. (4200 Fifth Avenue, Pittsburgh, PA 15260; + 1 412 624 4141)
– Andy Warhol Museum: Get your pop art vibe going and visit the largest collection of Warhol art and archives in the world. (117 Sandusky Street, Pittsburgh, PA 15212; +1 412 237 8300)
– Wigle Whiskey: This distiller of spirits, which started operations in December 2011, is getting quite a following. And you can come take a tasting tour of where the whiskey magic happens. (2401 Smallman Street, Pittsburgh, PA 15222; + 1 412 224 2827)
– Randyland: If you like outsider art, bursts of color and hanging with folks who march to the beat of a different drummer, head to Randyland. (1501 Arch Street, Pittsburgh, PA 15212; +1 (412) 342-8152)
Here are a couple of annual September events:
– Pittsburgh Irish Festival: Pittsburgh has a nice mix of cultures, and the Irish are part of the recipe. Celebrate with live music, food and drink, Irish authors, ancestor tracing assistance and a good ol' ax-throwing competition. (September 6-8, 2019; Riverplex, 1000 Sandcastle Drive, West Homestead, PA 15120; +1 412-422-1113)
– Thrival Festival: This festival is a mix of innovation and inspiration, with visionary speakers (what they call "Humans X Tech") and a live-music celebration (Music X Arts). It's a relatively new happening, starting in 2013, and has expanded rapidly since then. (September 18-20, 2019; see website for details on locations and tickets)
If you're looking for an interesting dining spot, try Apteka. This hip eatery serves vegan cuisine from Central and Eastern Europe. (4606 Penn Avenue, Pittsburgh, PA 15224)
And if you'd like a hip hotel to go along with your hip meal, try the ACE Hotel Pittsburgh. It's in a former ornate YMCA building in the East Liberty neighborhood. Rooms come in a wide variety of styles and sizes, and the Y's old gym is used as event space. (120 S Whitfield Street, Pittsburgh, PA 15206; + 1 412 361 3300)
Uruguay
September marks the end of winter and the arrival of spring for Uruguay, situated well below the equator in the Southern Hemisphere between its much bigger neighbors Brazil and Argentina.
This is not a time for beach play – it's still too cold to enjoy a swim in the Atlantic. But it should be warm enough to enjoy Uruguay's other outdoor activities and urban pleasures before high season kicks in.
Let's start with Montevideo, a charming and laid-back capital of about 1.4 million people that makes a great destination by itself. A small sampling of places to consider:
– Plaza Independencia: This central plaza is graced by palm trees, equestrian statuary and an interesting mix of surrounding buildings. It's great place to orient yourself to the city. Several museums are nearby, including the small Museo Torres García, whose namesake early 20th-Century artist produced works to integrate ancient Mediterranean themes into modern life. (Sarandí 683, 11000 Ciudad Vieja, Montevideo, Uruguay;+598 2915 6544 or +598 2916 2663)
– Teatro Solís: The neoclassical structure was built in the mid-1800s to be an answer to Europe's grand theaters, and it's now at the heart of Montevideo's classical culture scene. You can take a guided tour or attend various entertainment events. (Calle Reconquista, corner of Bartolome Mitre, Montevideo 11000, Uruguay; +598 1950 3325)
– Parque Prado: This park in the northern part of the city has a stream running through it with interesting statuary (the equestrian-themed Monumento a La Diligencia) and a lovely botanic garden. Some of the palatial homes and tree-lined streets in this area are worth a look. (11900 Montevideo, Montevideo Department, Uruguay; +598 19502003)
Markets are an ideal way to get to know a place, and Montevideo has 'em. Mercado del Puerto, in the Old City by the port, is one you might want to see, especially if you're hungry. A wrought-iron structure that dates back the 1800s holds various eateries. Warning to vegetarians: This is serious meat country. (Rambla 25 de Agosto de 1825 228, 11000 Montevideo, Uruguay)
If you've gotten too much of a good thing, you may need to burn some calories. You can do that dancing, and you don't have to cross the Rio de la Plata to get your tango on. Milongas (or tango salons) in Montevideo have a reputation for a welcoming attitude to visitors and newbies. Be ready to stay up late – the action might not start until midnight.
You might try Joventango, a nonprofit cultural institution that promotes the tango and offers dance lessons. (Aquiles Lanza 1290 esq. San Jose, Montevideo, Uruguay; +598 2901 5561)
There's much more to Uruguay than its capital. Here's a trio of other places you might want to learn more about:
– Historic Quarter of the City of Colonia del Sacramento: This city was founded by the Portuguese in 1680 and faces Buenos Aires across the Plata River. The city is notable for its fusion of Portuguese and Spanish influences. If you love well-preserved historical places with winding cobbled streets, put this UNESCO World Heritage site on your list.
– Carmelo: About 240 kilometers (150 miles) from Montevideo and on the banks of the Plata is charming Carmelo. Some call it "the Tuscany of Uruguay." It's notable for its sandy beaches along the river and surrounding wineries.
– Tacuarembó: If you're curious about the interior, this is a good place to check out. Sometimes known as "the heart of the country," Tacuarembó has been a center for artists and culture. Set in rolling hills and meadows, it can be a good point from which to explore the gaucho region.
Krakow, Poland
September can be a sweet spot for visiting Poland's cultural capital. You can expect average highs in the mid-60s and lows in upper 40s. This time of year tends to be drier than the peak of summer, but remember Poland's continental weather is widely variable. At least you're well ahead of those harsh Polish winters.
You'll also be missing the worst of those infamous summer tourist crowds in Europe that seem to swarm every good attraction.
Krakow is a treasure trove for fans of history or architecture. A good place to get a dose of both is Main Market Square. It claims the title of largest medieval square in Europe.
The centerpiece of the square is Krakow Cloth Hall (or Sukiennice), a symbol of the city's glory days as a leading economic power in Renaissance Europe during the 1400s and 1500s. It's now home to the Krakow National Museum upstairs, and you'll discover various galleries, cafes and souvenir shops on the lower levels. (Rynek Główny 1-3, 30-001 Kraków, Poland; +48 12 433 54 00)
Also at Main Market Square is St. Mary's Basilica. This impressive Roman Catholic Church was consecrated in 1320. You'll have to admire its two asymmetrical towers and other features from outside in September 2018 while it undergoes renovations. (Plac Mariacki 5, 31-042 Kraków, Poland; +48 12 422 07 37)
Here are four other places to consider either in Krakow or nearby:
– Oskar Schindler's Factory: Whether you've seen the inspirational "Schindler's List" or not, this is an excellent place to learn about life in Krakow under Nazi occupation and about Oskar Schindler, who saved more than 1,000 Jewish lives during World War II. (Lipowa 4, 30-702 Kraków, Poland; +48 12 257 10 17)
– Auschwitz-Birkenau Memorial and Museum: It might be the most emotionally devastating thing you'll ever willingly experience on any trip – but also the most illuminating. Here, you'll walk in the notorious camp where more than 1 million people were exterminated by the Nazi regime. It's about 70 kilometers (44 miles) from central Krakow. (ul. Wieźniów Oświęcimia 2032-603 Oświęcim, Poland; +48 33 844 80 99)
– Wieliczka Salt Mines: These mines are more than 700 years old, but they've provided Poland a lot more than salt. Underground, you'll find an amazing world of saline lakes, statues carved from rock salt and even an entire chapel. For Poles, this is an important part of their heritage. It's about 12 kilometers (7.5 miles) from central Krakow. (Daniłowicza 10, 32-020 Wieliczka, Poland; +48 12 278 73 02)
– Krakow Pinball Museum: Bounce around here for a fun change of pace. All machines are on free play – that includes Addams Family, Star Trek, Fun House and other classics. (15, Kraków, Stradomska, 31-068 Kraków, Poland; +48 608 041 000
And September is the only time you can attend Sacrum Profanum. Leading musicians from Poland's jazz, classical and contemporary scenes come together for provocative experimentation in venues throughout the city. (See website for tickets, locations and dates)
If you're looking for a memorable place to stay, consider the Hotel Copernicus, where you can enjoy an Old World atmosphere with modern conveniences. It has a spa to help you relax after a busy day of sightseeing. Plus, it's very close to Wawel Royal Castle, which houses a fascinating museum. (Hotel Copernicus, Kanonicza 16, 30-001 Kraków, Poland; +48 12 424 34 00)
San Francisco, California
San Francisco's tales still delight
While the bulk of the United States starts to cool down in September, San Francisco is actually heating up a little from its notoriously chilly summer. On average, September is the warmest month (followed by October).
September is also one of the least rainy months of the year, so you should have plenty of time to enjoy tromping up and down the city's steep hills. We'll focus mostly on outdoor opportunities since the weather should be mostly cooperative:
You might be surprised to find Union Square as a suggestion, but when you visit, you'll find the spot has evolved beyond its tourist trap days. It's becoming a theater and food stop that even locals are starting to appreciate. Stop in at Pacific Cocktail Haven for a Bitter Sweet Symphony with Hendricks Gin, ice wine, celery, bitter melon, peppercorn and bitters. (580 Sutter Street, San Francisco, CA 94102, +1 415 398 0195)
On a nice day, get your exercise in with a descent up Telegraph Hill and Coit Tower, a mainstay of the San Francisco skyline since 1933. It offers spectacular views of the city but don't miss the social realist murals inside the tower's base. Artists with the Public Works of Art Project painted them in 1934, and they were recently restored. (1 Telegraph Hill Boulevard, San Francisco, CA 94133; +1 415 249 0995)
If you're feeling even more rambunctious, you drive over the Golden Gate Bridge to Mount Tamalpais State Park. You'll find numerous hiking trails and unparalleled views of the bay and city. On rare days, you can catch a glimpse of the snow-covered Sierra Nevada mountains around 150 miles away. (+1 415 388 2070)
September is a great time to visit for baseball fans. Catch the San Francisco Giants in action at Oracle Park and leave some time to explore around the colorful SOMA (South of Market) neighborhood. (Oracle Park, 24 Willie Mays Plaza, San Francisco, CA 94107; +1 415 972 2000)
Just outside SOMA in the Civic Center area is the worthy Asian Art Museum, whose permanent collection spans the vast continent from Persian and Indian artifacts to Korean and Japanese artifacts. (200 Larkin Street, San Francisco, CA 94102; +1 415 581 3500)
If you like sunset shows, head over to Cliff House. Enjoy drinks and seasonal dishes with amazing views of the sun setting in the chilly Pacific. (1090 Point Lobos Avenue, San Francisco, CA 94121; +1 415 386 3330)
Here are a few only-in-September events you can enjoy:

– Architecture and the City Festival: Attend forums and take tours to learn more about that special San Francisco look. (September 1-30, 2019)
– Green Film Festival: Watch some creative movies and get inspired in new ways to help the environment. (September 11-18, 2019)
– Giant Race: Choose from a half-marathon, 10k and 5k race. It's a great way to see the city and meet some fellow fitness buffs. (September 8, 2019)