"That's not an A330, it's an A320."
Don't you just hate getting stuck seated next to that guy on the plane?
The person who can take one look at a jet and knows right away which company manufactured it and which family it belongs to, but can also throw in some random facts about its performance.
With so many online resources allowing aviation fanatics to track planes and share their favorite photos and experiences, plane-spotting has become a more alluring hobby than ever.
Ready to grab your binoculars?
Here are some tips and tricks to get you started.
The difference is in the details
"Identifying an airplane from a distance is a skill that comes with familiarity and the only way to gain that is to be around airports and ogling at airplanes as regularly as one could," says Kok Chwee Sim, a Singapore based aviation photographer who began plane-spotting in the early 1970s as a child.
Could Russian plane challenge Airbus, Boeing
"There is of course the overall shape of the airplane to note but there comes a point where one plane looks like another. So there are other details that one could look to for clues."
Where to begin?
Matt Falcus, founder of Airportspotting.com and author of World Airports Spotting Guides, says it can get tricky because many airliners do indeed look similar, especially those built by Airbus and Boeing, the two main manufacturers.
"However, you can start to distinguish airliners by the number of engines they have, or by whether they are a large long-haul aircraft which travel long distances, or a short/medium-haul aircraft which travel on domestic or regional flights."
There are also clues in the shape of the nose, tail position, wing shape, number of doors, the landing gear, the position of the horizontal stabilizer near the tail and even the shape of the cockpit windows.
Sky pioneers: The light aircraft revolution
For instance, if you look at most Boeing cockpit windows, they're usually slanting upward in a V shape. Airbus windows, on the other hand, have more of a square shape.
Keep in mind this isn't always the case, with Airbus' new A350 XWB featuring black sunglasses-shaped windows.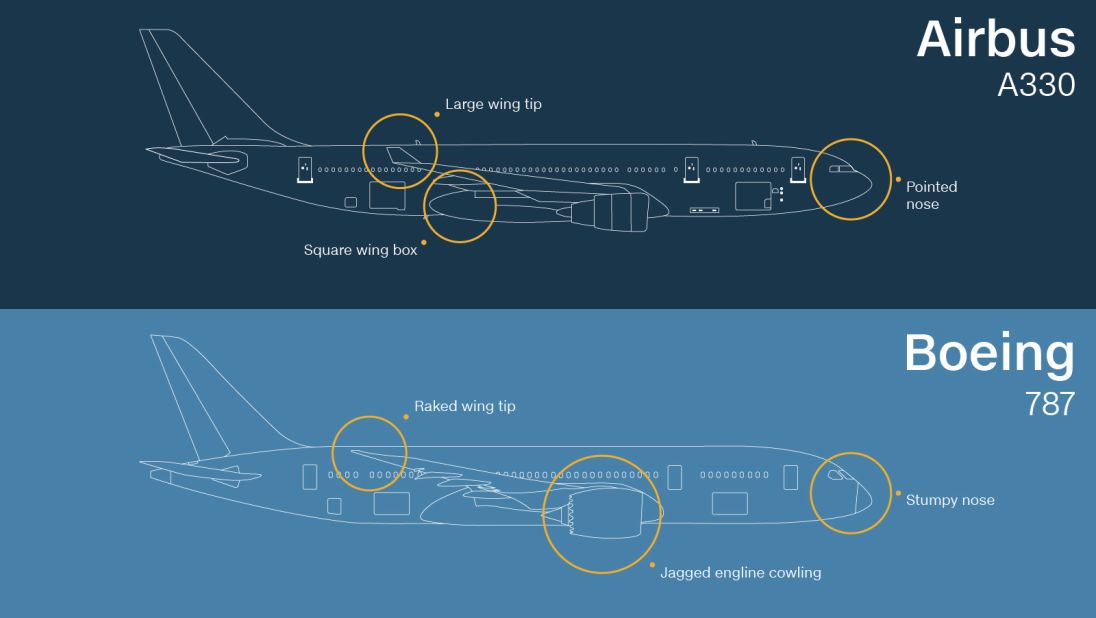 Airbus vs. Boeing: The differences are in the details
"At night and in darkness, one could even distinguish a Boeing aircraft from an Airbus aircraft by the way the strobe – the white light at the tip of the wing – blinks," says Sim.
Airbus wingtip strobes flash twice in quick succession, Boeing lights flash only once.
So how about when it's flying above you?
"As a tip, one way you can always identify Airbus aircraft when flying overhead is by looking at the center wing box area (under the aircraft in the middle)," says Airbus' Asia communications director Sean Lee.
"The wing box area on Airbus aircraft is square and more pronounced than on Boeing aircraft."
Looking at the size of the plane will allow you to narrow it down further.
Airbus and Boeing planes can be broken down into two groups – narrow-body and wide-body. Narrow-body planes only have one aisle, wide-body planes have two.
Airbus' narrow-body planes fall into the A320 family: A318, A319, A320 and A321. Boeing has the 737 and 757, each of which comes in different size models.
For the wide-bodies, Airbus has the A300, A330, A340, A380 and A350 families (A300s and A340s are no longer in production).
Why the sun is setting on the 747
Boeing's current roster of twin-aisle jets includes the 747, 767, 777 and 787. (Again, there are several versions of planes in each family. Confused yet?)
Handy tip: The only planes with four engines in the above group are Boeing 747s, Airbus A340s and A380s.
See Boeing Dreamliner built in hyperspeed
As the photo at the top of this article shows, you can easily ID a Boeing 777 because it has three sets of main landing gear wheels. All other Boeing and Airbus planes have two-wheeled gear.
How to know you're looking at a Boeing 777-300? It's longer than most single-deck planes and has five doors on each side of the aircraft.
Also, you can always tell you're looking at an Airbus A350 because it's the only airliner with curly wingtips, while the Boeing 787 Dreamliner has a unique "jagged" engine covering.
For more tips on differentiating between some of the most popular Airbus and Boeing planes, check out the below gallery.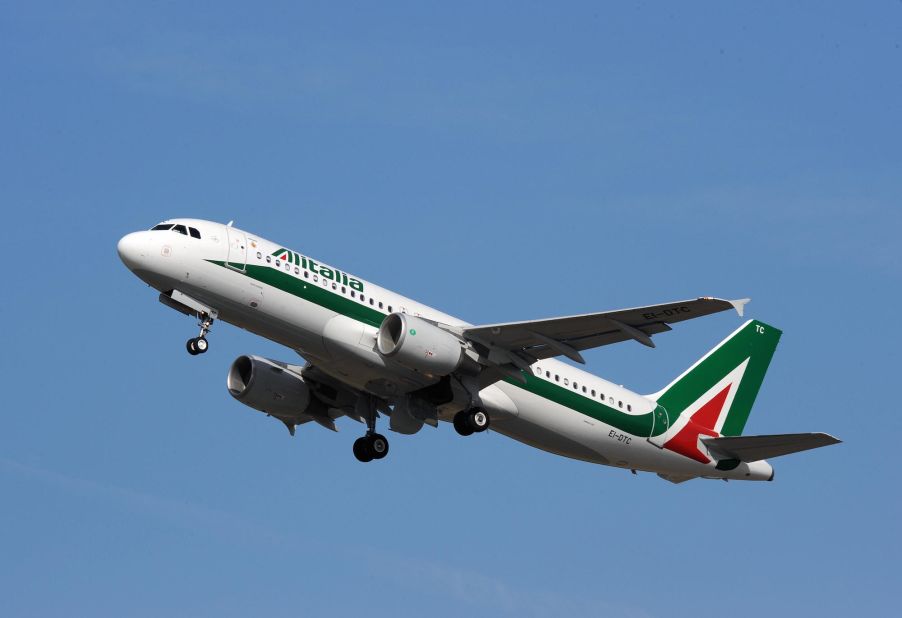 Popular planes and how to recognize them
Listen to the engine
"Once you start to get really good, you'll even notice the difference in sounds made by the plane's engines, says Sim.
"When a plane approaches with a sound that we could not recognize, it is time to get really excited."
He points to one such plane-spotting experience he enjoyed last year in Singapore.
"Turned out it was an Ilyushin IL-76 of the Indian Air Force that arrived ahead of India's prime minister."
Rare birds
With a solid base of aviation knowledge spotters will likely start noticing planes made by other manufacturers.
Bombardier and Embraer are also significant players in the commercial aviation game, with their narrow-body CRJ and ERJ series popularly used for regional flights.
Then there are the planes that are no longer in production thus becoming increasingly rare – making them a hot target for plane spotters.
"More regularly, I am excited by a group of planes known to us as 'trijets' as well as all versions of the Boeing 747," says Sim.
"These are airplanes with three engines. I'm mostly excited by the wide-bodied ones such as the McDonnell Douglas DC-10, the Lockheed L-1011 TriStar and the Boeing MD-11."
Rare birds: 7 hard-to-find airplanes used for commercial aviation
Sim says that, sadly, these are increasingly difficult to see. In recent years, for instance, the passenger DC-10, MD-11 and TriStar have gone into retirement.
"The only MD-11s flying are those hauling freight. There are other narrow-bodied trijets such as the Boeing 727 and the Tupolev TU-154, which also get me excited."
Sim also points to Russian-built airliners from two manufacturers – Ilyushin and Tupolev – as being in demand among plane-spotters.
Airbus Beluga: The world's strangest-looking plane
"These sadly again are decreasing in numbers," he says.
"From this, it sounds like my hobby is in decline. Not at all. New types such as the B787 Dreamliner and the Airbus A350XWB are now flying.
"Both have sleek shapes and in years to come, they too will appear in the liveries of many different airlines and I am certain I will be diligently chasing these at airports around the world."
Falcus agrees.
"When I see something from my youth, such as a Boeing 727 or Douglas DC-10, or even something much older like a DC-3 Dakota, I get really excited," he says.
"However, it's also great to see something ultra-modern, like the brand new Airbus A350 or Boeing 787 Dreamliner, which have amazing technology on board and can travel very long distances."
Tips and gear
Plane-spotting is not a hobby for those who value their creature comforts, warns Sim.
"There will be many occasions when one is the only person at a spotting location, and there is every likelihood that this location is accessible by way of a long trek with no public facilities nearby," he says.
"It is also very exposed to the elements."
Not deterred?
Falcus says before you head to your local airport runway it's good to have some basic equipment for plane-spotting, such as a pair of binoculars, a camera, a notebook and pen.
"Using your smartphone you could download apps such as Flightradar 24, and visit websites such as Airliners.net and AirportSpotting.com," he adds. (More online resources below.)
Next step: get familiar with the schedules of all the airlines flying into your local airport.
"One should also keep a lookout for news of visits by government leaders or music bands," says Sim.
"Such visits could mean seeing airplanes that normally are not seen at your airport."
Top airports for plane-spotting
"There are some really good airports around the world for plane-spotting," says Falcus.
Here are a few of his favorites.
London Heathrow, UK: "This is one of the busiest airports in the world and you will see airlines from all corners of the globe, with one landing or taking off every minute! There are some good locations to watch aircraft at the ends of the runways."
Princess Juliana International Airport, St. Maarten, Caribbean: "The beach here is at the end of the runway, so sunbathers can get blown away by big jets landing only a few meters above their heads!"
St. Maarten's Maho Beach recently hooked up a live camera at Sunset Bar & Grill, a popular spot for people to sit and watch the planes take off and land. Take a look here: Mahobeachcam.com.
Hong Kong International: "The airport at Hong Kong is very busy, with jets coming from all over Asia, Europe and North America. It has a good viewing terrace on top of the terminal to watch aircraft from."
Los Angeles International: "Spending time here is always interesting as you can see lots of aircraft come and go, and it's always busy. Not to mention the sun is usually shining, so you can take some great pictures."
More specifically, the In and Out Burger is a popular hangout for spotters as you can watch the planes fly overhead. Imperial Hill at LAX is another place where many of the best spotters gather to get great photos.
Toulouse, France: "This is a small airport, but it is the home of Airbus and the place where many of their aircraft are built. You can take a tour and see the aircraft being put together, and then watch them take off on their first test flights."
Security concerns
Plane-spotters should check with local airport police before spotting to avoid getting arrested or ticketed.
"Spotting in locations such as Singapore where the hobby is less understood, the biggest challenge is posed by the security," says Sim.
"Even as one is clearly and visibly harmless near an airport, security personnel tend to insist that one moves on and not spot or photograph airplanes.
"Thankfully, there are many airports in Japan, Canada, Australia, Malta and some U.S. cities such as Los Angeles where aviation spotting and photography are well accepted."
Members of a spotter group at Chicago O'Hare even work with the police, FBI and TSA to help guard the facility.
Top plane-spotting websites and apps
If you're close enough to see the registration number, located on the side of the plane near the tail, a quick online search will give you plenty of details on the aircraft, including when it was made and by which manufacturer, which airlines have flown it and the type of engines it's fitted with.
For U.S.-registered planes, head to Regosearch.com or the FAA's online plane registration database – Registry.faa.gov/aircraftinquiry.
Flightradar24 is a website and app that offers real-time info about thousands of aircraft around the world, searchable by registration number, flight number or airline.
Planespotters.net is another excellent resource that features info on airline fleets, production stats, the latest plane deliveries and photos taken by members of the airplane-spotting community from around the world.
Similarly, Flightaware.com is a free website that offers live flight data and info on everything from airport delays and fuel prices to flight routes, plus aviation news and plane photos.
NYCAviation.com offers plane-spotting guides for all of New York and other major U.S. airports, as well as interesting and in-depth aviation-related articles and galleries.
Ready to get out and start shooting? We want to see your best plane-spotting shots. Share them on Instagram with the hashtag #CNNTravel for a chance to be featured on CNN.com.
CNN's Thom Patterson contributed to this report.