With its launch in 2010, Chinese toymaker Pop Mart set off a collectible craze with its anime-style figurines.
Now, it's amping up the hype further.
Following in the footsteps of Disney and Studio Ghibli, Pop Mart has expanded into the theme park business, opening up its first in the Chinese capital of Beijing.
The company said on Chinese social media platform Weibo that Pop Land - the 40,000-square-meter theme park that comes in four zones - opened on Tuesday, September 26 at Chaoyang Park.
Instead of thrill rides, the park offers a chance for fans to take pictures with the toy maker's flagship characters – Molly, Dimoo and The Monsters – in different settings, ranging from a European-inspired white castle to a leafy tree house.
Pop Mart is known for its palm-sized figurines with big, round eyes and bulky heads. These characters come in a range of themed costumes, forming different series.
In addition, the company designs its own series such as Molly, Skullpanda and Dimoo and partners with other brands to produce editions of Mickey Mouse, Hello Kitty and Harry Potter.
To make it more addictive, collectors never know what they will get until they unwrap the tiny "blind boxes," which cost about $10 each. Completing a series is like a game of lottery.
However, the scale of the new attraction is significantly smaller than China's other famous theme parks. Shanghai Disneyland, for instance, spans 3.9 square kilometers, making it almost 100 times bigger than the new Pop Land. It was the Walt Disney Company's foray into China.
Domestic players specializing in the amusement parks business include Chimelong Group, which runs a safari park and water park in the southern Chinese province of Guangdong, and Shenzhen Overseas Chinese Town Enterprises, which owns a series of Happy Valley theme parks around the country.
Pop Land tickets sell for about $20 during weekdays and $25 during peak periods. A combo ticket is available at $31 for those hoping to join an immersive experience in the evening with Molly, one of the flagship characters.
Videos posted on the day of the launch on Pop Mart's Weibo account show patrons lining up outside shops and mini-game booths in the park .
"I did think about whether Pop Mart will open a theme park. But I did not expect it to come true," a Chinese netizen commented on the company's Weibo announcement.
Another hopes the larger versions of the characters displayed in the park can stay true to the design.
"Otherwise, it will ruin the vibe," the person added.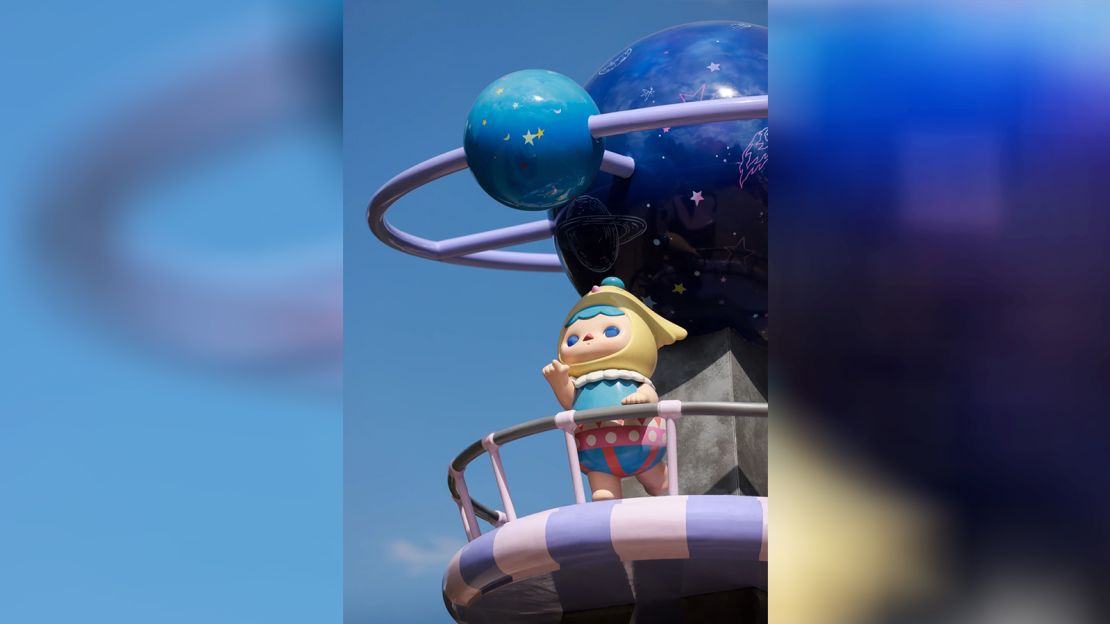 Pop Mart was listed on the Hong Kong Stock Exchange in 2020 and had a market capitalization of $3.8 billion as of this week. It poses as a legitimate contender in an industry traditionally dominated by Japan – home to the most popular anime and manga – as it also seeks to expand overseas.
The brand drew a long line of patrons when it opened its first store in Thailand last month. Last year, it established a brick-and-mortar presence in the US, the UK, New Zealand and Australia.
Still growing, Pop Mart now has 340 shops within mainland China, up 19 since the end of 2022, and a total of 55 in Hong Kong, Macao and elsewhere, according to its latest annual report.
It generated $385 million in the first half of 2023, an increase of 19.3% compared to the same period of last year, with facilitating "the establishment of amusement parks" among its latest strategies, it said.