India's northern region of Rajasthan is most often associated with its royal palaces, mighty forts and flashes of color – three shades in particular.
Scattered across the desert territory, there's the "Pink City" of Jaipur, the "Blue City" of Jodhpur and the "Gold City" of Jaisalmer – each with its own story.
"Rajasthan is the land of the great warriors, the land of the entrepreneurs, the land of the fair and festivals, land of dance and music … it's like an open-air art gallery," Rajasthani tour guide Dilip Singh Tanwar tells CNN Travel.
"There are so many things to see and do here, so many old stories from thousands of years of history, but you need plenty of time to see and appreciate all of these things."
To better understand the chaos of color that is Rajasthan, we traveled through the "Land of Kings" to explore the colorful history of Jaipur, Jodhpur and Jaisalmer.
The Pink City
Famous for its salmon-hued buildings and meticulous city planning, Jaipur has long been the richest city in Rajasthan, founded in 1727 by Maharaja Jai Singh II.
The city wasn't a uniformly rosy hue originally, but a highly anticipated visit from Prince Albert in 1876 inspired the ruler to paint the town pink, which symbolizes hospitality in Indian culture.
"King Ram Singh II saw the Red Fort in Delhi and was inspired to emulate it in his own city," says Tanwar. "It was not possible to get the red stone to the city in the short time period, so instead he chose to paint the buildings."
The building department set to work, mixing up a natural dye made of lime and red soil. Still today, in keeping with tradition, the government repaints the buildings every two years.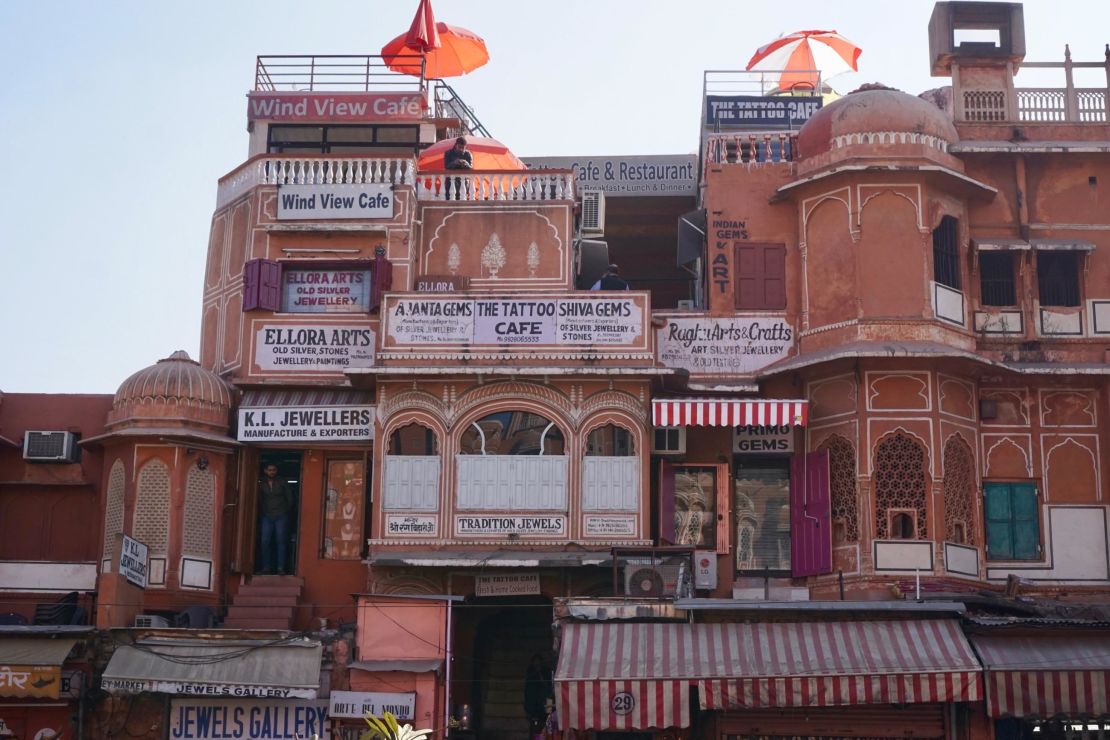 For travelers, the most popular attractions in Jaipur tend to be in the pink Old Town area, where you'll find the pretty terracotta pink Hawa Mahal palace, City Palace, the Palace of the Winds and Jantar Mantar astronomy observatory.
"Visit Hawa Mahal in the early morning, around sunrise or before 7 a.m. – that's the best time to get a better photo," says Tanwar.
"This building is very special because of its stained glass and the facade, which is built entirely without a foundation. That's the magic of the architecture."
Another highlight is the Amber Fort, located about six miles outside of the city. Once the residence of the Rajput Maharajas, this red sandstone fort complex features grand courtyards, ornate wall mosaics and opulent halls.
Inspired by the royal architecture? Luckily, Jaipur is one of the easiest places in the world to find a regal hotel to rest your head – the city is teeming with regal heritage properties, from the Samode Palace to the Rambagh Palace, Jai Mahal Palace, SUJAN Raj Mahal and more.
Jodhpur: The blue city