Romans like their coffee fast, strong and burning hot.
We gulp it down, on the run, sans sitting. Drink and go: that's the philosophy. It's part of the lifestyle, a persistent aroma that envelopes people from morning till after dinner.
Many Romans drink five or more espressos per day. Bars and cafes are our temples. So it's hard to rate the best. The cafes we've chosen are all in the historic center.
We've judged each in the following categories:
1. COFFEE: Taste, smell, temperature, how long it lingers in the mouth, showiness
2. AMBIENCE: Decor, colors, light, mood
3. FOOD: From simple croissants to appetizers and menus
4. SERVICE: Staff competence, friendliness, "at-home" approach
5. LOCATION: Views, proximity to historical monuments and famous places, shopping
Here's what we found:
15. Sant'Eustachio Il Caffè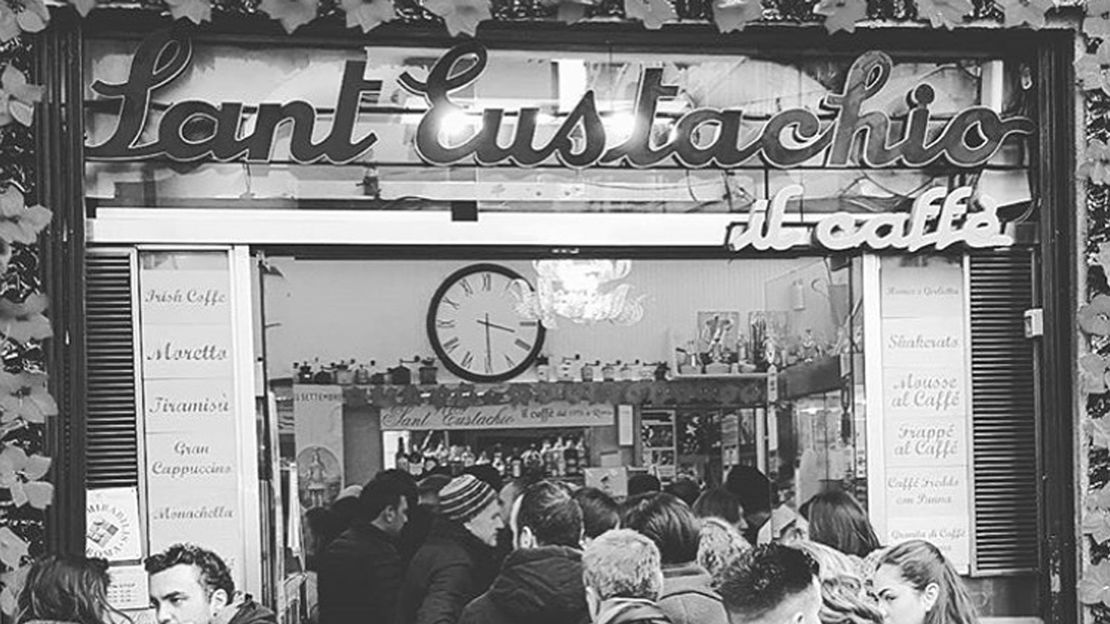 Coffee: 10
Ambience: 6
Food: 7
Service: 6
Location:7
Total: 36
Coffee of choice: Gran Caffé – espresso with cream
Sant'Eustachio IL Caffè is the best example of the classical Roman bar: tiny, plain, familiar.
The owners regularly travel to Brazil to select the best coffee beans from Maya descendants, export the coffee to Rome and pack and sell it to the public.
Everything here is made and smells of coffee: cookies, chocolate bars, cakes, frappes and slushies.
Drinking an average of some 6,000 coffees a day, clients range from politicians to high school kids. Henry Kissinger and Mikhail Gorbachev have had coffee here.
82 Piazza Sant-Eustacchio; +39 06 688 02048
Italy's 20 regions, dish by delicious dish
14. Bar del Cappuccino
Coffee: 10
Ambience: 6
Food: 7
Service: 7
Location: 7
Total: 37
Coffee of choice: Hand-decorated cappuccino or cold cappuccino served in a glass
Owner and barman Luigi Santoro makes the best cappuccino downtown: delicate, tasty and pleasant to look at.
He's a kind of coffee artist, sketching in the coffee flowers, apples and hearts. The cafe, small and snug, serves delicious pastrami pizzas with mozzarella and broccoli.
Serena Roberti, a university student, comes in the evenings. "This place totally relaxes you, the cappuccinos are so yummy," she says.
Perfect for a quick snack and walk, it's located in the popular Hebrew ghetto along the Tiber River.
50 Via Arenula; +39 06 6880 6042
13. ReCafé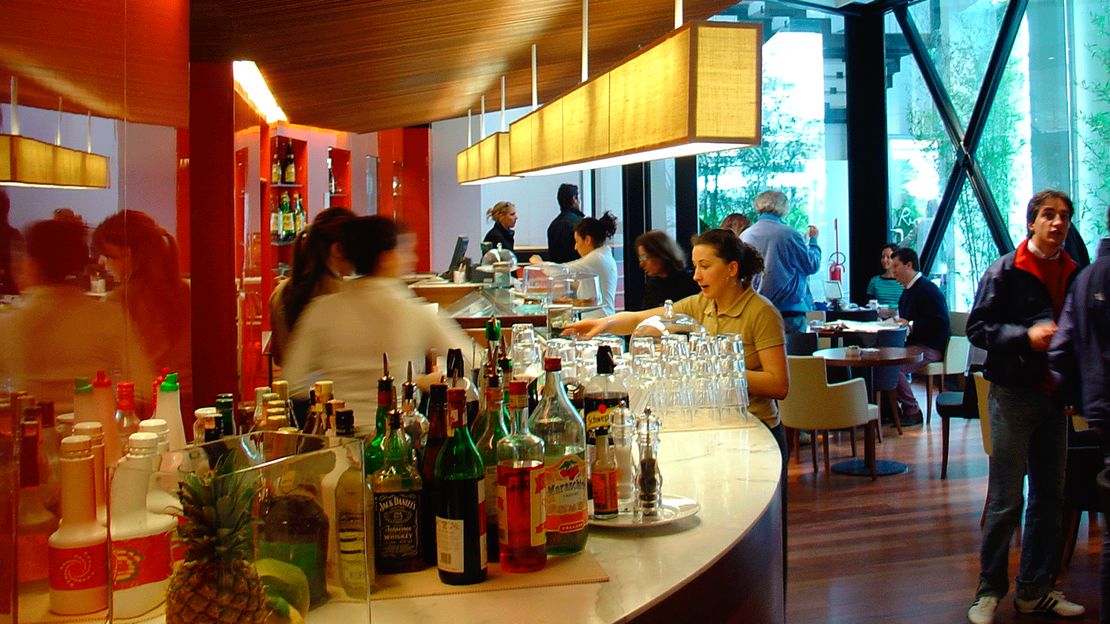 Coffee: 10
Ambience: 7
Food: 7
Service: 7
Location: 7
Total: 38
Coffee of choice: Espresso with hazelnut or white chocolate cream
ReCafe is a modern city cafe with great decor and a glossy atmosphere in the heart of Rome's shopping center. The glass window entrance faces Augustus' Mausoleum.
With wide dining rooms on two floors, it's a meeting point for young people and office workers.
The white chocolate cream espresso might not look good in your calorie diary, but it's a must.
36 Piazza Augusto Imperatore; +39 06 681 34730
12. Antigua Tazza d'Oro Coffee House
Coffee: 10
Ambience: 7
Food: 7
Service: 7
Location: 8
Total: 39
Coffee of choice: "Biological" espresso
Tazza d'Oro thrives on its location and ambiance. Located in front of the Pantheon, it roasts its own coffee and ships it across the world, even as far as Australia.
You can enjoy your coffee slush while taking a glance at the colorful boutique right behind the bar – it sells coffee packages and blends.
The master mix is the Queen of Coffees, made from eight Arabica varieties. According to client Maria Rossi, "It's the best cafe in town because it simply tastes of home."
84 Via degli Orfani; +39 06 678 9792
9 places in Italy that'll destroy your waistline
11. Giolitti
Coffee: 10
Ambience: 8
Food: 7
Service: 8
Location: 7
Total: 40
Coffee of choice: Glass espresso (creamy espresso served in a glass, no sugar)
Owner Nazzareno Giolitti likes his espresso in a small, glass cup so he can feel the temperature in his hand, see the color and ensure the creamy layer is just the right depth.
At Giolotti tourists from all over the world mingle with politicians – the cafe has been nicknamed the "second parliament" – and you might even bump into President Sergio Mattarella.
During World War II it was a meeting point for American soldiers. Now it's beloved by Michelle Obama and Sharon Stone.
The cafe is also globally renowned for its award-winning ice cream.
40 Via Uffici del Vicario; +39 06 699 1243
10. Ciampini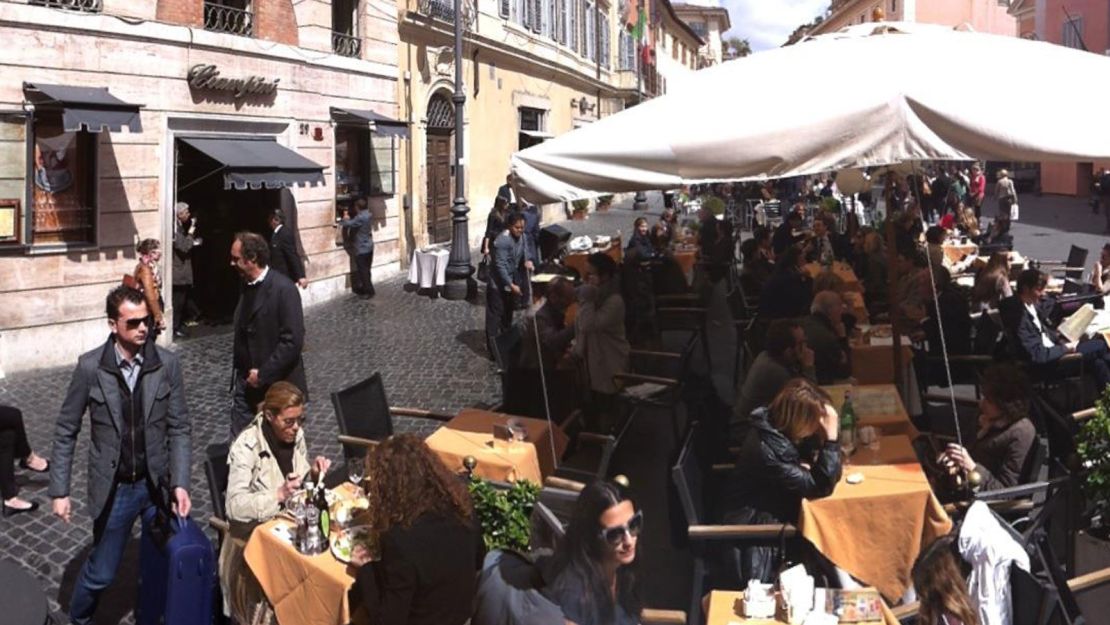 Coffee: 10
Ambience: 8
Food: 7
Service: 8
Location: 8
Total: 41
Coffee of choice: Espresso or cappuccino
If you're looking for a cozy place to relax, Caffe Ciampini is it.
Run by the same family for four generations, coffee is made with an artisan mix.
Specialties include croissants, homemade cakes and ice cream. The pistachio flavor is amazing. There's a great atmosphere inside and outside at the tables lining the piazza.
29 Piazza San Lorenzo in Lucina; +39 06 687 3620
9. Canova Tadolini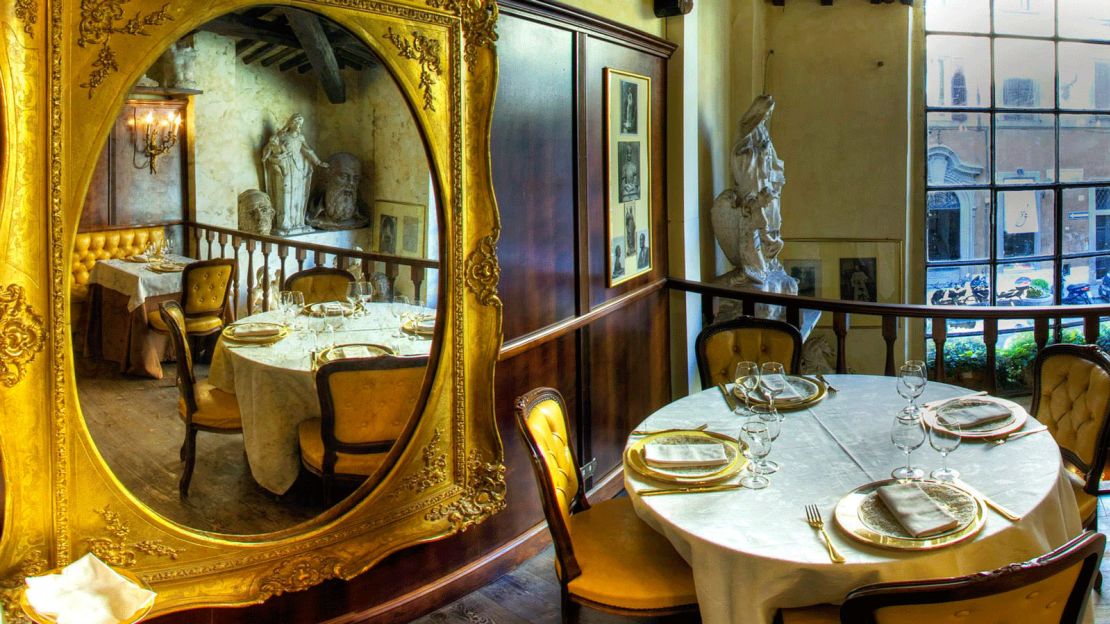 Coffee: 10
Ambience: 9
Food: 8
Service: 7
Location: 8
Total: 42
Coffee of choice: Espresso "marocchino" (chocolate cream, coffee, cocoa powder, cream topping)
How about a coffee in a former artist atelier, surrounded by bronze and marble sculptures?
Canova Tadolini is a museum-bar packed with a casual arrangement of works by 19th-century sculptor Adamo Tadolini.
Chevaliers on horse, naked women, classical busts and fountains overlook leather chairs and white-clothed tables. Here an espresso is slurped amid 150 years of Italian sculpture. A good stop for art lovers.
150A/B Via del Babuino; +39 06 321 10702
8. Sabatini
Coffee: 10
Ambience: 9
Food: 9
Service: 7
Location: 8
Total: 43
Coffee of choice: Espresso
Forget the luxury boutiques and elegant streets near the Spanish Steps – here in Sabatini you're at the heart of Trastevere, Rome's lively neighborhood popular for its nightlife.
The coffee here has an aroma that dwells on your taste buds for hours. You can sip-and-go at the shiny wooden bar with artisan floor tiles, or relax outside at the tables facing the area's most beautiful piazza.
Not too elegant, but real cool. It's also a chic "trattoria," a typical Roman restaurant where you eat like a local.
13 Piazza Santa Maria in Trastevere; +39 06 581 8307
7. Sciascia Caffé