Rotorua, on the North Island of New Zealand, was attracting international visitors long before "Lord of the Rings" director Peter Jackson made the country's landscape irresistible to the world.
Its Pink and White Terraces, dubbed the country's first tourist attractions, were the world's largest siliceous sinter deposits before they were destroyed in an 1886 volcanic eruption.
Though the stunning site is no more, Rotorua has re-invented itself as the adventure capital of North Island. The unique combination of forests, lakes, geothermal activity and Maori culture makes it a must-visit on any North Island tour.
At least three to four days is recommended. Most attractions are all within five to 20 minutes of the main town.
On land
Red Bull calls it the best section of trails in the Southern Hemisphere. The Redwoods, or Whakarewarewa Forest, is a playground for runners, hikers and mountain bikers for everyone from beginners to pros.
More than 170 kilometers of trails are maintained by 2,500 volunteers and welcome more than 5,000 people every weekend. The visitor center provides maps as well as "Kids Discovery Packs."
Mountain Bike Rotorua can sort you out with everything you need for a biking adventure.
For something a bit calmer there's Rotorua Treewalk. The longest suspended bridge course of its type in the world, the 30-minute ecological walk allows travelers to check out 110-year-old Redwood trees on 21 suspension bridges.
Another great way to enjoy the area is with Rotorua Canopy Tours, the only native forest zip line canopy experience in New Zealand.
Visiting Auckland? Insiders share tips
On the water
Wakeboarding, parasailing, kayaking and white-water rafting are among several ways get down Rotorua's Tutea Falls. At 7 meters high, it's the highest commercially rafted waterfall in the world. Thanks to the area's abundant geothermal activity, hot pools and springs can be found on the Kaituna River and Lake Rotoiti. 
Kaitiaki Adventures Aotearoa offers a unique cultural expedition on the river, which is an ancient burial site for fallen Maori warriors.
River Rats will get you rafting or kayaking on Lake Rotoiti. Both tours visit glowworm caves and the secluded Manupirua Thermal Springs.
Meanwhile, local fishing guide John at Cruise and Fish Rotorua operates fishing tours on Lake Tarawara. Bonus: You can cook your catch in the geothermal sands of Hot Water Beach.
High-end hikes step up adventure
On a mountaintop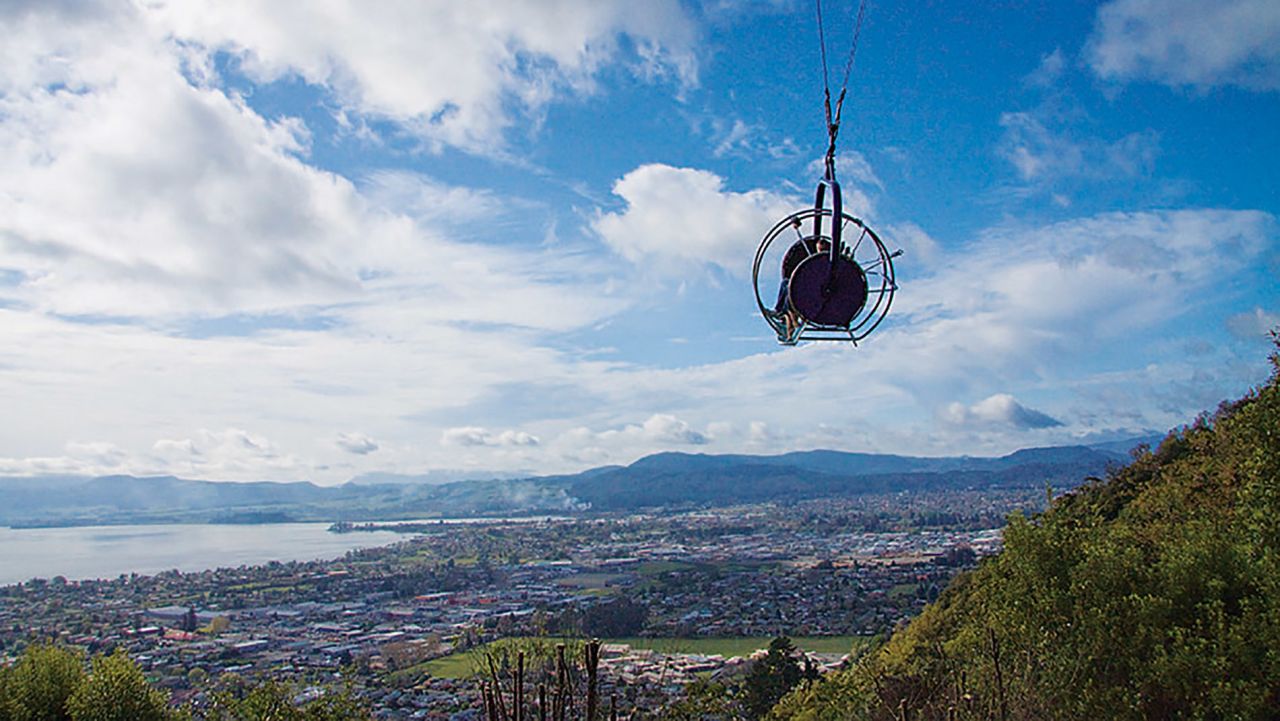 Skyline Rotorua is located atop Mount Ngongotaha, minutes from central Rotorua. Activities include luge riding, stargazing and zip lining.
"New Zealand's most popular activity of all time has to be the luge, and I think most Kiwis have experienced it over multiple generations," says Skyline general manager Bruce Thomasen. "Invented here in Rotorua, it opened 31 years ago. Since then we have done more than 18 million."
Gravity Park is home to Crankworx, the largest mountain biking festival in the world. Meanwhile, zorbing at OGO allows you to tumble downhill in a plastic ball. Finally, a stop at Agroventures gives even the most hardcore adrenaline junkie a fix.
In addition to Swoop – a super swing that hangs 40 meters above ground – and Schweeb – the world's only monorail raceway – you can free fall in a wind tunnel, bungee jump from a height of 43 meters or take a speedboat tour in the "Agrojet."
7 top adventure trips for 2016
Volcanic activities
For amazing geothermal experiences there's Volcanic Air's scenic flights. The most popular fly to Whakaari (White Island) and Mount Tarawera. Both are of cultural as well as geological importance to the Pacific Ring of Fire.
Tim Barrow, chief helicopter pilot and director of Volcanic Air, says many guests rate the flights as truly once-in-a-lifetime experiences.
"Where else can you land a helicopter on the crater floor of a permanently active island volcano and explore an almost lunar-like landscape?"
Back on land, the Rotura Bath House was a fashionable modern spa in the 19th and 20th centuries – a place to socialize and "take the cure" provided by the thermal waters.
Closed in 1966, after extensive renovations it reopened as the Rotorua Museum – or Te Whare Taonga o Te Arawa. Exhibitions highlight the facility's fascinating history as well as Nga Pumanawa o Te Arawa, or the Beating Hearts of Te Arawa, the dramatic journey of the Te Arawa Maori tribe from far across the Pacific Ocean to Rotorua.
The Polynesian Spa, located on the grounds of the Rotorua Museum, and Hells Gate, are two of the region's most reputable spas, both featuring natural thermal hot springs.
"Our two most popular treatments are the Polynesian Spa Mud Polish & Aix Massage, which is a hydrotherapy treatment, and the Polynesian Spa Purifying Mud Body Wrap," says Gert Taljaard, CEO of Polynesian Spa.
"Both of these treatments use locally sourced Rotorua mud."
Hiking through a Hawaiian lava tube
Maori culture
Te Puia, a Maori cultural center, is pivotal in preserving Maori traditional arts and crafts by leveraging their own tourism heritage (the Te Arawa were the region's first tour guides).
The cultural center showcases vibrant Maori culture in daily and nightly cultural performances.
"More than the region's activities, the real highlight of Rotorua is the people," says Takurua Mutu, director of Multi-Day Adventures NZ.
"Our huge Maori population is unique and our culture is prevalent – it's all about whanaungatanga and manaakitanga (relations and care)."
Totally Tarawera's tours focus on a local tribe that had to relocate after the 1886 volcanic eruption but eventually moved back, reconnecting with the land.
Kaitiaki Adventures Aotearoa offers ascents to the summit of Mount Tarawera led by a Maori guide.
Wikitoria Maori Healing and Wai Ora Spa offer traditional Maori healing therapies with medicinal herbs and techniques.
It's worth planning your trip to coincide with the Rotorua Walking Festival, the half Ironman, or the Rotorua Marathon – one of the oldest in the world.
Need more thrills? Check out some of hottest adventure destinations for 2016 in the gallery below.