Japan is renowned for taking the quality and freshness of seafood to a whole new level.
The nation's chefs handle and prepare ingredients with a dedication that almost defies belief.
Nowhere across the country is that more evident than Hokkaido. Japan's second-largest island, it's home to some of the country's most famous fishing waters.
Rivers teem with trout and salmon, while the ocean provides everything from scallops to dozens of types of sea urchin. But really it's the crab – kani, in Japanese – that's most sought after.
There are several seasonal varieties of crab, all of which are available in the countless restaurants and market stands across Hokkaido's capital, Sapporo.
"The Sea of Okhotsk is a cold water sea, bringing some of the world's richest fishing waters north from the Aleutian Islands and Kamchatka down to Hokkaido," says Ido Gabay, founder of Hokkaido Nature Tours, which offers gourmet food journeys through Sapporo and beyond.
"The plankton-filled waters are perfect for the bottom-dwelling crabs."
These include kegani (hairy crab), known for its delicate, sweet flesh. And then there's zuwaigani (snow crab), only harvested in winter.
Meanwhile, tarabagan is the largest type of king crab. It's in season from September to January.
And finally there's also hanasaki, which is especially famed for its roe and traditionally served from late summer to mid-Autumn.
There are many ways to enjoy Hokkaido's crustaceans, but Gabay says true gourmands seek out crab sashimi.
"Only master chefs can prepare the dish as it requires painstaking preparation to make the meat tender enough to enjoy," he says.
"The hundreds of precise cuts requires perfect concentration, and nearly an hour to prepare. Most chefs will not attempt to prepare the dish as it can easily leave diners unsatisfied with chewy, unforgiving texture.
"However, the master chef knows the correct strength and number of strokes to cut into the crab's flesh. Although the meat itself has a completely different flavor than grilled or boiled crab, the experience of eating crab sashimi in Hokkaido, and at other locations in Japan, is almost unique in the world."
Ready to kick off your own crab fest? Here are seven of the best spots to enjoy crab in Sapporo.
Sapporo Jyogai Ichiba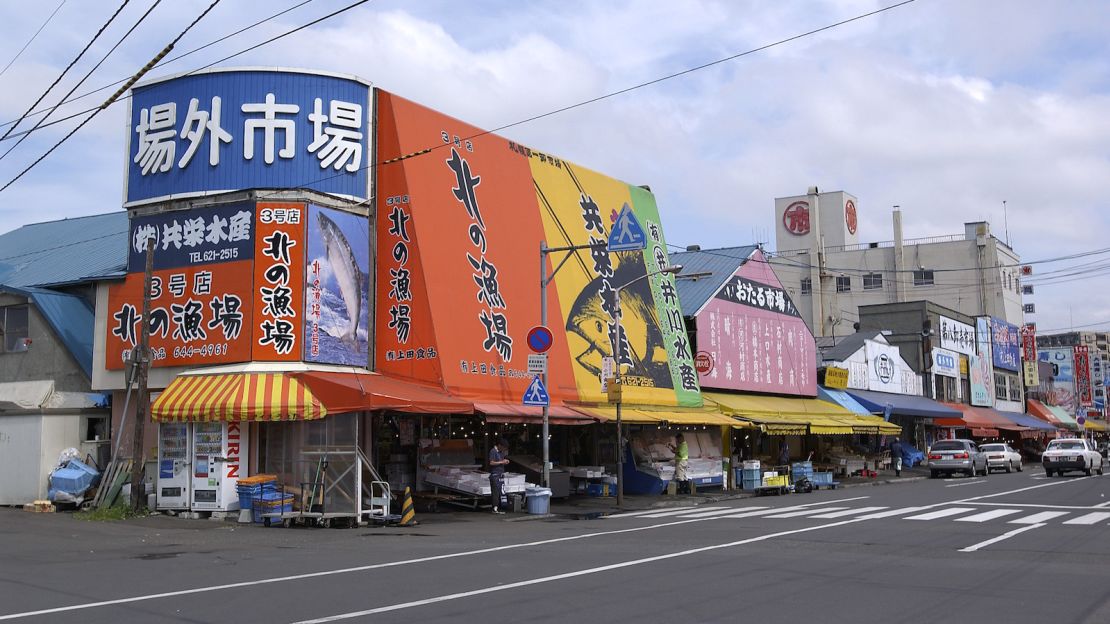 It may not look like much from the outside, but the closer you get, the more you realize you're approaching something nearing food nirvana.
That's because some of the freshest and best crab in Sapporo is served in the outdoor stalls of Jyogai Ichiba, or "Curb Market," which lines the street outside the Sapporo Central Wholesale Market.
The market covers more than 80,000 square meters, so you can understand how every year it handles more than half a million tons of produce including seafood, fruit and vegetables.
Japanese and international visitors are lured by dozens of purveyors offering sushi, sashimi and especially donburi rice bowls topped with sweet and succulent crab, salmon roe and umami-rich sea urchin.
You can also stock up on seafood to take home and many places will help you pack and ship it, if you're not carrying it back yourself.
Jyogai Ichiba, 2-3 North 11, West 21, Chuo-ku, Sapporo, Hokkaido
Nijo Market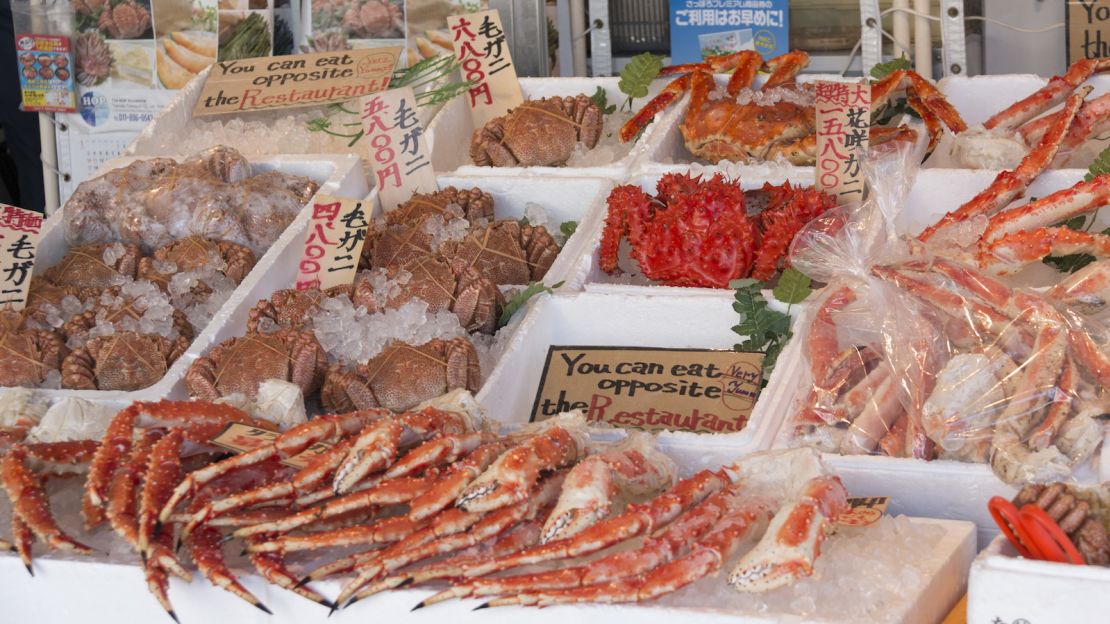 Another market, but this one is smaller and older.
Nijo is slightly more central than the wholesale market, meaning it attracts more tourists, but the quality of the seafood and crab is just as good as at its bigger counterpart.
As with pretty much any market, the earlier you get there, the better. To find the ultimate seafood breakfast of champions, the only challenge comes in choosing a stall or traditional restaurant.
While you really can't go wrong wherever you choose, Sushidokoro Keiran is a good bet thanks to more than 80 years in the business and having staff who also speak English and Chinese.
Located near the market's east entrance, you can choose to sit at a table or the counter where you can watch the chef craft dishes including picture-perfect kaisen donburi, those rice bowls heaped with tarabagani king crab meat and other ocean-fresh delights.
Afterward, it's worth perusing the market stalls or grabbing a coffee at one of the eclectic cafés close by.
Sushidokoro Keiran, 2-9 Minami 3-jo Higashi, Chuo-ku, Sapporo 060-0053, Hokkaido
Sapporo Kanihonke
Hioki Tatsuo is known as "the father of crab cuisine" not only in Hokkaido, but all of Japan.
In a country obsessed by the quality of its seafood, that's some claim.
Then again, he founded Sapporo Kanihonke more than half a century ago, so it's safe to say few are as experienced when it comes to top-notch crustaceans.
There are 14 branches around the country, with two in Sapporo – one bang opposite the main railway station the other near the Susukino subway stop.
You won't miss them, thanks to the huge crab suspended above the entrance, while inside the elegant interiors feature wooden beams, rock gardens and traditional Japanese crafts on show.
On the menu, standouts include crab sashimi and sushi. Many visitors come for their crab hotpot dishes, either kanishabu served without the shell, or kanisuki, served with.
Another favorite is crab marino, where crab meat and fat are rolled in sticky rice, deep fried and then served in umami-rich broth.
Kanihonke station branch: 1-18 2-chome Kitasanjyo-Nishi, Chuouku, Sapporo, Hokkaido
Kita no Gourmet Tei
This restaurant sits inside a food store, itself located inside the wholesale market. Handily a number of hotels offer free shuttles to get here.
On walking in, you'll see a wall of autographs and photos from celebrities, showing the acclaim and reputation in which the place has been held since it opened more than 50 years ago.