From traditional to oh-so-trendy, these five luxury hotels provide a near-perfect stay for the Seoul first-timer or the frequent business traveler to South Korea:
1. The Shilla
The Shilla's picturesque perch atop a lofty hill, as well as the hotel's ornate traditional Korean roofs and sweeping driveway (not to mention convenient parking) are unusual for South Korean luxury hotels, especially considering its prime location in downtown Seoul.
Shilla's personality shines throughout all nine hectares of parkland and its 465 rooms, and was appreciated by guests Bill Gates and former President George Bush, as well as Michael Jackson and Tom Cruise.
Celebrity weddings and the society weddings of the season are often held here, so don't be too surprised if you see hordes of paparazzi and screaming fans on weekends.
The Shilla Duty Free store, housed in a separate building next to the hotel, is also the best in Seoul, and carries the latest designs in luxury goods.
202 Jangchung-dong 2-ga, Jung-gu
2. Park Hyatt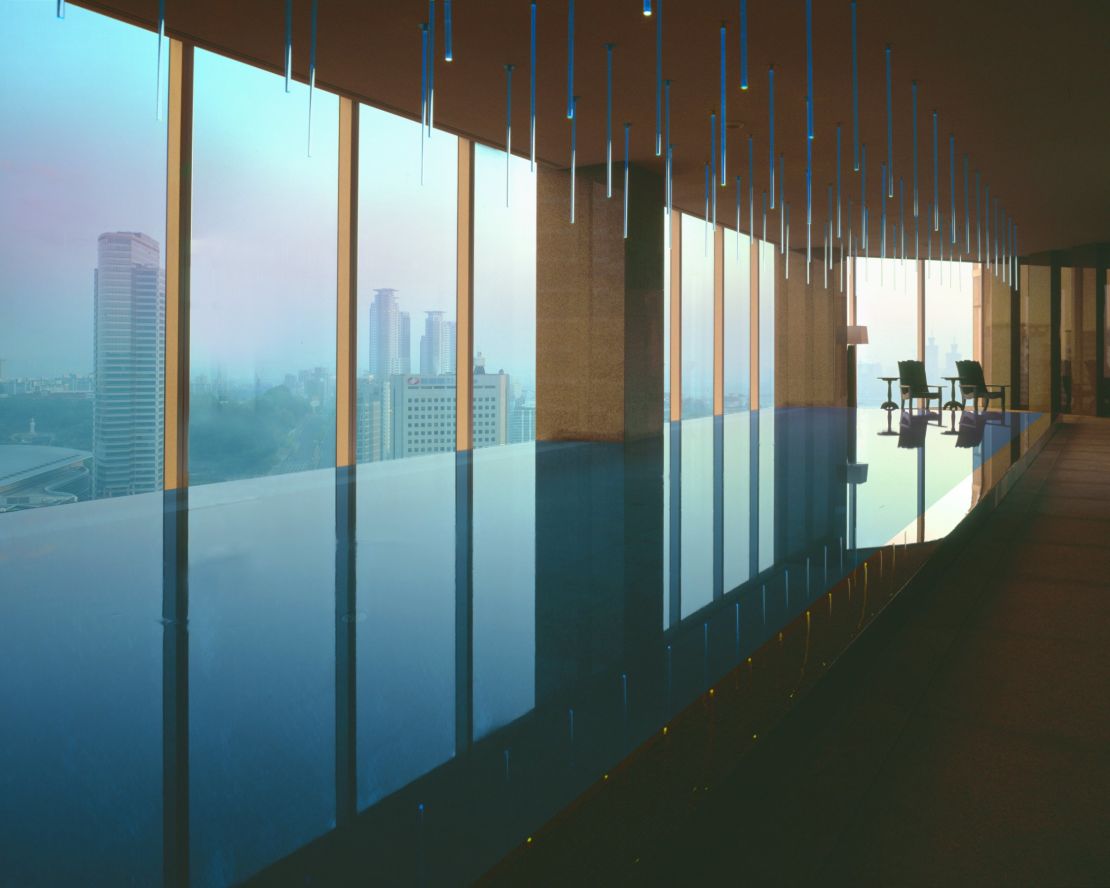 The Park Hyatt is all about understated, modern luxury, and makes for a perfect business trip.
The hotel's personalized service and attention to quality and detail have clinched its unofficial "six-star" status among luxury hotels in Korea, making it one of the only luxe hotels in the affluent Gangnam area (south of the Han River), which is home to booming shopping and business districts.
The distinctly masculine Timber House basement bar, which looks like a place Bruce Wayne or James Bond would come to unwind after a long day, offers some of the best cigars and live jazz in Seoul.
995-14, Daechi 3-dong, Gangnam-gu
3. VISTA Walkerhill Seoul
VISTA Walkerhill Seoul caused a sensation in Seoul when it opened in 2004, and its trendy and colorful design and use of space has guaranteed its continued popularity throughout the years despite its isolated location.
The hotel's Woo Bar has one of the best night skyline views in the city, and the outdoor pool park is also the hotspot of every summer, featuring exclusive parties and concerts.
175 Achaseong-gil, Gwangjin-gu
4. The Westin Chosun
Instead of featuring the sleek and shiny modern architecture that most urban hotels go for these days, the Westin Chosun is a more traditional take on the Korean luxury hotel.
Designed by architect Adam D. Tihany, the Westin's pavilion and interior designs are reminiscent of traditional Korean house ceilings and window frames.
The hotel is particularly known for its amazing food: its on-site restaurant Hong Yuan offers Cantonese cuisine made with seasonal ingredients, whilst the hotel's signature Japanese restaurant, Sushi Cho, is renowned for its take on contemporary Japanese cuisine.
Veccia e Nuovo, one of the most popular brunch, sandwich and pasta places in the area, is a favorite with businessmen as well as ladies who lunch.
87 Sogong-dong, Jung-gu
5. The Plaza
Featuring more of a boutique hotel look courtesy of the most expensive renovation in Korean luxury hotel history, The Plaza showcases dramatic modernity in its central location of City Hall.
The best choice particularly for first-time vacationers to South Korea, The Plaza offers easy access to the subway and is close to all the traditional sights of the city including various palaces and museums as well as the blazing Myeong-dong shopping district.
Check out exquisite Japanese restaurant Murasaki for the best omakase in the city.
23 Taepyeongno 2-ga, Jung-gu
You can use these hotels as a fabulous base to explore all the beautiful places around Seoul and the rest of South Korea.
Editor's note: This article was previously published in 2011. It was reformatted and republished in 2017 and updated again in May 2018.