Weird and wacky vending machines have long been part of Japan's innovative culture – from healthy lettuce (yes, just lettuce) and bananas, to the more indulgent draft beer dispenser.
In Germany, there's a vending machine that dispenses all the farm-fresh breakfast basics – sausages, butter, milk and eggs.
And if you're brave enough, there's even a live hairy crab vending machine in China.
Not to be left out, Singapore is also taking the city's renowned convenience and efficiency to the next level, offering round-the-clock service at the push of a button while competing with hawker centers and food delivery services such as Deliveroo and Food Panda.
So whether you're after a 2 a.m. pizza fix or you forgot to take your Vitamin C in the morning, there's likely a vending machine that will meet your needs the next time you travel to Singapore.
Here are a few highlights:
Hot sandwiches
Hotbake 24/7 dispenses hot sandwiches around the clock.
Freshly made daily and delivered to machines around the city, these wholemeal sandwiches come in two varieties per machine and are toasted, not microwaved.
Heated between two hotplates before being dispensed, there's no need to choke down a soggy sandwich here.
10-inch pizzas
You also no longer have to wait an hour for your pizza delivery if you're close enough to a Chef Mario pizza vending machine, currently situated in student accommodation campuses.
In just minutes, for SG$8.50 ($6), you can be munching on a 10-inch Hawaiian or pepperoni pizza.
Thanks to a heat injection system, the vending machine is like a traditional pizza oven but much faster, says Axel Steyer, director of eeZee Vending, the company behind the concept.
The best part is that the pizzas are made using ingredients imported from Italy.
Fresh salad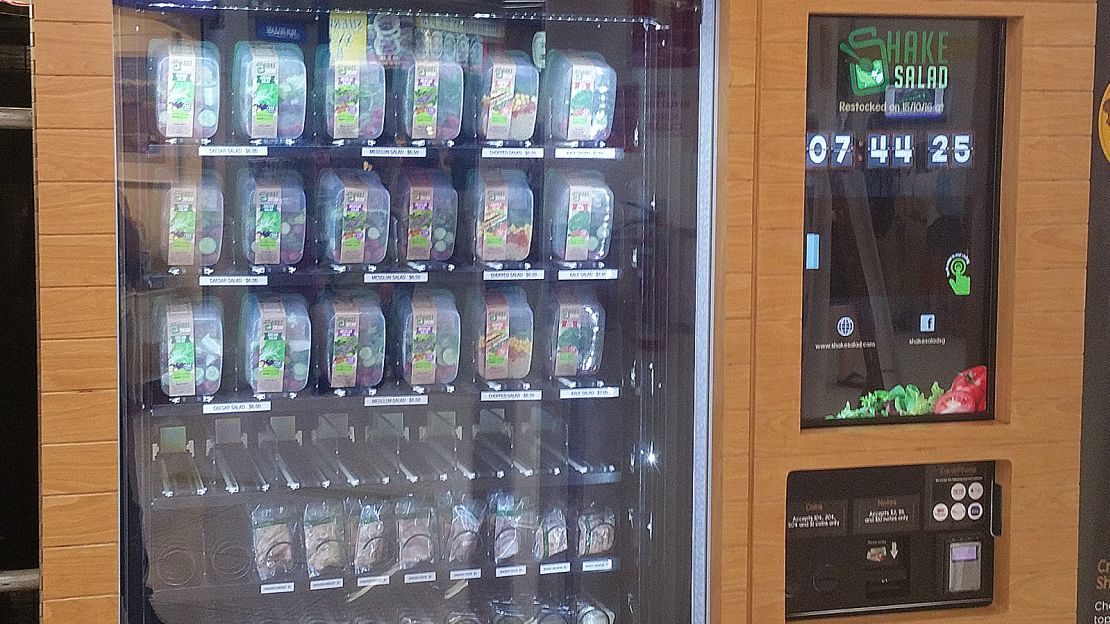 For something healthier, visit the Shake Salad machines, which dispense freshly made salads for around SG$6-9 ($4-7) through simple touch-screen technology and contactless card payment options.
"The traditional perception of vending machines is that they only sell sugary drinks or unhealthy snacks… Our main challenge is to change this perception and convince customers that salads from a vending machine can be as fresh or even fresher than those sold in salad bars," says entrepreneur Dr. Heng Ri-Liang, responsible for shaking things up on the vending machine scene.
Scattered around the city in supermarkets, office buildings and hotel lobbies, the machines are restocked every day with a choice of four different salad bases and a range of toppings and dressings.
Once selected and dispensed in their individual packets, shake them all together in the salad base box and you're good to go.
A vending machine cafe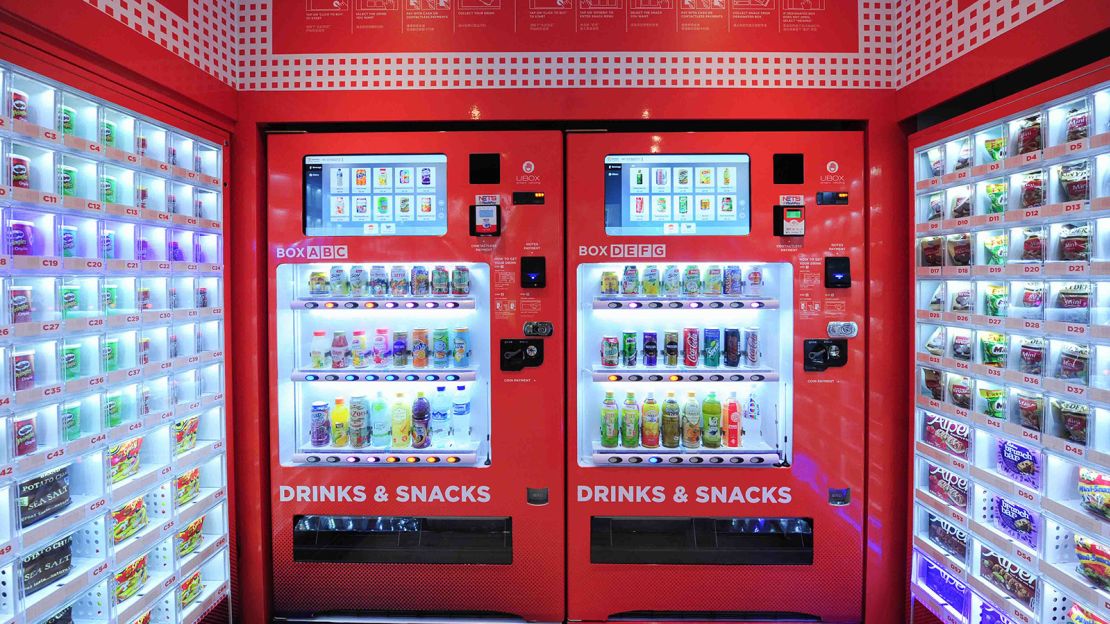 The pièce de résistance for food vending machines in Singapore is Chef-In-Box Vendcafe – an entire "cafe" devoted to your vending delights, offering a range of foods from snacks and desserts to Western, Chinese, Indian and Malay mains.
Jocelyn Chng, CEO of JR Group, which owns and operates Chef-In-Box, says that the idea behind the cafes is to "bring quality, balanced meals closer to the customers."
"Young families who are busy benefit from round-the-clock convenience, and the older generation no longer have to walk too far to food," she says.
"Tourists also come to see the concept."
So how does it work?
The dishes – which look and taste much like an in-flight meal on a plane – are frozen inside the machine and microwaved once selected.
The average heating time is around three minutes, which passes quickly if you watch the food-related video on the front of the machine.
There's a dining area nearby but if you want to take it to go you can select your meal to be dispensed froze and warm it up later (heating instructions are on the packet).
The first cafe opened in 2016 and there are now five locations throughout the city, including the Ang Mo Kio and Lakeside MRT stations.
Ice cream
Now for dessert.
The city's Robofusion ice cream kiosk at none other than the Singapore Science Centre will satisfy your sweet tooth with its selection of flavors and toppings.
Follow the simple onscreen steps and watch the robot in action as it swirls your ice cream and moves from topping to topping until your masterpiece is done.
Freshly squeezed orange juice
Head to the YMCA or Liang Court mall to watch fresh whole oranges squeezed before your eyes, while you keep tabs on the progress through the front glass of these juice machines.
Perfect if you're feeling thirsty or in need of a vitamin C boost.
Health care products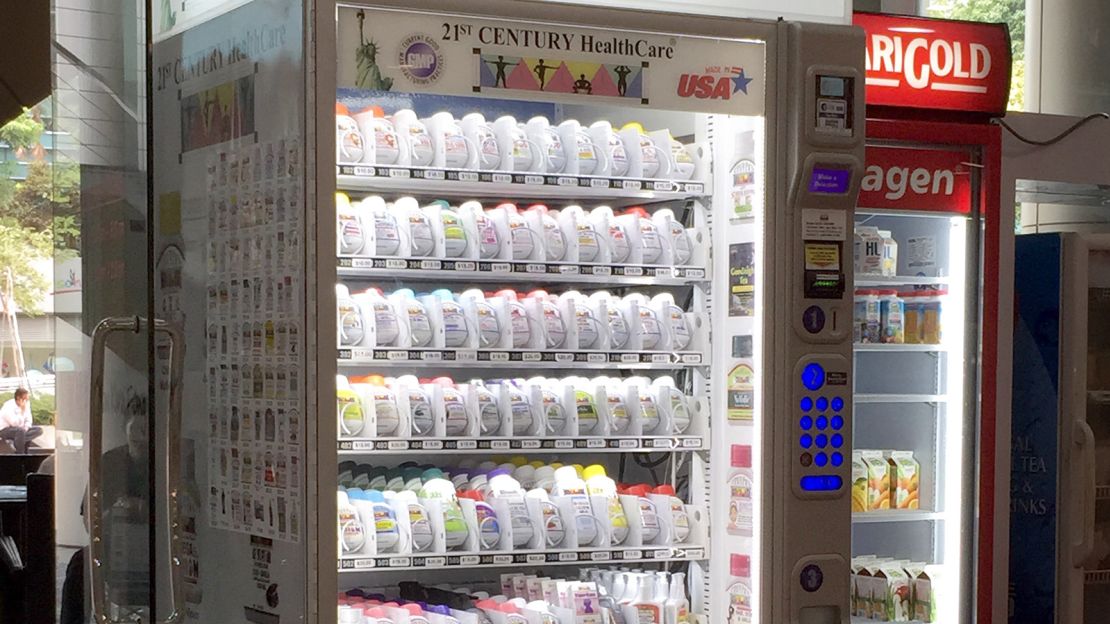 If OJ doesn't quite satisfy your vitamin needs, pay a visit to one of the 21st Century healthcare vending machines around the city, including the lively Clarke Quay area.
Each machine has six rows with filled with 12 different products, from children's multivitamins to ginkgo biloba, omega 3, l-lysine and zinc.
There's even melatonin if you're feeling jet-lagged, as well as slimming teas and hair tonic.
Books
Looking for something to stimulate your mind rather than your belly?
The ever-lovable bookstore BooksActually, which specializes in fiction by Singapore writers, operates a series of book vending machines around the city.
Locations include the National Museum of Singapore, the Substation arts center and outside the BooksActually bookshop in trendy Tiong Bahru.
Laundry services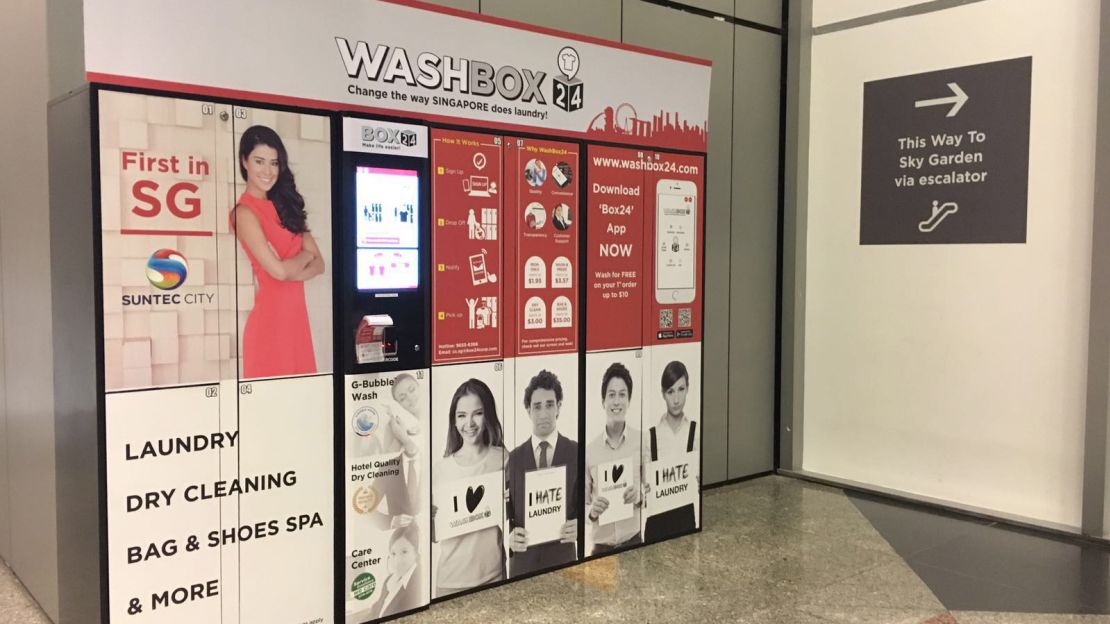 Services are now being offered through vending machines, too.
WashBox24, a Thai start-up that launched in Singapore in August 2016, will take care of your laundry, dry cleaning, ironing and bag and shoe cleaning.
Drop your items off in one of five machines around the city (the one at Suntec is nice and central), and pay online or via the company's app.
Then, simply enter a pin number to retrieve your items, which are returned to the same spot around four days later. You'll have a 48-hour window to collect them.
"It's so simple that our main challenge is that consumers are not sure how it works!" says country director Michelle Lee.
Supercars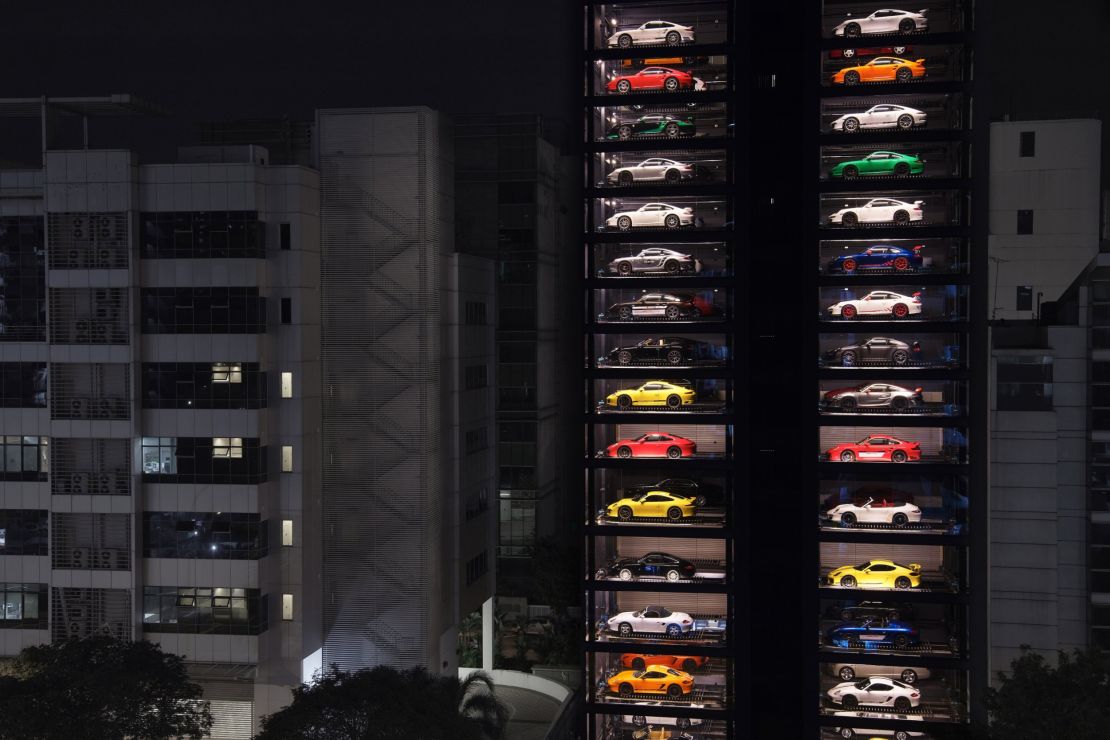 Ever said to yourself, "if only there was a way to purchase my next whip by just pushing a button?"
Autobahn Motors has you covered.
Struggling with a lack of space, Autobahn Motors general manager Gary Hong turned his sports car showroom into a 148-foot "vending machine" tower housing some of the world's most expensive cars, from Lamborghinis to Ferraris.
Potential buyers can "order" a car to view, test drive or buy by pressing a button through a customized mobile app.
This "vending machine," however, isn't entirely self-service.
On-site staff supervise the experience.