Story highlights
Many ski resorts have Michelin-starred restaurants, but eating well can sometimes be tricky
France's Courchevel and Switzerland's St. Moritz both have great dining options
Dollops of healthy exercise, lungfuls of fresh mountain air and sparkling peaks make the ideal ingredients for a hearty alpine appetite. But sometimes the recipe for a perfect mountain meal needs to be more champagne and caviar than rustic refreshments.
Ski resorts are studded with eateries of all standards, but sometimes dining well can be an off-piste slog. For those wanting more from their haute cuisine than altitude alone, we've compiled a list of the best fine-dining destinations:
1. St. Marcel, France
Forty years ago, Rene Meilleur built a modest restaurant on a potato field in the farming hamlet of St. Marcel near St. Martin de Belleville on the edge of the vast Trois Vallees ski area in France. Now, Rene and son Maxime preside over one of the highest three-star Michelin restaurants in Europe, a cozy alpine chalet with rooms and a spa, and a place of pilgrimage for skiing gourmets with deep pockets.
The pair draw on the culinary heritage of the old Savoie region, taking inspiration from the terroir of the valleys, lakes and mountains. The signature foie gras on a sweetcorn pancake with St. Marcel honey and balsamic vinegar has been on the menu since the early days.
"Lunch here has a habit of stretching into a luxurious, lengthy affair," says Simon Hooper, owner of WhiteStorm ski rental in neighboring Courchevel. "If you're feeling a bit full – and a bit flash – you can get a chopper home from the helipad next door."
Where else? The one Michelin-starred Les Explorateurs up the road in Val Thorens offers a menu inspired by mountain expeditions.
La Bouitte, Hameau de St Marcel, St. Martin de Belleville, France; +33 (0)4 79 08 96 77
READ: Which is the world's biggest ski resort?
2. St. Moritz, Switzerland
Swish St. Moritz is the jewel in the jet-set crown and offers a rich choice of stomach-stuffing options. Ecco St. Moritz is a two-starred Michelin masterpiece from executive chef Rolf Fliegau, who brings his unique take on seasonal cooking to the mountains for the winter from equally exalted outposts in Ascona and Zurich. The restaurant is housed in the Giardina Mountain hotel on the outskirts of town.
Renowned restaurateur Reto Mathis has moved on from his famous La Marmite and consolidated his empire into the CheCha Restaurant and Club. The new venture, which incorporates a bakery (Le Cake), a daytime club (Blizzard Beach) and a butler service for members, is perched on the same Corviglia mountainside overlooking the glitz of St. Moritz.
Mathis' signature dishes will still be on offer. That means treats such as truffle pizza or beef carpaccio with truffles Robespierre followed by pine tree ice cream with caramelized walnuts and red currant compote.
Where else? Da Vittorio in the Carlton St. Moritz is another fine-dining emporium on the gourmet bucket list.
CheCha Restaurant and Club, Via Salastrains 10, 7500 St.Moritz, Switzerland; +41 81 833 6355
READ: 11 of the best luxury ski chalets in Europe
3. Courchevel, France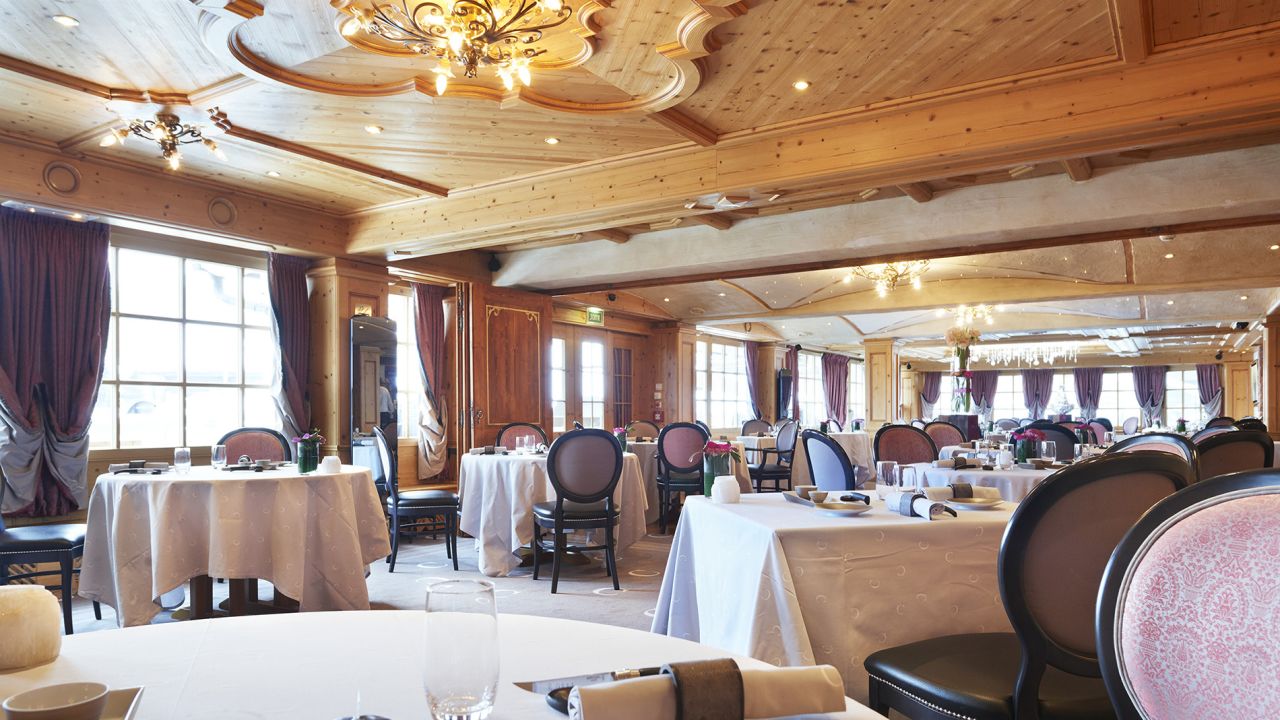 Gourmets are spoiled for choice in classy Courchevel, with eight Michelin-starred restaurants glittering like fine-dining diamonds. Le 1947 at the five-star Cheval Blanc is the new standard, achieving a third Michelin star in 2017 for chef Yannick Alleno, who specializes in creative, contemporary, technical cooking.
The prestigious guide says, "The mythical Cheval Blanc vintage is 1947, and that is the number of superlatives necessary to give this restaurant its dues."
Among other Courchevel culinary highlights, the venerable Le Chabichou stands out. The wedding cake-style hotel at the foot of the slopes houses a classic two Michelin-starred affair under the direction of head chef Michel Rochedy and right-hand man Stephane Buron. The décor is elegant and the cooking refined – think fried fillets of Lake Leman perch with a cold herb emulsion, or Pornic pigeon stuffed with a truffle gratin.
"The Chabichou offers classic Michelin-starred food with exceptional, although not oppressive, standards of service with an old-world charm and atmosphere," says Neal Manuel, owner of luxury Courchevel travel specialist Green to Black.
Where else? Pierre Gagnaire pour Les Airelles, Le Kintessence, and Le Montgomerie are Courchevel's other two-star joints. Less exalted but highly thought of are Le Chabotte, La Saulire and the Bistro du Praz. On the slopes, Bel Air in Courchevel Moriond is a smart option.
Cheval Blanc, Le Jardin Alpin, 73120 Courchevel, Savoie, France; +33 (0) 4 79 00 50 50
Le Chabichou Hôtel, restaurants & Spa, 90 Route des Chenus, 73120 Courchevel, Savoie, France; +33 (0)4 79 08 00 55
READ: 9 of the best ski resorts you can fly into
4. Le Fornet, Val d'Isere, France
Clued-up skiers have long headed to isolated Le Fornet on the edge of the huge L'Espace Killy ski area, but now Val d'Isere's little neighbor is becoming a culinary hotspot.
L'Atelier d'Edmond, a cosy chalet created from an old farm building, won a second Michelin star for chef Benoit Vidal in 2015. Vidal's authentic cooking is a nod to the old Savoyard ways, infused with Mediterranean style.
Specialities include lamb saddle noisette from the Tarentaise flavored with wild thyme, a cake of potatoes and ewe cheese from the Bergerie Saint Pierre. Or confit of duck foie gras with a Mondeuse grape reduction with blueberry and pepper. The old-fashioned atmosphere is maintained with rooms dressed as a carpenter's workshop (atelier means "workshop") or a mountain refuge, with furniture, tools and trinkets to match.
"The three-course lunch is way more than just that – with amuse bouches and pallet cleansers, it is a real treat," says Colin Tanner, founder of The Development Centre ski school in Val d'Isere.
Where else? At the top of the Fornet cable car is Le Signal, a homely, high-quality joint, while lower down the blue Mangard piste is the impressive L'Edelweiss. La Table de l'Ours is a fine-dining emporium in central Val d'Isere.
L'Atelier d'Edmond, Le Fornet, Val d'Isère, France; +33 (0)4 79 00 00 82
5. Zermatt, Switzerland
Zermatt has risen from remote mountain village to world-class ski resort, and the dining options have followed suit. With more than 50 restaurants on the mountain and 100 more in town, foodies can have a field day. On most bucket lists would be the institution that is now Chez Vrony.
With origins as a simple farmhouse on the slopes high above Zermatt, this alpine chalet with killer views of the Matterhorn has become a highly prized table for skiers who take lunch seriously. Hosts Vrony and Max Cotting-Julen insist on the best organic local ingredients, with animals fed on alpine grass and recipes passed down from generation to generation.
The menu boasts dishes such as pink-roasted entrecôte of Swiss lamb served with a port-steeped fig and hazelnut potato purée, or pan-fried slices of duck's liver on a bed of Calvados-glazed apples, toasted almonds and crispy butter rösti.
Where else? Findlerhof just below Chez Vrony is another chic shack, while the black-timbered Zum See offers an authentic blast from the past.
In town the smart set favors the Michelin-starred trio of Omnia, After Seven or Le Capri at the Mont Cervin Palace, a haven for Italian seafood cooking.
Chez Vrony, Vrony and Max Cotting-Julen, Findeln, Zermatt, Switzerland; +41 (0)27 967 25 52
READ: 12 of the world's best heli-ski spots
6. St Christoph, Austria
In the heart of Austria's famous Arlberg ski area lies a haven that has been welcoming weary travelers since the 13th century. The Hospiz Alm restaurant in St. Christoph offers a sunny terrace for those bluebird days, or a toasty table snug by the fire indoors when the weather shuts down.