Editor's Note: Monthly Ticket is a CNN Travel series that spotlights some of the most fascinating topics in the travel world. In February, we're exploring the people, places and journeys working to make tourism more sustainable.
Window or aisle? Near the lavatory or closer to the cockpit? Meal or no meal?
When Gilbert Ott was specifying the booking of his overnight New York to London flight, he noticed something new in the list of meal preferences: in addition to options like a kosher or vegetarian meal, there was the choice to skip food service entirely.
He duly chose no food. It's something, he says, all air passengers should think about doing.
"I skip meals no matter how I fly," says Ott, who wrote about his experience on his blog, God Save the Points. "The idea of eating at midnight throws off your whole next day, and I think there's credible science that it hurts your ability to recover from jet lag."
While not everyone is as thrilled with the prospect of skipping meals on board as Ott is, a few airlines, including Delta (which Ott was flying) and Japan Airlines (JAL), are using the "thanks but no thanks" option.
The jury is still out on whether this will catch on with passengers long term.
Why meals matter
Currently, the "skip meal" option is only available to some passengers flying in Delta's business class Delta One cabin. A rep from the airline tells CNN that since the program started last year, about 1,000-1,500 meals are voluntarily declined each month.
That means only .3% of eligible passengers are opting out. But it's a test case for what airlines could do to reduce fuel, costs and waste on board.
According to airlines, the "no meals" option isn't just about being eco-friendly. It's also about personalization.
"We're always looking for ways to better serve our customers and create a more personalized onboard experience," says a rep from Delta.
Meals also represent an opportunity for airlines to gather more customer data and potentially better optimize catering options.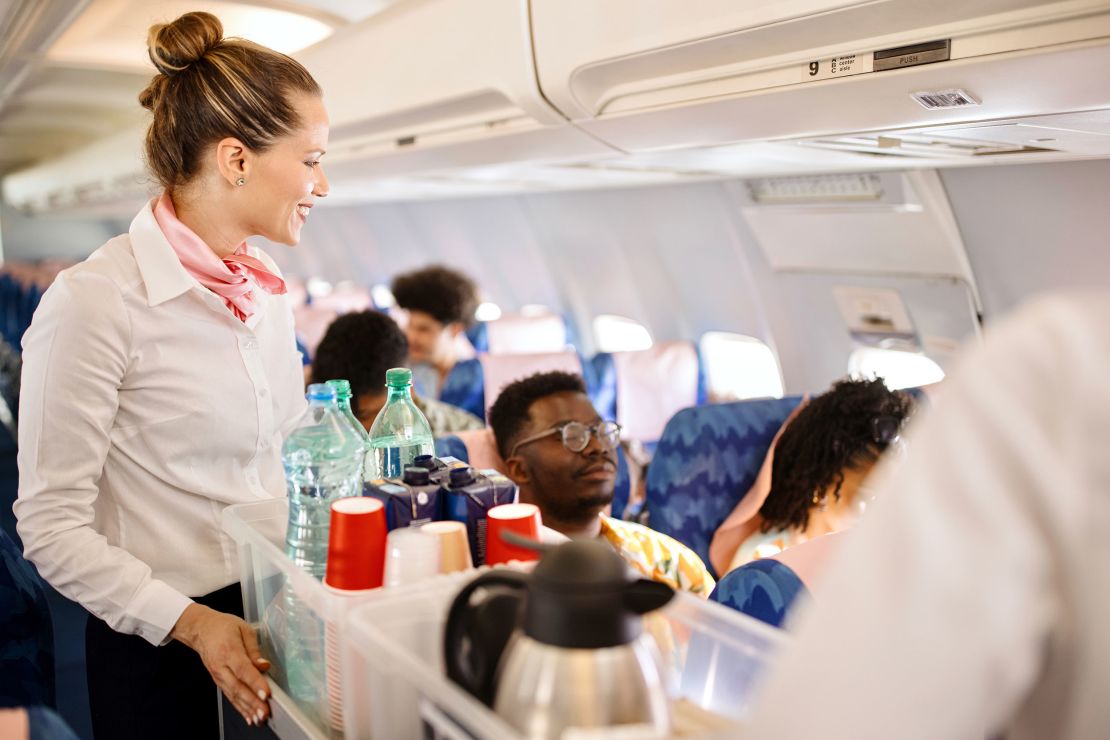 Is it just greenwashing?
Critics of meal-skipping programs say that airlines might be "greenwashing" by trying to hide a corner-cutting measure under the veneer of sustainability.
In 2020, when JAL launched its meal-skipping option, the airline offered fliers a complimentary amenity kit in exchange for passing on a meal.
One critic, Gary Leff of the blog View from the Wing, called the amenity kit "a token" and argued that the program put too much onus on the passenger to make a change rather than the airline itself.
"I suppose it's ethical of Japan Airlines to save money by reducing food waste, but is it an ethical obligation for the passenger to make their meal decisions at least 25 hours prior to departure, in other words, to know whether their future self is going to be hungry?" he wrote.
The JAL program began as a test on a few limited routes. Now, it's available for passengers in any class of service on any international flight.
Originally, it was called the "ethical meal skip option," but the word "ethical" has been dropped since then. The amenity kit offer has ended, replaced by a partnership with a charity called Table for Two.
The airline says that for each meal foregone, it will donate a small amount to this charity, which provides school lunches to children living in poverty. However, the airline doesn't specify how much money it donates or which schools or regions are served.
Will travelers feel good about themselves if they make a "green" choice? Or will they just feel hungry?
"From a customer's perspective, you do feel like you're being cheated," says Joaquin Hidalgo, who, alongside Meiling Chen, took a deep dive into the world of airplane industry waste for their graduate thesis at MIT in 2022.
"But I think what they should be more informed about, I should say, is the complexity of the whole thing and really what goes into the whole supply chain of really getting catering into the planes."
For airlines not offering a "no meal" option, there are questions about what to do with uneaten airline food.
One common suggestion is donating them to food banks or shelters. But strict levels of regulation in the airline industry, plus differing laws at airports, mean it's next to impossible even if the meals remain sealed shut the whole time. The same regulations that prevent travelers from bringing fruit, meat or other foods across borders also come into play.
So what does happen to uneaten airline food? Some airlines allow flight attendants to eat untouched business or first class meals. But the majority of the time, they are either incinerated or dumped in a landfill.
Hidalgo thinks that the aviation industry could go in this same direction as hotels that offer guest incentives for forgoing daily bedsheet changes or simply the ecological benefit.
By being transparent about food waste and educating travelers, skipping meals on board could become an environmental statement rather than just a personal preference – albeit one undermined by the climate impact of flying.
What if I change my mind?
Ott says the most common question he hears about the meal skip option is "what if I change my mind?" After all, when you're in a metal tube in the sky, you can't just pull over and grab a snack.
Many airlines stock snacks on board, especially on long-haul flights. They're not always free of charge, but the knowledge you won't starve midair is valuable.
If you're sure of yourself and know what you like, Ott says any customization option is good.
In Ott's case, he flies the same JFK-Heathrow route at least once a month and has his travel routine down cold, from sleeping habits to what he stows in his carry-on.
He also knows that he'll continue to say "no thanks" to plane food, no matter how tempting it may seem.
"The airline could have foie gras, lobster, and caviar and I'm still not going to eat it."