Story highlights
Slovenia calls itself the New Zealand of Europe due to its amazing landscape contrasts
Attractions include the Skocjan Caves, Lake Bled and Triglav National Park
Even among seasoned travelers, Slovenia is not a country whose name is hugely familiar.
It's part of the charm of traveling this pocket dynamo located between Italy, Croatia, Hungary and Austria: visitors frequently get the impression they're the first to discover it.
That could all change thanks to a recent claim to fame – Slovenia gave the world Melania Trump, the next First Lady of the United States.
Not that it needs the Trump connection to pull in visitors.
Neither Balkan, Mediterranean, nor Alpine, Slovenia is more a cocktail of all three, served with its own distinct twist.
Nowhere in the country is more than three hours drive from anywhere else, yet this compact destination boasts a frankly ridiculous diversity in landscapes.
There's a reason they call themselves the New Zealand of Europe.
The culture and cuisine is as rich and varied as the photo ops, with a largely English-speaking population that's more than happy to engage visitors in conversation.
Here's a look at some of its most beautiful locations and reasons why this may just be the best destination you know almost nothing about.
Ljubljana
The starting point for most visits, Slovenia's capital Ljubljana is a picture-postcard pretty city of only 300,000 people.
It's also The European Green Capital for 2016, thanks in part to its wise decision to ban cars from most of the city center, meaning everything can be seen on bike or by foot.
Most paths lead to the "triple bridge" across the Ljubljanica river, while cafés, bars, galleries and boutiques line the waterside as it winds through town.
In summer, locals, students and visitors alike make the most of the late evening sunshine. As capital cities go, they don't get much more laid back.
READ: 10 reasons to visit Slovenia
Skocjan Caves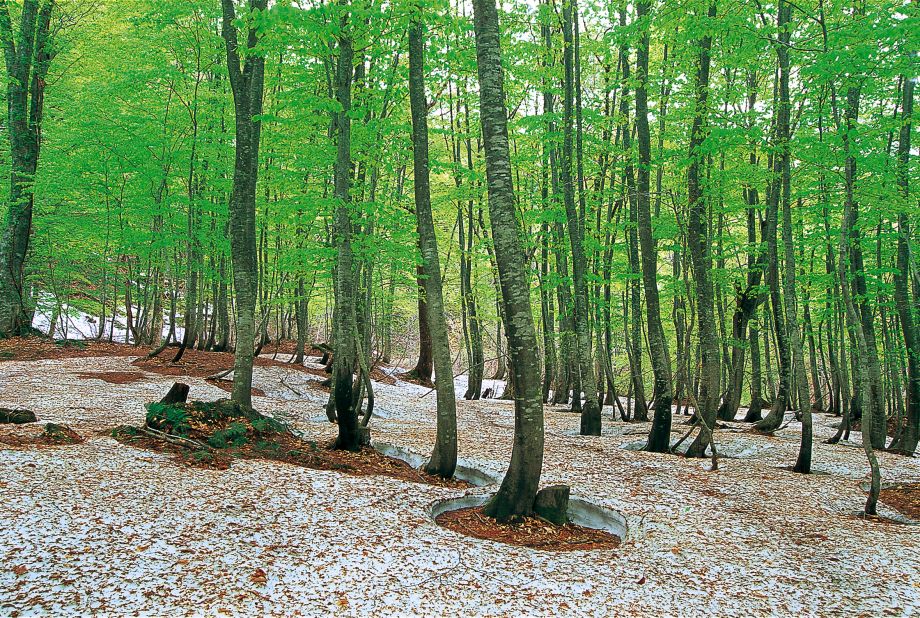 12 incredible UNESCO sites you've probably never heard of
For a country less than one sixth the size of Pennsylvania, the natural world has been particularly kind to Slovenia.
It's not only above ground that the scenery stops people in their tracks.
The limestone Skocjan Caves are Europe's largest underground gorge, a UNESCO World Heritage site with more than six kilometers of underground lakes, waterfalls and natural bridges.
The Martel Chamber alone is more than two million cubic meters in volume, while the "giants" in the Great Chamber are an astonishing collection of stalagmites and stalactites. For otherworldly beauty, they take some beating.
READ: 12 incredible UNESCO sites you've probably never heard of
Going green
With more than 60% of the country covered by forest, there's no shortage of greenery, but the woodlands are also home to mind-blowing diversity.
Fast fact: there are eight indigenous trees found in Finland – but more than 80 in Slovenia.
Some of these forests are home to the country's 700 or so wild bears, one of Europe's highest populations.
To get there, 10,000 kilometers of hiking trails criss-cross the country. There are also more than 80 natural thermal springs on hand to soothe aching feet.
MORE: The best historic hotels of 2016 are …
Bled
Barely an hour's drive from Ljubljana – as are most places – is the impossibly beautiful Lake Bled.
The 11th-century Bled Castle clings to vertiginous cliffs flanked by the snow-capped peaks of the Julian Alps, but the real show-stopper is the Romanesque tower and church on the rock in the middle of the emerald-green lake.
Access to the island comes via traditional wooden rowing boats called pletna, but thankfully the hard work is done for you.
Even here, there aren't anywhere near the coachloads of visitors attracted by other picturesque landmarks elsewhere in Europe.
Triglav National Park
Bled is located at the fringe of the Triglav National Park, a key attraction of which is the Tolmin Gorges, home to beautiful springs, trails and caves.
Some of their names are disconcerting, not least the Devil's Bridge crossing a deep, narrow gorge. Or Dante's Cave, so named because the 14th-century Italian poet was said to have been inspired by it when creating the hell of his "Divine Comedy."
The aquamarine waters and rapids running through the limestone gorges are breathtaking, while the marble trout seem to enjoy life in their own private sanctuary, safe from anglers.
MORE: 12 national parks in 12 months
Glorious food
No visit to a city is complete without checking out a market and Ljubljana has no shortage to choose from.
The fresh produce on display at the Central Market is enough to make a city slicker weep tears of envy, as producers from all across the country come laden with fresh fruit, vegetables, dairy, meat and more.
An even tastier draw comes in the form of Odprta Kuhna or Open Kitchen, a regular summer fixture which brings together up to 40 of the country's best chefs and food gurus in one brilliant al fresco venue.
Quality is everything with a rigorous system to ensure only the very best reaches the thousands of enthusiastic diners, meaning a Slovenian gastronomic legend on one stand could be serving alongside an award-winning Argentinian steakhouse and a fiery Thai curry specialist.
It's set to return in spring 2017.
Lipica horses
One of Slovenia's most well-known exports, Lipizzaner horses have been raised on stud farms since 1580.
Sought-after around the world, notably at the Spanish riding school in Vienna, these white thoroughbred beauties are unmatched for their elegance in dressage displays, thanks to their famous "dancing" feet.
In Lipica on Slovenia's Italian border, riding lessons are available for amateurs with expert trainers, while professional demonstrations show how it's really done.
Brda
The gently rolling hills around Brda in southwest Slovenia are dotted with orchards, vineyards and olive groves, so it's no surprise that Italian is heard almost as much as Slovenian.
Visitors cross the border from Italy to pick up local artisanal prosciutto and salami, follow some of the wine trails or visit the castles, villas and heritage sites that characterize this hidden treasure.
The medieval village of Smartno is a big draw, not least for the views that can stretch from Slovenia's highest snow-capped peaks all the way to the warm waters of the Adriatic Sea.
Orange wine
Slovenian vintages aren't common on international restaurant menus, but that's set to change as the country's wine industry continues to surprise global oenophiles with unique blends and varietals.
While "orange wine" may sound like something left over at the end of a party, it's currently one of the most sought-after bottles on the global market.
The color ranges from pinkish through to mandarin orange and amber, while the unusual production process means that apricot and honey are the two flavor profiles.
Winemakers in the Goriska region are happy to open their cellar doors to curious visitors who will doubtless end up toasting their luck in discovering the country in the first place.
READ: What's it like to party at Dracula's Castle?
Chris Dwyer is a Hong Kong-based food and travel writer and communications consultant. Follow him on Twitter at @chrismdwyer or visit www.finefooddude.com.