A 19-year-old Korean man who tried to open a plane door mid-flight tested positive for drugs following an investigation by the Incheon Airport police.
Police told CNN they conducted a simple drug test with the consent of the man after his "abnormal behavior."
The man spoke incoherently to media when he was heading to attend his arrest warrant hearing on Tuesday, June 20.
"I felt I was being attacked," he said to reporters who asked why he attempted to open the plane's door.
The passenger was on a red-eye flight from Cebu in the Philippines to Seoul, South Korea, when he began "acting strangely" about an hour into the flight. As a result, he was moved to the front row of the plane close to the exit door where staff could monitor him, officials from Jeju Airlines said.
He also complained that he felt "pressure" on his chest, the airline said.
After moving seats, the man suddenly ran towards the emergency door and tried to open, but he was "immediately subdued by the crew, who used a lasso rope and tie wraps to keep him controlled for the rest of the flight," a Jeju Airlines official said.
The door stayed closed and the plane was left undamaged, and none of the 180 passengers on board were harmed in the incident, the airline added.
The passenger was handed over to police at Seoul's Incheon Airport at 7:30 a.m. local after the plane landed on Monday, June 19.
An arrest warrant was issued for the passenger and he is accused of violating the Aviation Security Act, police said.
The man's hair and urine samples have been sent to the National Forensics Service for a full analysis on the type and amount of drug was taken, police said, adding the results are expected within a week or two.
While the passenger's attempt was foiled this time, the incident comes barely a month since someone actually opened a plane door on a Korean carrier.
Last month, a man in his 30s managed to open an aircraft's emergency door just before landing at Daegu, sending strong gusts of wind through the plane's cabin as terrified passengers on the Asiana Airlines flight gripped their armrests.
In 2016, low-cost Korean Air subsidiary Jin Air was forced to turn back 40 minutes into the flight after discovering one of the plane's doors wasn't completely shut.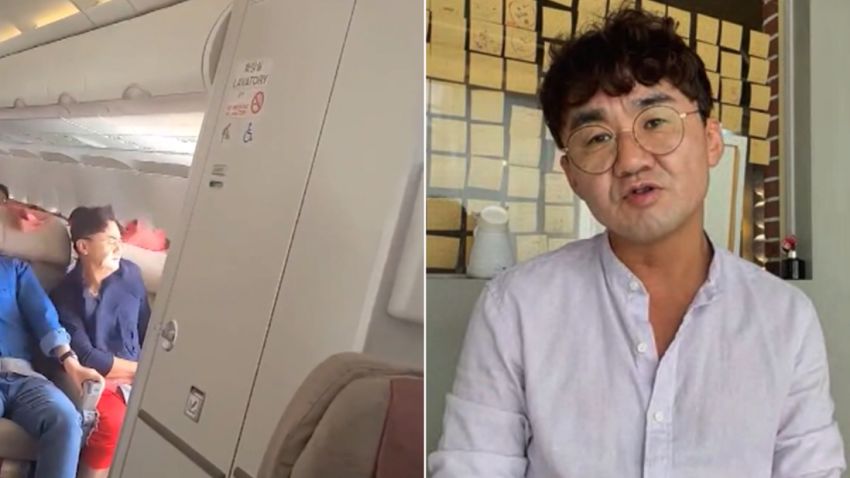 Man sitting next to passenger who opened door mid-flight speaks out