Editor's Note: Monthly Ticket is a CNN Travel series that spotlights some of the most fascinating topics in the travel world. In February, we're exploring the people, places and journeys working to make tourism more sustainable.
A great gulp of crisp mountain air and a gaze across pristine peaks is enough to remind you of the soul-stirring benefits of a ski holiday.
But while skiers dance in nature's playground, the infrastructure facilitating all that fun comes at a cost to an environment already under severe pressure from a warming planet.
Many ski resorts recognize the existential threat of the climate crisis, and most are trying to lessen their impact with a host of systemic and local green initiatives in the hope of a more sustainable future.
These measures range from renewable energy to run the lifts and make hot chocolate to greener snow groomers and electric buses.
Here are some of the best resorts for eco-conscious skiers, setting aside the environmental cost of getting there.
Val d'Isere, France
It grew out of a sleepy Savoie hamlet at the head of the Tarentaise valley, but now Val d'Isere and neighboring Tignes are leading the way in sustainability.
The pair have recently earned the prestigious Flocon Vert (green snowflake) label, which recognizes 20 sustainable development best practices, including energy conservation, recycling, local initiatives and biodiversity projects such as protecting black grouse in the adjacent Vanoise National Park.
Val d'Isere Telepheriques, the lift company, has run on 100% green energy since 2012, with solar panels on the façade and roof of the Olympic cable-car station adding to the supply.
The resort's 39 grooming machines run on HVO fuel, which is 100% renewable and made from waste fat and used vegetable oil, reducing CO2 emissions by 90%.
It's a step on the way to an all-electric or hydrogen-powered fleet. The town's buses have transitioned from diesel to GTL (gas-to-liquid) with a target of 15 electric buses by 2025, in accordance with resort operator Compagnie des Alpes' pledge to be carbon neutral by 2030.
Val d'Isere's renowned snowmaking factory is also pushing the boundaries and now uses half as much water to produce twice as much snow as it did 20 years ago, with no additives.
Zermatt, Switzerland
Zermatt is one of the jewels of Swiss skiing and its environmental credentials shine as bright as the snow-clad 4,000-meter peaks surrounding it.
The historic resort at the foot of the Matterhorn has a strong eco flex – it's long been car free, and visitors can reach the heart of the town by train, with connections to Zurich or Geneva airports.
Mini electric buses are the only traffic allowed, while the snow grooming fleet runs on sulfur-free "eco-speed" diesel, which generates 11% less carbon monoxide.
Solar panels installed at the new 3S cableway's valley station will produce power equivalent to the usage of about 35 households and will save 23.4 tonnes of CO2 a year.
The photovoltaic system installed in the building of the 3,883-meter Matterhorn Glacier Paradise – with views over 38 4,000-meter peaks and 14 glaciers – produces enough energy for its yearly heating, lighting and ventilation needs.
Zermatt is also big on "renaturation," removing obsolete infrastructure such as old lifts and repairing damaged sites. Cables are replaced every seven to 15 years and decommissioned cables are sent to Myanmar to be used in bridge building.
Lech-Zurs, Austria
Long favored by royalty and stars, luxurious Lech is an environmentally friendly gem at the heart of Austria's largest ski region, the mighty Arlberg.
"Quality before quantity" has been Lech's mantra since the 1960s, and the resort has retained its charm, agricultural heritage and Walser identity by strictly limiting development and allowing a maximum of 10,000 guest beds.
A celebrated renewable biomass heating system uses local wood chips to heat 98% of households and businesses in the area.
The ski lifts, mountain restaurants and snow-making facilities in Lech and Zurs run on 100% Austrian hydropower, supplemented by photovoltaic, solar and energy recovery systems, making a tour of the famed "White Ring" ski circuit a totally green undertaking.
The exclusive enclave of Oberlech, perched on a sunny shelf above Lech, is traffic free thanks to an ingenious tunnel that whisks luggage, supplies and waste up and down from the hotels and chalets in electric vehicles while guests glide overhead in ski lifts.
Among myriad other eco initiatives, Lech is also home to a herd of Scottish Highland cattle, which graze steep slopes in summer to help prevent avalanches in winter, while their meat is used in local gastronomy.
Laax, Switzerland
Switzerland's Laax, the country's second-largest ski area, has a lofty ambition to be the first Alpine resort to become self-sufficient in energy, with 100% of its need coming from climate-friendly, regional sources.
The resort, an intermediate haven allied to some of the world's best terrain parks for air-addicted freestylers and boarders, has been fueled by Swiss hydropower since 2008.
But renewable energy only produces a quarter of the demands of the extended Laax-Flims-Falera-Trin-Sagogn region – with climate-damaging combustibles for heating and transport making up the bulk of the rest – and local environmental visionary Reto Fry wants to move from consumer to supplier by maximizing the potential of local wind, solar, hydro and biomass sources.
His plan includes renovating and de-carbonizing existing buildings with sustainable materials, adding solar panels and moving away from oil-based heating, promoting electric mobility and energy-efficient, on-demand ski lifts.
A move to greener snow grooming vehicles and pre-building some of Laax's huge halfpipes and terrain park features with earthworks in the summer have reduced the energy needed for artificial snow by 40%.
Pyha, Finland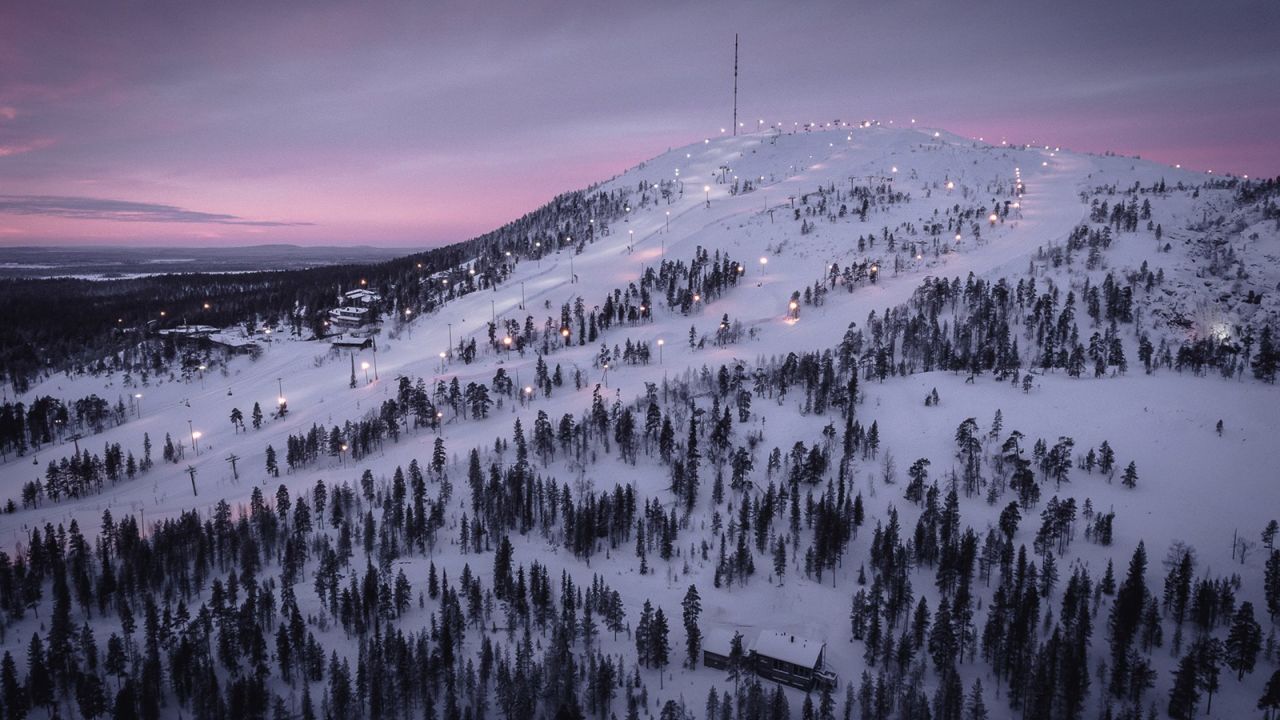 Far north, in the heart of Finnish Lapland, pint-sized Pyha has the stated mission of becoming the cleanest ski resort in the world – and it is well on the way after achieving carbon-neutral status in 2011, just ahead of sister resort Ruka.
Pyha, with 15 runs and nine ski lifts, has reduced its carbon emissions by 90% since 2008 by switching to hydro and wind power for electricity to run the lifts, make snow and light the slopes, and by using biofuel and geothermal for heating buildings.
It offsets the rest, for example, the fossil fuel damage caused by piste-preparation machines. But even that has been reduced by up to 90% since the introduction of renewable biodiesel in 2021, reducing greenhouse gas emissions by 600 tons per year, the equivalent of removing 230 petrol cars for one year, according to the resort.
Jackson Hole, US
It's one of the powerhouses of US skiing, but Jackson Hole Mountain Resort is as light as its famed powder in the carbon emissions department.
The resort switched to 100% green power for all its lifts, facilities and base operations in 2019, using wind power from Horse Butte wind farm in neighboring Idaho and two local hydro suppliers in Wyoming.
The ski area, known for the quality of its snow, its challenging terrain such as Corbet's Couloir and the characterful Teton Village base area, has pledged to put all development, including materials, through a review process to ensure environmental best practices.
In further efforts to reduce its carbon footprint, resort operators are redefining their purchasing strategy to ensure sustainability across products, equipment, food and merchandise.
Big Sky, US
Big sky, big skiing and big eco ambitions. This Montana mammoth, centered around Lone Peak, receives an average of 400 inches of cold, dry northern Rocky Mountain powder across its 5,850 skiable acres, 300 runs and 39 lifts in the Greater Yellowstone region.
The resort, which opened in 1973 with four lifts, claims to be 100% carbon free as of January 2021 through the purchase of carbon credits to offset energy consumption.
Operator Boyne Resorts is one of the big four North American resort owners – along with Alterra Mountain Company, Vail Resorts and POWDR – to have agreed on a collaborative climate charter to move to renewable energy, reduce waste and engage in climate advocacy.
That's alongside participation in the National Ski Areas Association Sustainable Slopes program. Big Sky aims to be completely carbon neutral by 2030 as part of its Forever Project.
Local schemes at Big Sky include guest carbon offsets, optimizing lodge heating, solar-powered operational elements, a transition to LED lighting and advanced snowmaking.
Courchevel, France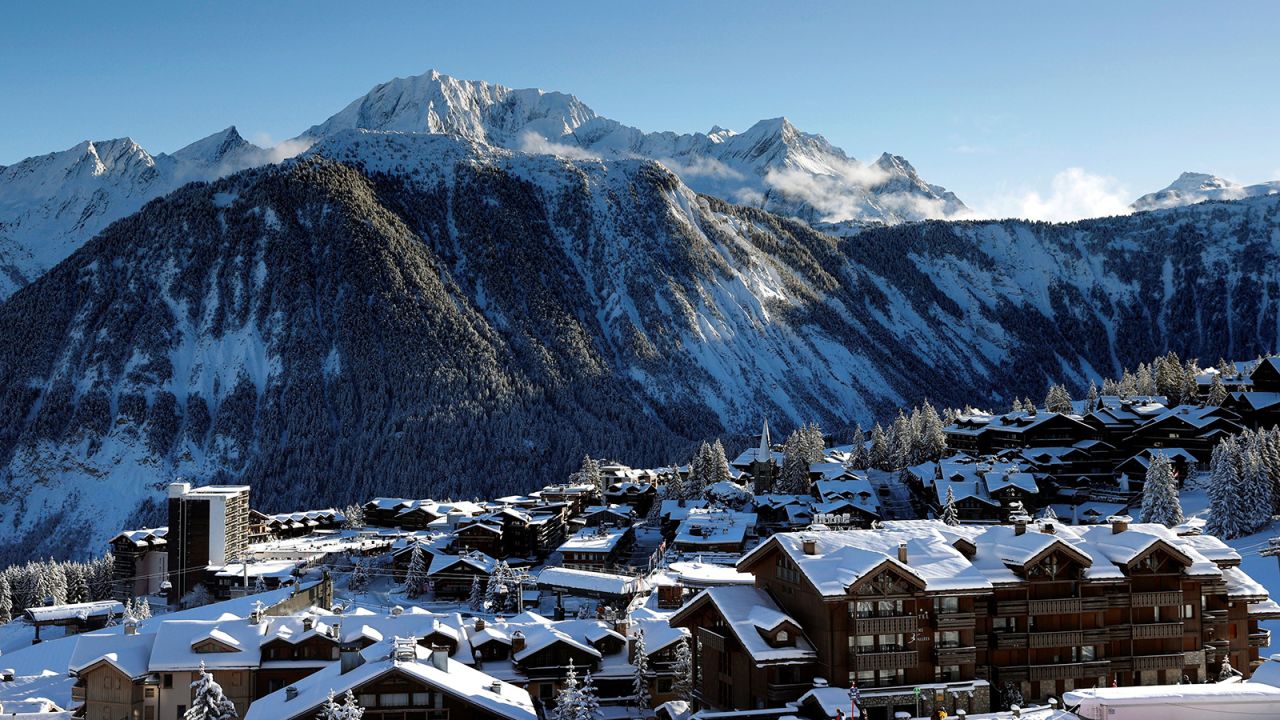 Known for its designer chic as much as its ski area physique, Courchevel sits at one end of the vast Les 3 Vallees, sharing 600 kilometers of linked runs with Meribel, Les Menuires and Val Thorens.
The jet set favorite might lose eco points by having the glitterati land at its scenic airport on the slopes, but it makes up for it in other areas by using 100% green energy for its lifts and snowmaking.
Numerous hillside reservoirs supply the required water, which is topped up seasonally, while the resort says there are more carbon-absorbing trees in the ski area now than when it was first created out of a remote farming settlement in 1946.
"Our goal is to maintain our ski resort at a good level of conservation to provide skiing for the next generation," says Gilles Delaruelle, the head of tourism for Courchevel.
Courchevel hopes to reduce traffic in the resort by encouraging visitors to park further down the valley and ride up in a revamped lift from Le Praz 1300.
It is also diligent in removing redundant lift infrastructure as upgrades are made, has launched an annual eco start-up prize for pioneering planet-saving projects such as recyclable skis, and is even hyper-aware of what its myriad Michelin-starred restaurants are serving their guests.
"It's very important for us to demonstrate to our customers that we will not provide cherries from Venezuela or strawberries from South Africa and offer them the best produce of the region with a low impact of energy," adds Delaruelle.
Whistler, Canada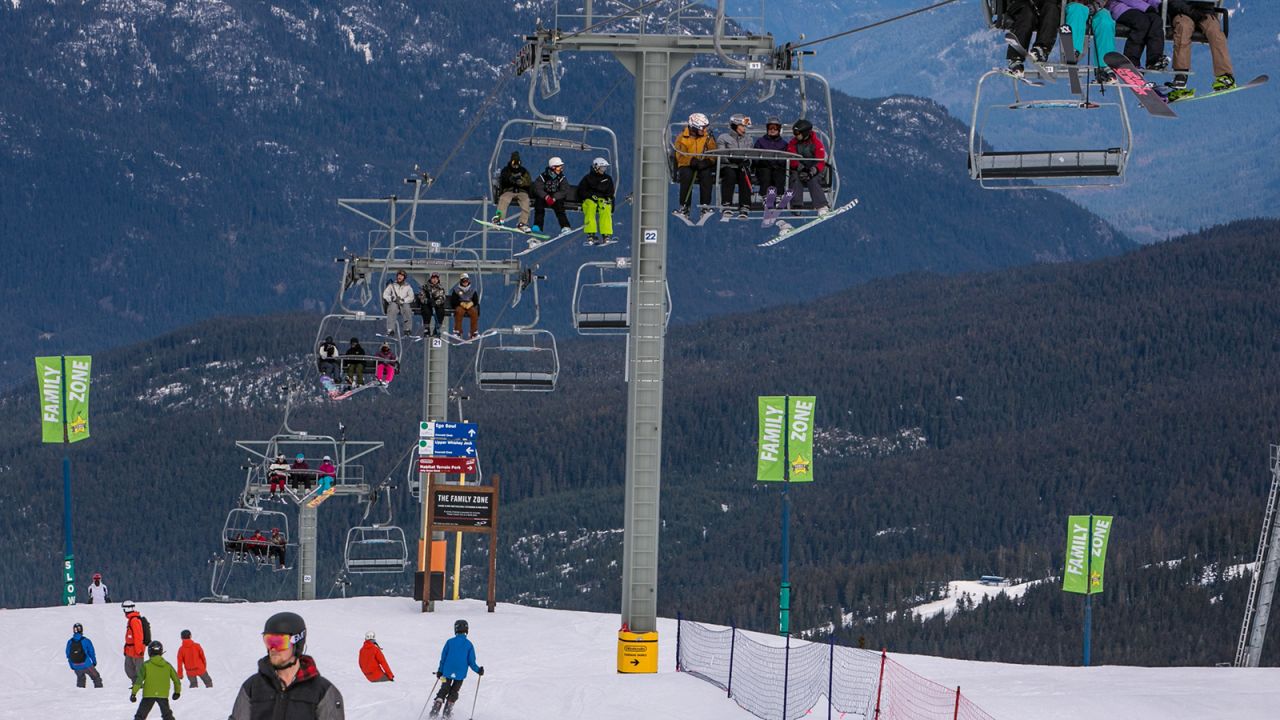 This former host of the Winter Olympics sets the gold standard when it comes to the environment.
With 8,171 skiable acres, 35 lifts and more than 200 runs, Whistler is Canada's biggest resort, but as the winner of numerous sustainability awards, it wears its impact lightly.
The Fitzsimmons Creek hydro project, tapping the energy of the river tumbling down between Whistler and Blackcomb Mountain, creates enough electricity to power the lifts, operations facilities and snowmaking for the winter.
Whistler owner Vail Resorts has pledged to achieve a "net zero operating footprint" in terms of energy and waste across its resorts by 2030. Its 2022 EpicPromise progress report says it's ahead of schedule to deliver on energy and emissions goals and on track to hit its targets in waste management and forestry impact.
Among its many local schemes, Whistler has retro-fitted the food and beverage department to reduce landfill waste by 70% since 2000, moved to more energy-efficient automated snow guns, switched to smart LED lighting, introduced staff carpooling and implemented idling tracking on its snow grooming machines.
Aspen, USA
It's a heavyweight name in the world of skiing, and Aspen wields it clout to campaign for sustainability.
The Colorado resort – with four distinct areas in Aspen Mountain, Aspen Highlands, Snowmass and Buttermilk – uses advocacy as its main weapon alongside all the usual local eco best practices.
It waged a 15-year campaign to persuade Aspen Skiing Company's utility Holy Cross Energy to switch from coal to 100% renewable energy, which it hopes to achieve by 2030.
It also spent more than $5 million on a plant that converts methane from a coal mine into electricity, and it pioneered the development of the Leadership in Energy and Environmental Design green building scheme in 1991.
"You change your light bulbs, you build green buildings, and we do all that but we're interested in building a movement around climate that drives political change so that's our big focus," says Auden Schendler, senior vice president of sustainability for the Aspen Skiing Company.
Top image: Wyoming's Jackson Hole Mountain Resort. Credit: Jackson Hole Mountain Resort