Nicolas Jammet, co-founder of sweetgreen, a fast-casual restaurant concept that has given new meaning to America's power lunch, has taken airplane eating to a whole new level.
Rather than relying on what the airlines are dishing up on a given day, Jammet has gotten resourceful – not unlike the health-food chain he oversees with business partners Nathaniel Ru and Jonathan Neman.
Started in 2007, sweetgreen has 75 locations across the United States, and is known for sourcing local and organic products to create hearty, healthy bowls for its discerning customers. The menu changes with the seasons. August introduced a burrata and peach salad, for example, while early September encouraged diners to get the summer corn while it was still available.
The latest farm-to-table collaboration involves chef Dan Barber of Blue Hill at Stone Barns and a pretty little squash called the Koginut. Robin's Koginut Squash, which is the vegetable's full name, is sweet and smooth and will soon be available on a sweetgreen menu near you (that is, if you have one in your area).
CNN Travel recently attended a dinner at Blue Hill at Stone Barns where the certified organic veg debuted and caught up with Jammet to chat about his personal favorite sweetgreen salad, what he can't travel without and if he ever succumbs to fast food while on the road.
Following is a condensed and edited version of CNN Travel's conversation with Jammet.
One of sweetgreen's core values is "live the sweet life." How do you manage this on the road when your schedule is particularly hectic? What are some of the ways you personally live this value?
I feel very lucky to do what I love and work with my two best friends, co-founders Nathaniel Ru and Jonathan Neman. We've built something we believe in and at the end of the day, my life is my work and I love it. Other than that, I make sure to spend time with my family as much as I can, drink a ton of green tea and meditate/do yoga first thing in the morning before I do anything else.
What are two or three things you absolutely must have when you travel?
I like to travel in Outdoor Voices' hoodie. It's breathable and light.
And, of course my, sweetgreen plane salad.
What's your favorite sweetgreen salad (custom or not)?
I try to mix it up and try things that are new to the menu for each season. I don't really have a go-to, but right now I'm really into our new bowl that we collaborated with chef Dan Barber on. It called the Koginut Squash Bowl and has Row 7's roasted Robin's Koginut Squash, spinach, wild rice, pears, lemony fennel, fresh basil and goat cheese.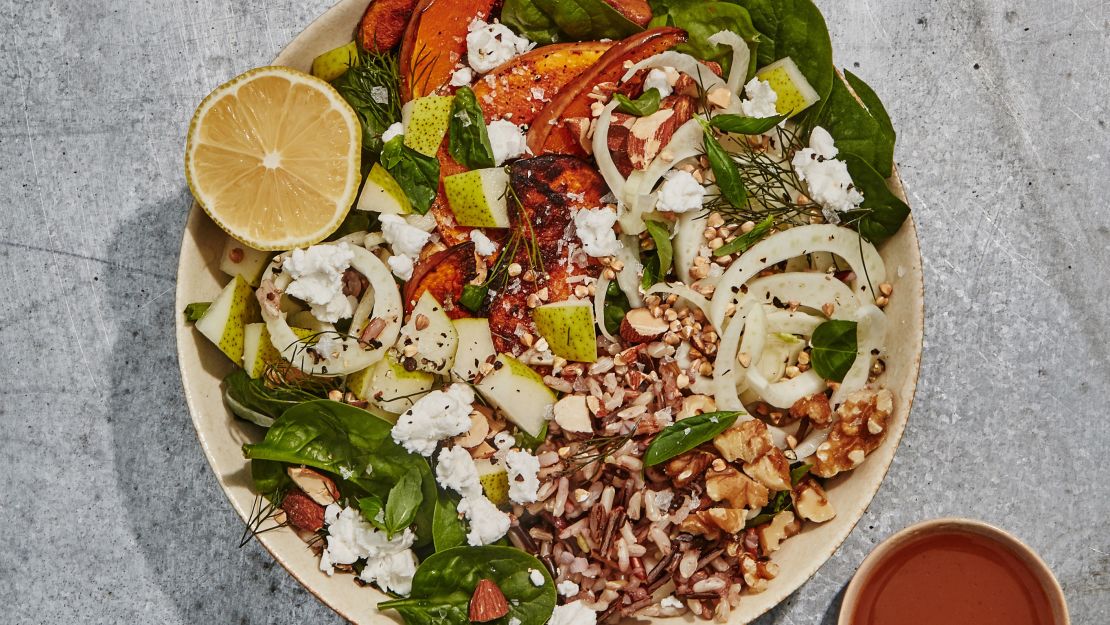 Do you ever find yourself grabbing fast food on the road? Do you have a go-to pick or restaurant chain?
It's all about what makes you feel good. I don't really rule certain food or ingredients out.
You're beginning to be recognized for your plane salads (a recent Instagram #planesalads post has 425 likes and a dozen enthusiastic comments). Can you tell us more?
Lately, I've been doing Little Gems, radicchio, spinach, herbs, roasted carrots, jammy egg, pears, heirloom tomatoes, sugar snap peas, cucumbers, orange zest, miso orange dressing.
They all started when I had a very early AM flight and forgot to get my sweetgreen salad before the flight, so we started building our own when we had early flights.
What's your go-to in-flight drink?
As much water as possible.
Favorite international spots for eating?
Tokyo and France!