The policewoman switches on her patrol car siren and says "Let's go."
A mechanical fault on my bicycle hardly seems justification for a police escort through downtown Chihshang to find a repair store. But Cycle Route No. 1 – a two-wheeled circumnavigation around the island of Taiwan – is not to be taken lightly.
Inaugurated in 2015, this 602-mile (968-kilometer) epic is fast becoming one of Asia's greatest destinations – not to mention a lifetime ambition among cycling-obsessed Taiwanese.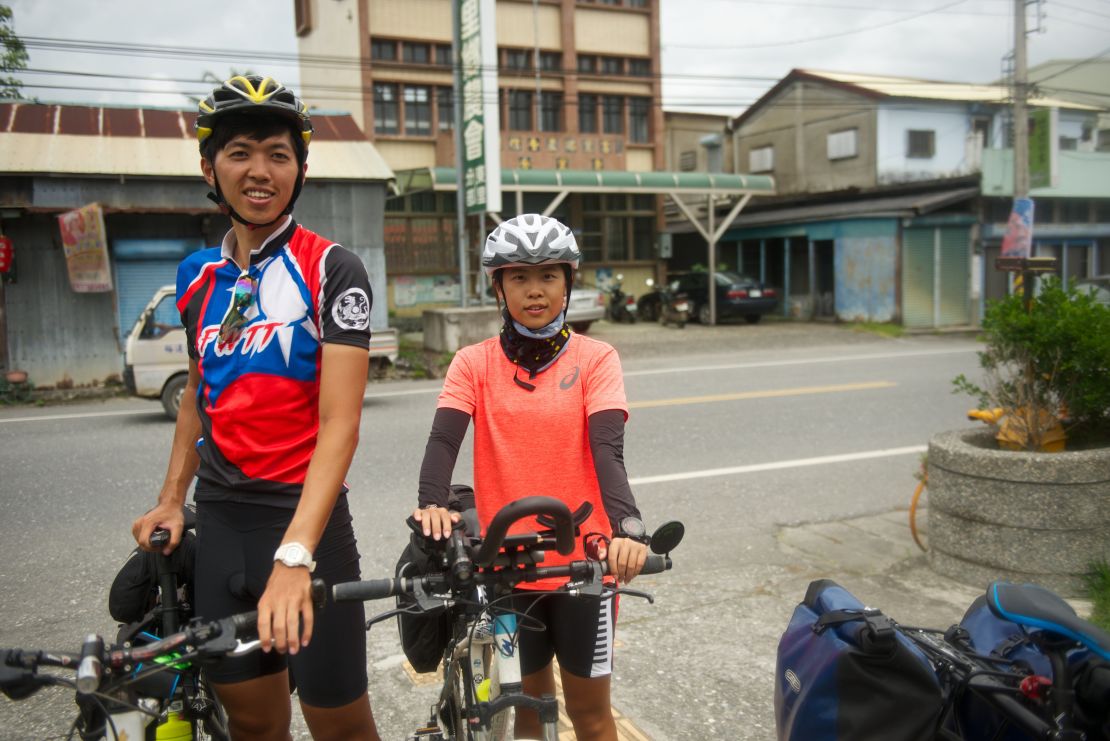 Moving pictures
Taiwan's love affair with cycling began in the 1980s with the rise of homegrown cycle manufacturer, GIANT.
An abundance of affordable cycles coincided with Taiwan's evolution from an industrializing work-all-hours society, giving rise to a culture in which leisure and health became important considerations.
"My grandfather wasn't rich and worked hard," explains Stephen Chen, founder of Taipei-based cycle tour operator Panagoe. "Now our generation inherits a wealthier society with more money and time for recreation and health."
There was already significant government investment in cycleways by the mid-2000s when along came Taiwanese director, Chen Huai-en's cult movie, "Island Etude" – a rite-of-passage escapade chronicling a boy's voyage of self-discovery during a solo cycle around Taiwan's coastline.
The movie captured Taiwan's imagination and Cycling Route No. 1 was born. Inspired by the film, cyclists began pedaling around the country's coastlines well before the route was formally signposted in 2015.
The journey begins
The circular round-the-country route typically takes between 10 to 12 days to complete – and is not recommended for beginners. A "O kilometer" mark can be found at Taipei's Songshan Station, marking the beginning of the route.
It weaves through a mix of dedicated cycleways, uncrowded country roads and segregated lanes on busier roads. Most cyclists tackling Route No. 1 start in the flatter area of western Taiwan to build up stamina for the tougher eastern coast.
Before passing through Kaohsiung city, the western path offers a peek into Taiwan's rural corners. Bikers ride by emerald-hued rice paddies and ocean-facing Taoist temples dedicated to the sea-god Matsu.
Approaching Taiwan's southernmost tip, there's a dedicated bike hotel by the dune-backed beaches of Kenting National Park.
Yoho Bike Hotel was the first of its kind to debut in Asia, opening in 2009 – there's even a quirky bike spa where guests can pamper their trusty two-wheelers. The various routes draw bikers of all ages and ambitions.
Michael Chung – aged 71 but looking trim in figure-hugging Spandex – is training with his brother on the 11-mile Hsinchu coastal cycleway with an aim to tackle the round-the-country route in the near future.
"Cycling is my way of staying fit as I get older and I have never had time to see all my country," Chung tells me. "At my age, this might be my last chance," he adds, laughing.
University student Huang Yua-Hao, refuels at one of the ubiquitous roadside rest areas, where cyclists can find route directions, free water and tire pumps.
"I want to see all Taiwan while I am free of commitments like a career and children," says Huang.
Revving up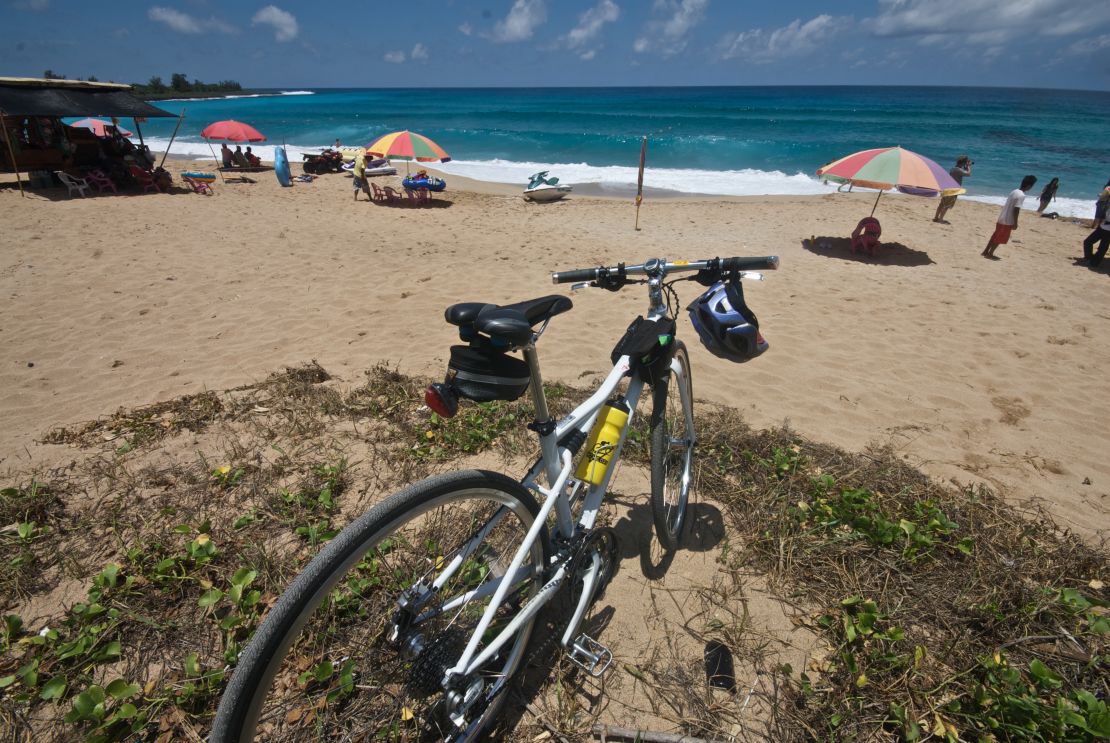 While scenic, the west coast is the calm before the storm. After rounding the southern tip of Taiwan, the eastern coast ripples with some 286 mountain summits topping 9,843 feet (3,000 meters). Cycling through the rolling landscape is exhausting yet exhilarating.
The route takes travelers through indigenous Taiwanese tribal areas and forests full of chattering macaques. At An Tong – an East Coast refuge known for its hot springs – volcanic mineral onsens provide welcome rejuvenation for weary limbs.
"The landscapes in Taiwan are extremely diverse … and cyclists get to see so many different sceneries (when biking Route No.1)," says Chen.
"From mountains to plains, ocean views and high mountains – like Dayuling – the views attract numerous adventurous cyclists to (take on the) challenge."
The final stretch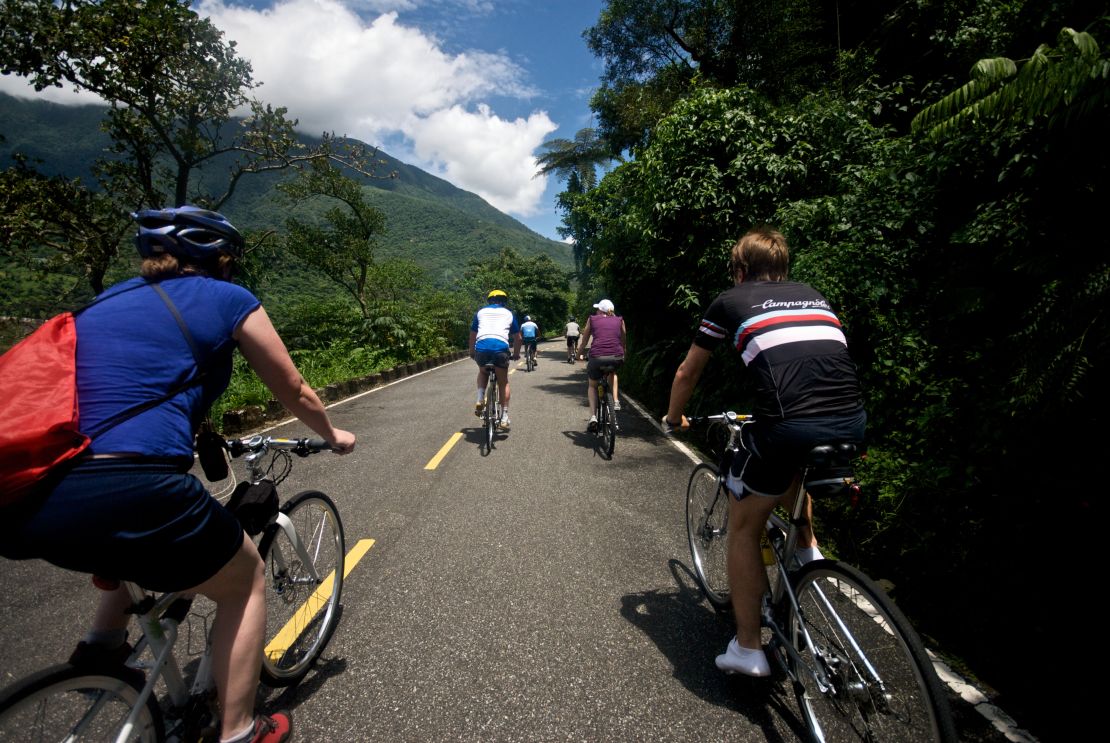 The most striking part of the ride is farther north, past Hualien City, in the UNESCO World Heritage-listed Taroko Gorge. Aquamarine rivers carve narrow slits through Taroko's glistening marble mountains.
It's a steep climb toward Taroko's highest point of 10,745 feet (3,275 meters).
Beyond Taroko is the Suhua Highway, Taiwan's most mountainous road. Cyclists follow cliff-hugging roads running, at times, perilously close to a long ocean drop. Then comes the final stretch. The tea plantations around Pinglin – a rural outpost in northern Taiwan – signal Taipei City's proximity.
Back in the capital after 12 days on two wheels, you realize just how serious Route No. 1 can be. So serious, you may end up with a police escort of your own.
Originally published March 2017, republished July 2018