Tofino, British Columbia
CNN
—
Daybreak in Tofino, Canada, is measured in layers of fog. This time of year, the mist often rolls in, shrouding the dense cedar forests and wide, sandy beaches in gray gauze.
My daughter and I have wandered from the coziness of our room at Hotel Zed into the damp morning to follow a trail that leads through the silent forest to a bird sanctuary. I'm hoping to see a wolf fishing for breakfast on the mudflats of the Tofino Inlet at low tide or a bald eagle perched high in an alder tree.
"Find an eagle feather," the hotel's psychic had counseled me the day before on a Zoom call (because, Covid), when I told her I was hoping to recapture the bohemian energy of my youth while visiting a town synonymous with free spiritedness.
"It's not just peace, love, hug a tree," she said. "How do you want to experience Tofino? What will happen if you just let it rip?"
What, indeed? And so, with no wolves or eagle feathers in sight, we climb onto beach cruisers, point them toward Chesterman Beach, and pedal madly into the fog, wet sand splattering our clothes.
Over the next few days, we'll surf, forage, stuff our faces with local seaweed and seafood and, yes, even hug an 800-year-old cedar tree.
Nature's balm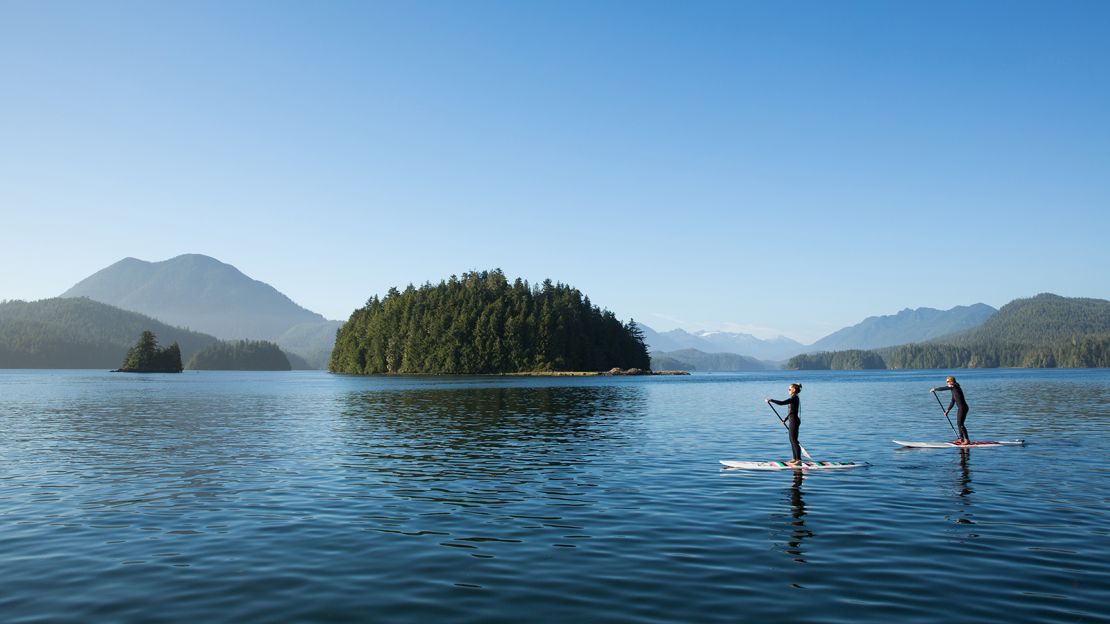 Like so many others, we've come to Tofino seeking nature's balm — the past six months of pandemic isolation have been hard. But even before Covid-19, this tiny hamlet of 2,000 was having a travel moment. Located on a thumb-shaped peninsula that juts out from Vancouver Island's west coast, the former fishing and logging town has been growing in popularity for decades.
People from all over the world come to kayak and paddleboard in Clayoquot Sound, a UNESCO Biosphere Reserve. They come to hike the rainforest trails in Pacific Rim National Park Reserve.
Increasingly, they come to surf Tofino's trio of wide, sandy beaches with consistent whitewash that makes it possible for newbies to actually stand on their boards. Some even come to find themselves; it's not uncommon to meet millennials living in a van while they work three jobs, surf and forage for chanterelles in the forest.
What all of these pursuits have in common is nature. You can, literally, bathe in the ocean and rainforest, breathe fresh, cedar-scented air, live off the land, maintain distance from other humans and pretend the world is A-OK, man.
Tofino is Canada's original hippie town, and it's still the crunchiest place in the country.
A haven for draft dodgers and misfits
"It's a very diverse, very small community. It's a pioneer town; loggers and fishermen and people wanting to escape society," says Charles McDiarmid, managing director of the Wickaninnish Inn.
McDiarmid grew up in Tofino — his father was one of the town's original doctors — and he's seen it evolve from an isolated village with just a coffee shop, liquor store, hotel and hospital, into a traveler's Shangri-La. The metamorphosis began in the 1970s, after Pacific Rim National Park opened and the road to town was finally paved.