Tourism in Japan has been given a major boost since Tokyo won its bid to host the 2020 Olympics. A record 19.7 million tourists visited the country in 2015, with many spending time in its magical capital city.
Tokyo was named the world's most satisfying city for travel in a 2013 poll by TripAdvisor and its popularity is continuing to grow. Here are our top 50 reasons Tokyo is the world's best city:
1. The world's most sophisticated railways
With 13 subway lines and more than 100 surface routes run by Japan Railways and other private companies, Tokyo's railway system seems like it was designed to win world records. It's rare to find a location in the metropolitan area that can't be reached with a train ride and a short walk.
2. The Emperor will see you now
Visit the Imperial Palace on December 23 or January 2, and you'll see something impressive: its owner. Emperor Akihito and family make a twice-yearly public appearance at the Inner Palace grounds for the monarch's birthday and a New Year's greeting. If you're tall enough, you'll be able to glimpse the man-god himself amid a sea of Rising Sun flag-wavers.
3. Tongue-gasmic food porn
You could spend hours drooling over the elaborate pastries and picture-perfect sushi rolls at department store Isetan's super-stylish depachika, a massive basement food court. Square watermelons and matsutake mushrooms are displayed with gallery-like reverence.
Other highlights: eat-in counters run by some of Tokyo's snazziest restaurants and free samples of food and booze on weekends.
Check out the depachika at Isetan, Mitsukoshi, Takashimaya and Matsuya.
4. Street crossings are like a battle scene from 'Braveheart'
The scramble street crossing outside of Shibuya Station is easily the world's busiest, with a thousand people running into the middle of the street, weaving together in a huge organic mass.
It perfectly summarizes the essence of Tokyo's true tourist landmarks: not old buildings, but lots and lots of people coming together in celebration of culture. See the action outside the Hachiko exit of Shibuya Station.
5. Youth fashion stores by the hundreds
There are countless independent fashion boutiques in the Harajuku area – all dedicated to generally insane forms of youth fashion. If you count adjacent Shibuya, Omotesando and Aoyama into the region, you have the world's largest fashion district: featuring basically every single major designer brand in the world.
6. Sky-high one-upmanship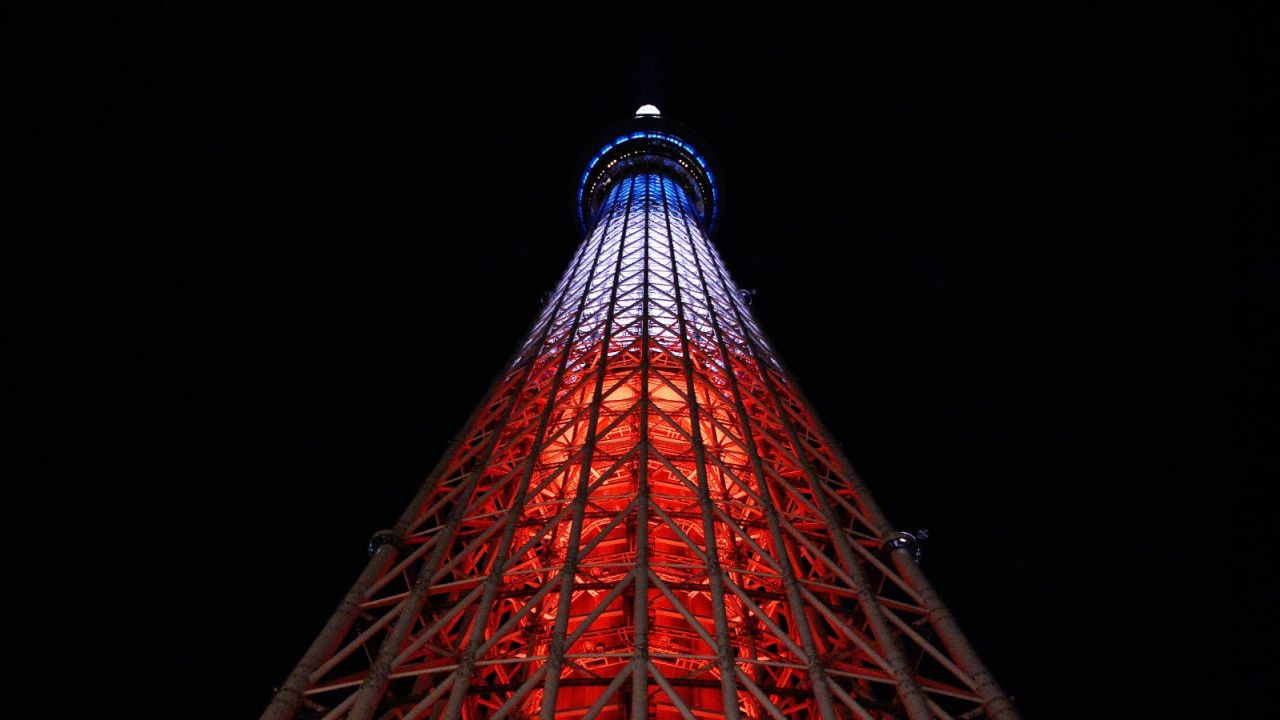 ​
When officials in Tokyo learned that the new Guangzhou TV & Sightseeing Tower in China would be 610 meters tall – the same height that was planned for Tokyo Skytree, then under construction – they did what any rational body would do: they added 24 meters to the top of Skytree to preserve its claim as the world's tallest tower.
Now complete and open for business, the Guinness-certified structure features shops, restaurants and an observation deck that lets you see almost all the way to Guangzhou.
7. You can eat dirt
At Ne Quittez Pas, in Tokyo's Gotanda neighborhood, every dish is made with a generous helping of dirt. Not normal, backyard variety dirt. This is special nutrient-rich soil. The unique tasting menu is the creation of Toshio Tanabe, a former gymnast and boxer turned culinary inventor. Whether diners dig into the dirt or not, it does take the idea of organic to a new level.
Ne Quittez Pas, 3-15-19 Higashigotanda. Shinagawa-ku, Tokyo
8. More Michelin stars than anywhere else
Tokyo sports 160,000 known eateries, more than 10 times the number in Paris. There are a few three-star standouts in the Tokyo Guide – Kanda in Minato-ku, serving delicate traditional Japanese cuisine; Joël Robuchon in Ebisu, the Tokyo stronghold of the famed celebrity chef; and Quintessence in Shirokanedai, whose young French-trained chef achieved recognition in the Japanese culinary hierarchy, thanks to his inclusion in the Guide.
More than anything, though, Michelin has proven something that most Tokyoites already know: this city is the gastronomic capital of the world.
9. The electronics stores are like theme parks
The Japanese have taken their love of the latest electronic gadgets and modern appliances and zapped it with Yodobashi Akiba, the largest electronics store in a section of Tokyo known for being the center of gadget, video game and anime culture in the city.
Going into any electronics store in Akihabara is like stepping into a wonderland of flashing lights and monstrous screens, but Yodobashi ups the ante by offering six massive floors of televisions, stereos, appliances and game consoles, with three more floors dedicated to restaurants, juice bars, bookstores and music shops.
Yodobashi Akiba, 1-1 Kanda-hanaoka-cho, Chiyoda-ku, +81 (0)3 5209 1010
​10. You can commute to the mountains
Every March, the "Walking-over-Fire" Festival takes place at Mount Takao. When concrete Tokyo gets to be too much, you can head out to the wonderful Mount Takao in West Tokyo.
Accessible by a single train from Shinjuku, the mountain is particularly famous for its easy hike to the top, stunning autumn foliage and special soba-noodle culture. To access Takao: Take the Keio line to Takaosanguchi Station. Takes a little less than one hour.
11. Earth's biggest fish market
Given Japan's penchant for seafood, it's not surprising the world's largest fish market (and one of the largest wholesale markets, period) is located in Tokyo. Handling more than 2,000 tons of seafood each day, Tsukiji-shijo ("market") is a haven for fisherman, auctioneers and buyers for Tokyo's best restaurants. As an added bonus, here the freshest sushi and most delectable grilled fish lunches can be had at reasonable prices – assuming one can stand the mad rush of patrons.
12. Even the serious museums are weird
Edo-Tokyo Museum is the best place to relive the old traditional style of life in Tokyo, when it was called Edo in the 15th to 19th centuries. The building exterior, however, looks like a giant space cruiser on a "Buck Rogers" back lot, propped up on stilts. This is perhaps an attempt to fuse past, present and future Tokyo into one space.
Edo-Tokyo Museum, 1-4-1 Yokoami, Sumida-ku, +81 (0)3 3626 9974
13. Take me out to the ball game (again and again)
How baseball-obsessed is Tokyo?
It's one of only three cities in the world – Chicago and Seoul are the others – with two big-league stadiums in its central downtown area. The Yomiuri Giants, who play their home games at Tokyo Dome, are loved and detested in equal measure (think New York Yankees), while the more-approachable Yakult Swallows do their thing down the road in cozy Jingu Stadium.
14. You'll never want for expensive antique robot toys
Eight floors of heaven for anime fans, Mandarake Complex represents the flagship of the Mandarake chain of vintage anime ephemera.
The seventh and eighth floors are like a museum of Japanese toy history – only everything is for sale. Although their prices are higher than you'll find in other shops and bargaining is out of the question, you would be hard pressed to beat the selection.
Mandarake Complex, Sotokanda 3-11-12, Chiyoda-ku, +81 (0)3 3252 7007​
15. The K-Pop boom is old news
​As the rest of the world finally gets around to discovering the glories of Korean pop culture, Tokyoites are stifling a yawn. That's because anything worthwhile coming out of the K-Pop boom washes up in Tokyo's Koreatown first. This enclave of souvenir shops, barbecue eateries and bars stretches over several blocks near the bustling mini-city of Shinjuku.
16. The public parks are as pretentious as it gets
Meticulously constructed according to the good Dr. Enryo Inoue's arcane personal tastes, Tetsugakudo Park's numerous small buildings are all dedicated to renowned philosophers. Outdoor features include a supposedly haunted tree and a "Time-Space Clearing" that is – and we quote – "intended to represent the philosophical dimension." It's a big patch of dirt.
Tetsugakudo Park, Matsugaoka 1-34-28, Nakano-ku,
17. It's the best place to shop if you're over 60
Variously referred to as the "Granny Ginza" and "Harajuku for Little Old Ladies," the Sugamo Jizo Dori Shotengai shopping street has aged along with the local residents.
Looking for the latest fashions circa 1962? You've found the right place. Black-and-white stills of long-forgotten movie stars? Check. It's also filled with stores that sell traditional sweets and trinkets, most of them on the cheap side. Walking distance from Sugamo Station.
Ameya Yokocho: Tokyo's open-air street market
18. You can blow an entire year's salary on a round of drinks
Gone are the bubble-era days of gold-leaf-wrapped sushi, but that profligate spirit lives on in the "Diamonds are Forever" martini at the Ritz-Carlton: chilled Grey Goose vodka with a lime twist, poured over a one-carat diamond. A good martini is hard to improve upon, but everything's better with a little sparkle.
Ritz-Carlton, 45/F, 9-7-1 Akasaka, Minato-ku, +81 (0)3 3423 8antigu00
19. Highway rest stops are destinations
Rest areas like Umi-hotaru almost make up for the ridiculous tolls and endless traffic jams of Japan's highways. Umi-Hotaru (the "sea firefly") is a giant, island-like concrete construct floating smack in the middle of Tokyo Bay at the crossover point between the Aqua-Line bridge and tunnel. It offers a number of restaurants and shops for those who need to relax before braving the remaining drive.
20. Personal service is borderline stalky
At Takazawa, the service is as good as the food. And that's saying a lot. From humble grocery stores to fancy boutiques, Tokyo's standard of service is remarkably high.
Unsurprisingly, the city's top-class restaurants strive for excellence, and Aronia de Takazawa delivers service with a personal touch. Before your visit, you'll get a number of charming, chatty emails from Akiko Takazawa, the chef's wife. During dinner, Mrs. Takazawa will take you step-by-step through the chef's high-tech creations and make you feel as smart and sophisticated as the food.
Aronia de Takazawa, Sanyo Akasaka Building, 2/F, 3-5-2 Akasaka, Minato-ku, +81 (0)3 3505 5052
21. Noodles you can dream about
There are more noodle shops in Tokyo than any other city in the world. If we had to pick a favorite, it'd be Menya Goto, a tiny counter stall that serves flavorful bowls of ramen to the slurping masses lined up out the door.
Menya Goto, 3-33-7 Nishi-Ikebukuro, Toshima-ku, +81 (0)3 3986 9115
22. You can be surrounded by comics
At a manga-kissa, or "comics café," a few hundred yen per hour nets you a tiny booth with a reclining chair, internet-enabled PC, an endless supply of all-you-can-read comic books and bottomless soft drink refills.
Ostensibly created for manga freaks, these miniscule rent-a-chairs are fast becoming popular for another reason: they offer young couples and salarymen alike a super-cheap place to kill time and catch some Zs.
The extensive Manboo! franchise (despite a name and logo that border on copyright infringement) is the most recognizable manga-kissa, and its flagship storefront in Kabuki-cho is perfect for hostess-club Lotharios who've missed the last train home.
Manboo! Comic Cafe, Shinjuku, +81 (0) 3-5368-6116
23. Bats you don't have to be afraid of
Tokyo calls forth an image of the glimmering city of the future, yet along the Kanda River – flowing from Inokashira Park in Kichijoji to the Sumida River – we humans have to share Tokyo with another busy inhabitant: bats. Lots of 'em.
Every evening, you can see them storming the skies on any pleasant stroll along the river, but since they don't attack people, they're considered part of the ambience.
24. You can ride the world's shortest escalator
Kawasaki isn't officially Tokyo, but we'd like to claim the world's shortest escalator – in Kawasaki More's Department Store - as part of our urban experience.We can't explain why an escalator this tiny exists, but you don't hear us, or Guinness, complaining. You can see it here.
Kawasaki More's, Kimaehoncho, Kawasaki-shi, Kanagawa, +81 (0)44 211 1131
25. The cuddliest cafes
It's a tough gig, but the cats seem to keep it all in stride.
​At cat caeé Nekorobi in Takadanobaba, you can relax after work with a cup of cocoa and a sleepy-faced Siamese, or let off some steam by tossing a toy around with a frisky tabby. Then be heartbroken when you leave.
Nekorobi, Tact T-O Building 3, 1-28-1 Higashi-Ikebukuro, Toshima-ku; +81 (0)3 6228 0646
26. Cyberpunk infrastructure
Who but the Japanese would think to connect the major wards and neighborhoods of their capital with an "expressway" perched several stories above ground that weaves in between office buildings and national landmarks?
The Shutoko – or Metropolitan Area Expressway – isn't only an engineering marvel but also a logistical nightmare, with countless routes interconnected, above- and below-ground entrances and exits, and high-speed curves that would make the Nürburgring blush.
27. It's mod tailoring's last stand
London boasts the high-end suiting of Savile Row, while Bangkok is famous for its ultra-cheap bespoke factories.
Tokyo's Yofuku no Namiki tailor may be the world's last great mod tailor – making slim suits for cool youngsters. A favorite of rock bands, punks and rebels, Namiki makes suits in every possible historical style (zoot suits, Seventies wide lapels, you name it) starting at the low price of ¥39,900 ($400).
Yofuku no Namiki, Umegaoka Aiwa Mansion 105, Matsubara 6-4-5, Setagaya-ku; +81 (0) 3 3325 9494
28. The most absurdly priced retail establishments on one block
Chanel, Louis Vuitton, Gucci, Coach, Harry Winston – and many more – as far as the eye can see, each a dedicated storefront encased in a building of impeccable modern architectural design.
Ginza is where to go to see and be seen and to spend more money than most salarymen ever dream of on fashion, handbags and jewelry. Ginza used to be pithily described as Tokyo's 5th Avenue, but nowadays it's more accurate to call 5th Avenue New York's Ginza.
29. Religious experiences for cat lovers
The beautiful Gotokuji Buddhist temple is believed to be the birthplace of Japan's ubiquitous beckoning cat statues. As you might expect, its display of the lucky ceramic felines, tucked tastefully behind a side building, is second to none.
Gotokuji Temple, Gotokuji 2-24-7, Setagaya-ku
30. No need to leave the airport
​The October 2010 debut of a dedicated international passenger terminal at Haneda Airport allows travelers to avoid the hour-plus slog from Narita to central Tokyo. But that's only half the story. Thanks to the terminal's Edo-Koji marketplace – a warren of history-themed restaurants and souvenir shops – even jet-setters on a layover can soak up some old-school Japanese culture.
31. Porn shops with increasing levels of weirdness
Like entering the 36 Chambers of Shaolin, every flight up the Ali Baba Akihabara mini-skyscraper of pornography is another level of weirdness.
As with many Japanese porn shops, the first floor sells a halfhearted selection of mainstream Hollywood and Japanese films for a thin veneer of respectability. Take the stairs one flight up and the real adventure begins, with fetishes organized by floor. Not for the prudish.
Ali Baba Akihabara, 3/F, 1-18 Kanda-Sakumacho, Chiyoda-ku; +81 (0)3 5289 0242
32. Water is just an excuse for the bridges
Connecting the Shibaura area with the futuristic Odaiba island, the Rainbow Bridge is one of the most recognizable landmarks in the city. With its pale shining towers and multicolored night lighting, the bridge provides a knockout frame through which to view the city's skyline from a restaurant terrace in Odaiba.
33. Taste the teeniest, tiniest haute cuisine