In 2020, Tom Napper was scared to embark on his first solo vacation.
In 2021, Tom Napper is considering never having a permanent address ever again.
The English-born artist and graphic designer was so nervous about traveling by himself that he decided to join a group bike tour through New Zealand, where he'd have lots of natural opportunities to mingle with the other riders and make new friends.
But the coronavirus pandemic, which slammed New Zealand's borders shut indefinitely the day before he was supposed to fly back to London, changed Napper's plans – and his life.
How it started
Napper arrived in New Zealand on February 16, 2020 to take part in Tour Aotearoa, an organized bike tour where about a thousand travelers "bikepack" along 3,000 km (about 1,860 miles) of trails throughout the country. The trail begins at Cape Reinga (also known by its Māori name Te Rerenga Wairua) on the North Island and ends at Bluff on the southern tip of the South Island, and on average takes about 30 days to complete.
Participants are asked to take photos of each stop along the way to confirm that they're following the route, but Napper asked for and got permission to do his visual check-ins as illustrations instead. Little did he know that these paintings would turn into a long-term project.
After completing the ride, Napper headed to the town of Balclutha to meet up with a college friend. The visit turned out to be anything but a nice chance to unwind before catching his flight home.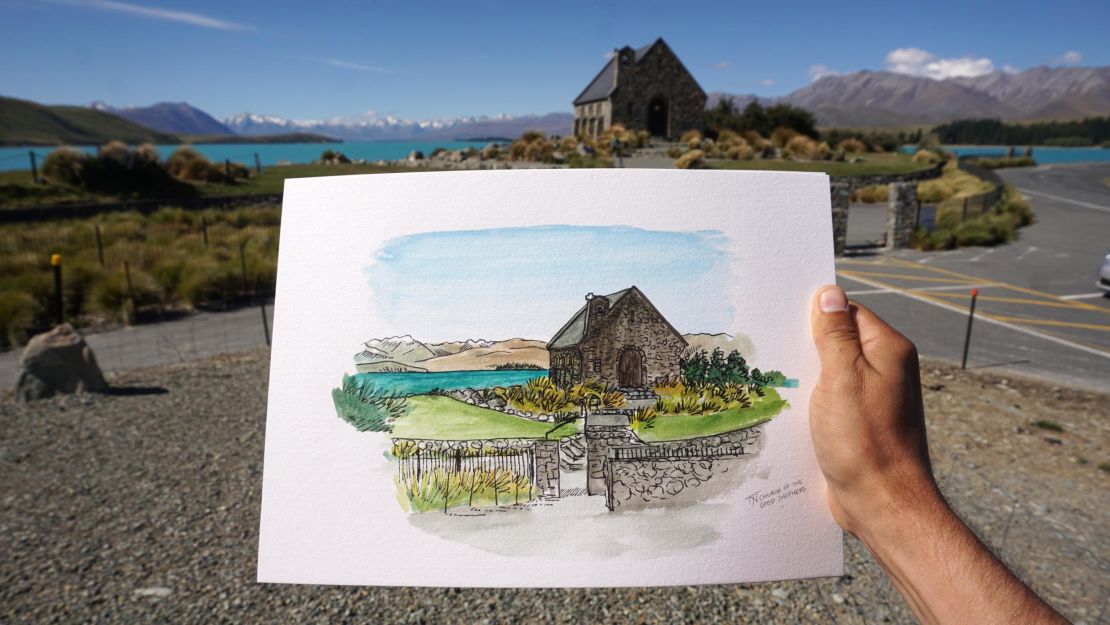 "It turns out while I was cycling down New Zealand, the rest of the world was falling to pieces."
Napper had to make a quick decision – try to book it home on an emergency flight, or wait out what he thought would be a quick closure in New Zealand. He chose the latter. As of publication, he is now applying for his fourth and presumably final extended tourist visa.
His initial 30 days have now turned into 15 months and counting, and the 30 paintings of stops along the bike route have become a long-term project to document all the places he has visited in New Zealand.