Editor's Note: This CNN Travel series is, or was, sponsored by the country it highlights. CNN retains full editorial control over subject matter, reporting and frequency of the articles and videos within the sponsorship, in compliance with our policy.
Turkey's Lycian Way crosses steep mountains covered in pines, carob and strawberry trees.
It passes through 25 historical sites, including the UNESCO World Heritage listed ancient cities of Xanthos and Letoon. And the full route takes 29 days to complete.
Sounds exhausting, doesn't it?
Don't worry, there's plenty of easy access to sun, sea and sand. Whether you're a lounge-in-the-sun-all-day kind of beach goer, or a back-to-nature happy camper, there's something to suit everyone.
All come with a backdrop of stunning towering mountains, the rustle of the wind through the trees and the allure of an endless expanse of clear blue water merging with the sky.
The Lycian Way is 335 miles (540 kilometers) of marked hiking paths on the Tekke Peninsula, stretching between Fethiye and Antalya on the southern Mediterranean coast of Turkey.
It covers an area once belonging to the Lycians, a democratic, highly cultured and independent people that inhabited the region from the Late Bronze Age through to the end of the Roman Empire.
They were ruled by the Persians, welcomed Alexander the Great, learned from Greek culture and were once a Roman province. By the time the Byzantine Christians came here to settle, the Lycians had well and truly made their mark.
Here are some of the route's highlights.
Ölüdeniz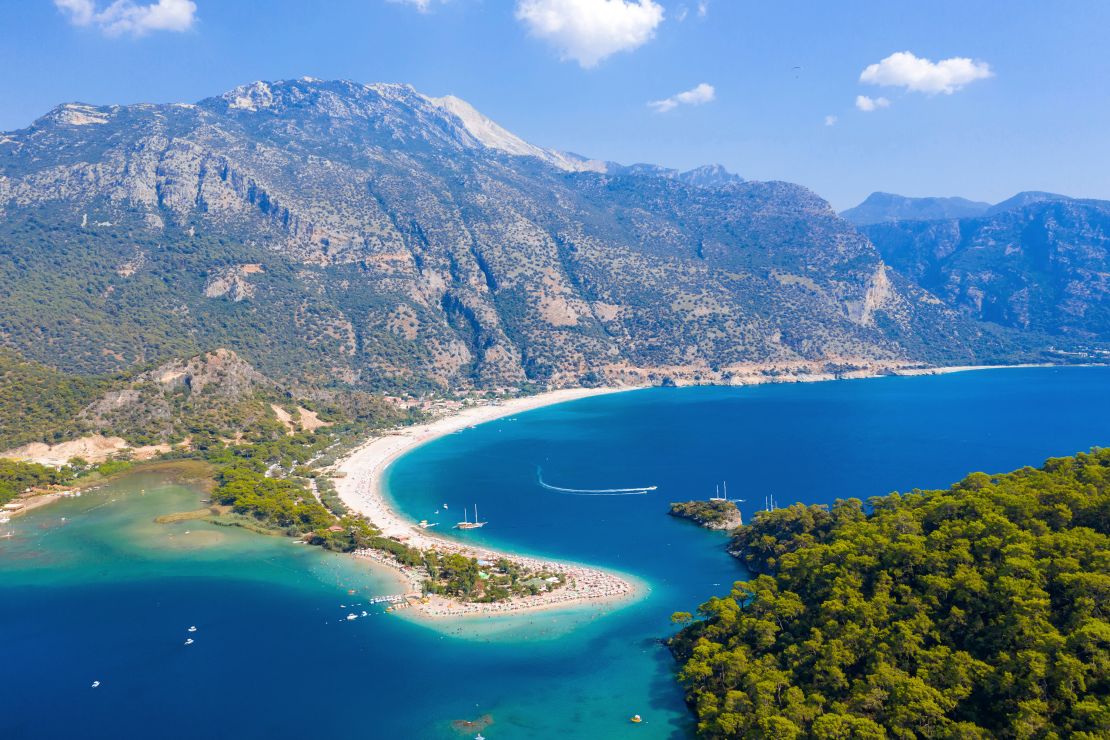 At the western end of the trail is Ölüdeniz, a name literally meaning Dead Sea, except it's anything but.
This crystal sheet of blue lagoon feeds into the Mediterranean, and even in the roughest of weather retains its hues of turquoise and aquamarine.
During Lycian times Ölüdeniz was known as the "land of light and sun" and on a hot summer's day, with the light reflecting off the spit of sand forming Kumburnu at the mouth of the bay, it's easy to see why.
The lagoon forms part of a national park so there's a small entry fee to access the beach.
Once there, do as the name suggests – absolutely nothing with occasional dips in the water to cool off.
Alternatively, the more adventurous can admire the scenery on the way down from Babadağ – Father Mountain – with a tandem paraglide jump. At a height of just over 6,233 feet (1,900 meters), it's not for the fainthearted.
Butterfly Valley