The 1960s were the height of aviation's Jet Age – a glamorous era characterized by faster travel, stylish uniforms, streamlined design and cocktails aplenty.
In these days of crammed airports and economy seats, it's fun to daydream about aviation's former life. But that daydream could soon become a reality once more.
New York's JFK International Airport is restoring its celebrated TWA center – developer MCR is transforming the famous building into a cool retro hotel.
This newly designed hotel won't open its doors until 2019 – but in the meantime, the TWA Lounge, on the 86th floor of One World Trade Center, offers a sneak preview of what's to come.
"We've brought the glamor of the Jet Age to the 86th floor of the World Trade Center," Tyler Morse, CEO and Managing Partner of MCR and Morse Development tells CNN Travel in a statement. "It's a glimpse of what to expect when the TWA Hotel opens."
The Lounge is a stunning, red-hued dream space – a fantastic flashback to the 1960s world of aviation.
Retro return
TWA operated from 1930 to 2001 and was once owned by aviation tycoon Howard Hughes (played by Leonardo DiCaprio in the 2004 movie "The Aviator").
The airline was the epitome of mid-century elegance – thanks to its signature color Chili Pepper Red and elegant air steward uniforms.
Its headquarters were no less alluring – the TWA flight center was the brainchild of neo-futurist designer Eero Saarinen and opened to acclaim in 1962.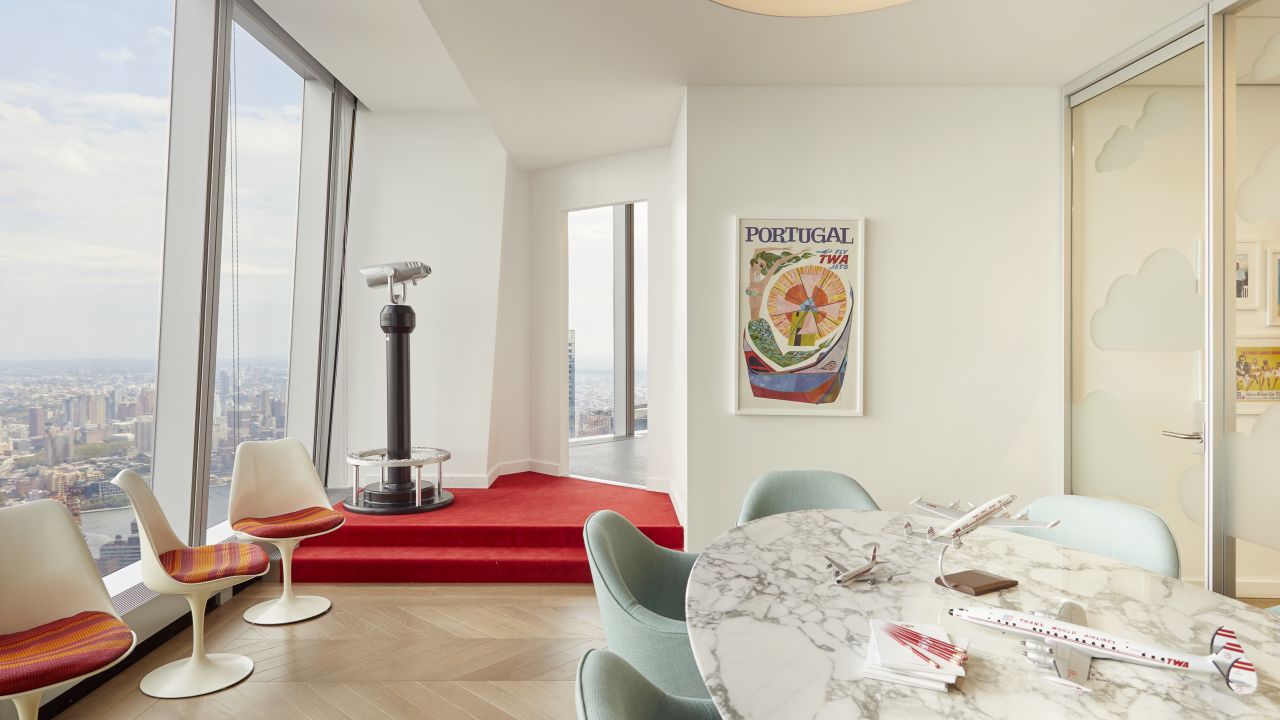 Its streamlined, contoured exterior was matched with a vast, contemporary interior.
The TWA Center closed its doors in 2001, but the new renovation looks set to transport guests back to TWA's 1962 heyday.
"We're restoring Saarinen's Flight Center to its original splendor," says Morse.
"At 200,000 square feet, the historic TWA terminal building will be the largest hotel lobby in the world. Right there in Saarinen's iconic space, you'll have eight restaurants and six bars for visitors and hotel guests to enjoy."
The TWA Lounge, with its curved walls and red accents, deliberately evokes Saarinen's original building and dashing style.
It's light and airy, with spectacular views across Manhattan towards JFK.
The stylized interior was designed by Lubrano Ciavarra Architects.
Classic costumes
Design fans will be thrilled to see the Lounge's vintage Saarinen Tulip Chairs, with original 1962 Knoll fabric seats and Saarinen Executive Side Chairs.
The Lounge also showcases some of TWA's quintessential air steward uniforms.
One of the outfits on display is the Howard Greer-designed "The Cutout" – so named for its jacket, which has flaps that could be unbuttoned to hide the TWA logo when a steward wanted to smoke or have a cocktail off-duty.
The lounge also showcases TWA's Pierre Balmain 1965 uniform design – notable for being the first collaboration between an American airline and a celebrated fashion designer.
The space is complemented by other vintage touches including a rotary phone, ashtray and martini glasses. The walls are adorned with a rotating collection of original David Klein Jet Age prints, commissioned by Hughes.
"It's been especially meaningful for us to hear from so many former TWA flight attendants and staff," says Morse.
They are passionate about TWA and have donated memorabilia from their collections – from Valentino-designed TWA uniforms to first-class china dinner service!"
Back to the future
It all adds up to a unique spot – looking back to the allure of the 1960s and looking forward to the revamped TWA Hotel.
"The new hotel connected to the historic Flight Center will feature 505 guest rooms, 50,000 square feet of event space, a rooftop pool and observation deck, and a museum devoted to the 1960s," says Morse.
"We've even acquired a 1956 Lockheed Connie aircraft which will host a one-of-a-kind bar and restaurant – guests will be able to come sit in first-class seats and enjoy a martini!"
While New Yorkers – and aviation fans around the world – wait for the excitement of the TWA Hotel, entry to the TWA Lounge promises to be almost as exclusive as travel on the Jet Age flights.
Although its primary role will be as a sales center and event space, it's open to the public by appointment, promising a slice of old-school aviation in an upscale Manhattan setting.
TWA Lounge at 1WTC, 86th floor, One World Trade Center, 285 Fulton St, New York, NY 10007
MORE: In this video from 2015, CNN's Richard Roth takes a trip through the TWA terminal.
Iconic airport terminal gets new life