Story highlights
Coquetier cocktail includes rum, chocolate and cinnamon and comes served in an eggshell
Wakey, Wakey, Mary, Eggs and Bacey includes a full morning-after meal
The Crapper is a chocolate-based Piña Colada garnished with a Snickers bar, served in a miniature toilet bowl
Everything's a competition these days – and that includes the "relaxing" world of cocktails.
Each year, bartenders compete at the International Bartenders Association's World Cocktail Championship.
In honor of their yearly efforts, we raise a glass to the effort with 12 weird and wonderful cocktails worth seeking out around the world:
1. Doug Laming's Margarita
There are apparently only two Cointreau Caviar Spherification Kits in Australia, and the Rabbit Hole Bar has one of them.
This magical piece of kit allows barmen to create pearls of booze that burst in the mouth.
"I love the different reactions you receive from first-time patrons when you bring it to the table," says Matthew Smith, assistant manager at the Rabbit Hole Bar.
Barmen use sodium alginate, calcium lactate and the spherification kit to create balls of Cointreau.
Other cocktails served include a "Jellied G & T" – a jelly cube of Hendricks' gin.
Rabbit Hole Bar, 82 Elizabeth St, Sydney NSW 2000; +61 02 8084 2505; Doug Laming's Margarita: $11
2. Coquetier
Served in an eggshell, the ingredients for this drink include rum, chocolate and cinnamon.
Antoine Amédée Peychaud was an apothecary known for the brandy toddies he served out of egg cups at New Orleans Masonic gatherings in the 18th century.
Two hundred years later, the team at Pret a Diner have recreated this historic cocktail.
The key ingredients are rum, chocolate, cinnamon and of course the chicken egg in which the cocktail is served.
Fans of the drink include supermodel Bar Refaeli.
Pret a Diner, Zinnowizerstr.7, Mitte district, Berlin, Germany; Coquetier: $9.30
3. Camel milk cocktail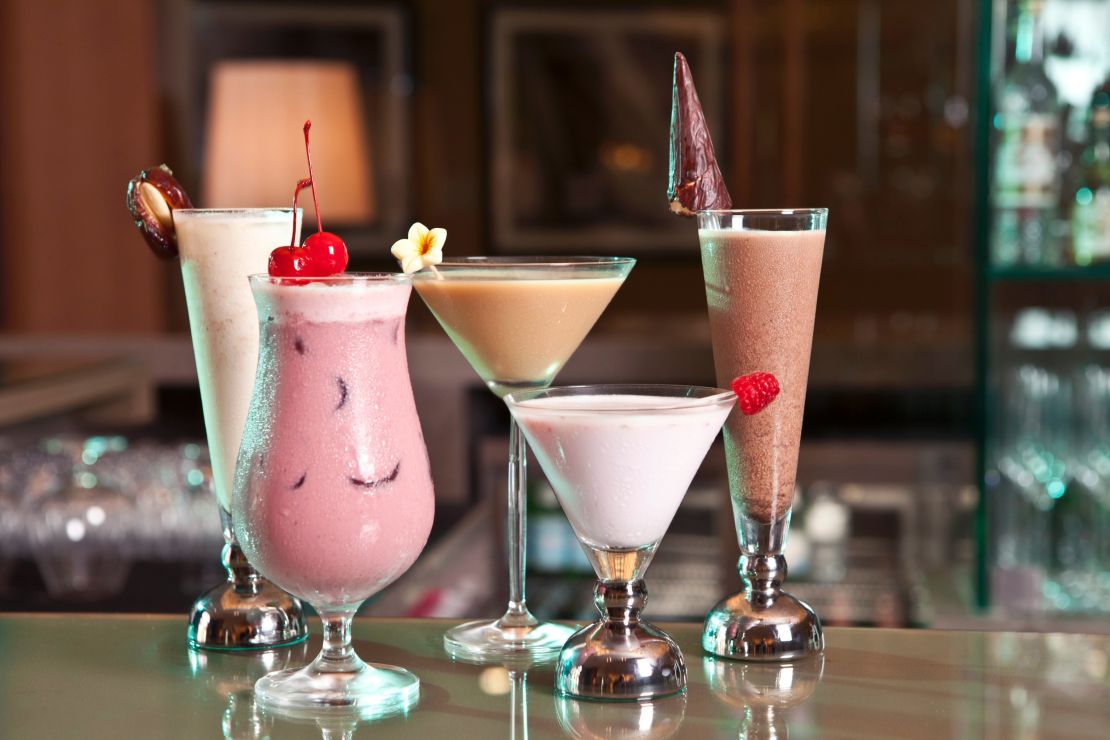 A non-alcoholic cocktail originally created for Muslims fasting during Ramadan.
Compared to cows' milk, camel milk is three times as rich in Vitamin C and is full of iron, unsaturated fatty acids and B vitamins.
The camel milk drinks will be available after Ramadan at Mijana, the Ritz-Carlton's Arabic restaurant.
"Camel milk mixologist" Mohammad Daoud originally created his range of camel milk cocktails for Muslims celebrating Ramadan.
Due to the high level of protein and other nutrients, it's the ideal drink to consume during Suhoor, the meal taken prior to sunrise during Ramadan, and comes in several flavors including strawberry, cherry and nut.
The Ritz-Carlton Abu Dhabi, Grand Canal, Khor Al Maqta, Abu Dhabi, United Arab Emirates; +971 2 818 8888; Camel milk cocktail: $6.20
4. Sourtoe cocktail
The Sour Toe cocktail served by the Sourtoe Cocktail club can be any drink – what turns it into the Sour Toe cocktail is the addition of a real, preserved amputated toe, which is dropped into the glass.
Although nobody seems sure of the origins of the drink, it first appeared in 1973 when drinkers who consumed a glass of Champagne or beer that contained the toe could then declare themselves true "sourtoers."
Today, the toe can be placed in any drink but one rule still applies: "You can drink it fast, you can drink it slow – but the lips have gotta touch the toe."
Some 60,000 people have reportedly tried the Sourtoe cocktail to date.
Sourtoe Cocktail Club, Downtown Hotel, Dawson City, Yukon; Sourtoe Cocktail: $5.80
5. The Rum Blazer
Jerry "The Professor" Thomas was an American bartender who's considered the father of American mixology.