Story highlights
Celebrated New York hotel closes February 28
A huge renovation project will see some rooms turned into luxury condos
New York's legendary Waldorf Astoria hotel has hosted kings, queens, presidents and movie stars – but for the next three years, not even royalty will be able to reserve a room here.
The 86-year-old hotel, bought by China's Ambang Insurance Group in 2014 for $1.95 billion, closed its doors on February 28, 2017 for a major renovation project that will reportedly see many of its 1,400 rooms turned into apartments.
While the art deco landmark's rooms might be off limits for now, the expertise of its longest-serving bellman, Jalali "Jim E." Elidrissi, isn't.
Elidrissi, whose destiny has been linked to the Waldorf Astoria since 1966, retired in January after 51 years of greeting guests.
To mark the end of an era, he shared with CNN some of the things he's learned since arriving in New York from Morocco, barely out of his teens.
Five decades on the front line
What makes a good concierge?
"If you came into the lobby I would greet you, I would check you in, take your luggage to the room, make sure you're all right, tell you what restaurants we have in the hotel, about New York City," the 71-year-old says over the phone from his home – aptly enough – in Astoria, Queens.
He says that when he joined Hilton's training program, he was one of only 12 Moroccans in New York City.
At a time before concierge services were introduced, his knowledge of French and Arabic proved useful and it was the start of a long and colorful career.
MORE: Top tips from the Waldorf Astoria's concierge
His favorite part of the job?
"I get to meet so many dignitaries," he recalls.
"The Duke of Windsor and Mrs Simpson, they lived on the 42nd floor, the Royal Suite 42R." And when Queen Elizabeth II and Prince Philip stayed at Waldorf Towers, in 1976, the young queen passed through crowds of well-wishers on Park Avenue before popping in to do some shopping in Bloomingdale's.
"Frank Sinatra lived on the 25th floor," Elidrissi adds. "He was married to Mia Farrow. Later he moved up to the 33rd floor to Cole Porter's suite."
When John Lennon turned up, with his "beautiful big blond bushy hair," Elidrissi escorted him to his table in the Grand Ballroom, and found himself in the newspapers the next day, pictured alongside the Liverpudlian rock star.
From Bennett to Bassey
He also assisted entertainers appearing at the Waldorf Astoria's Empire Club, which attracted A-listers including Tony Bennett, Sammy Davis Jr. and Shirley Bassey.
His favorite celebrity encounter, however, is with Ronald Reagan, who he met twice – before and after winning the 1980 US presidential election.
The president sent Elidrissi a signed photograph after his inauguration and when he next turned up at the hotel, "he looked at me and said, "Jim, you still here?"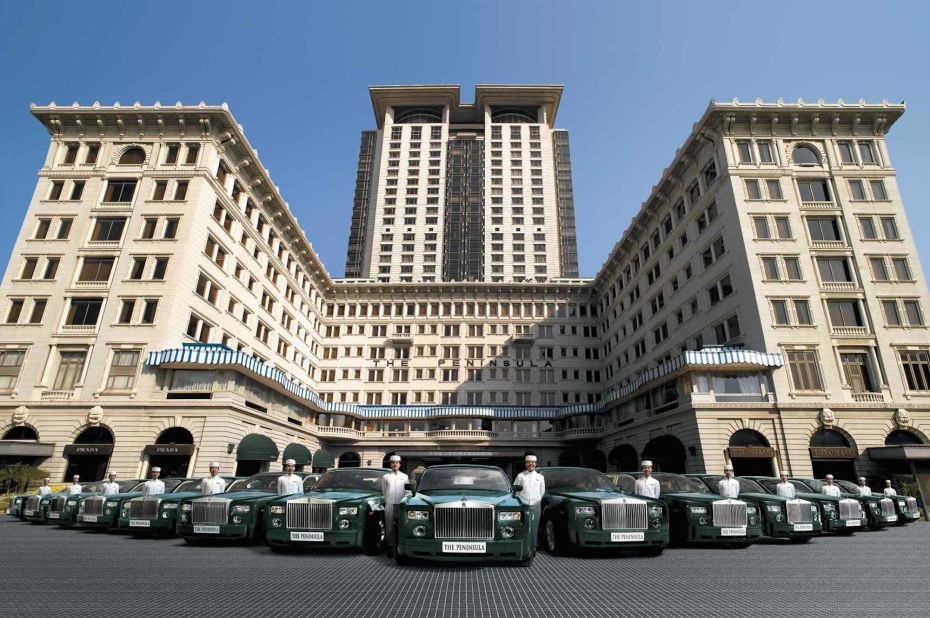 9 hotels that helped write lodging history
His favorite room is "the Presidential Suite. Every president stayed there."
Although with the hotel closing for three years so soon after President Donald Trump comes into office, the hotel magnate might prefer to stay at nearby Trump Towers.
U.S. president's secret New York subway track
Eldrissi's other favorite is "historic" 35H. This is where Pope Paul VI met with President Lyndon B. Johnson in 1965, during the first visit by a pope to the United States.
So with more than five decades of experience at the front line of world-class customer service, what are Elidrissi's tips for success?
"I have a very good memory," he says. Greeting returning guests and remembering their preferences is key. Now "there's computers and all that stuff," but "the personal touch" still matters.
The personal touch
He recalls one couple who didn't like heights, so he always found them rooms on the lower floors. "Stuff like that, that's how I lasted all those years."
MORE: Inside Shanghai's first 'seven-star' hotel
And to make sure that his neighborhood knowledge didn't get stale through spending all his time inside the hotel itself, "I walk, I walk a lot."
His preferred walk is from Columbus Circle down to Greenwich Village. "It's a long walk. Why'd I do that? To see what's new."
Lessons from 60 years as a flight attendant
Adjusting to retired life was a shock after 51 years in the same job.
"I cried like crazy," he admits, but he's keeping himself just as busy post-retirement.
Aside from vacation plans to Morocco, Miami, the UK and Ireland, he's advising the hotel's designers on the restoration plans, due to his unique knowledge of how the Waldorf Astoria looked in its prime.
"I walked around with them. They're going to try to bring back the hotel the way it was and the lobby and the ballrooms and so on."
MORE: 20 of America's most beautiful hotels
Elidrissi is also working on a book, which will be a memoir of 51 years on the front line of world-class customer service.
Digging out those memories makes him feel like "I'm still there," he laughs, "but I'm not there."