"Eat more! More!"
The restaurant server's expression, a contrast to her sweet yet firm shouts, bordered on boredom. Yet she was relentless. The soba noodles kept coming.
As soon as I emptied my tiny bowl, she swooped in to fill it with another mouthful, yelling "hai dan dan!"
This scene played out 33 times. Telling her to stop was pointless.
The tower of empty bowls rose beside me, a monument to my gluten-free gluttony. There was only one way to ebb the noodle flow – put a lid on my wanko. Go ahead and snicker, but wanko means "bowl" in the local dialect.
It's all part of the wanko soba challenge, an all-you-can-eat buckwheat noodle binge unique to Japan's Iwate prefecture.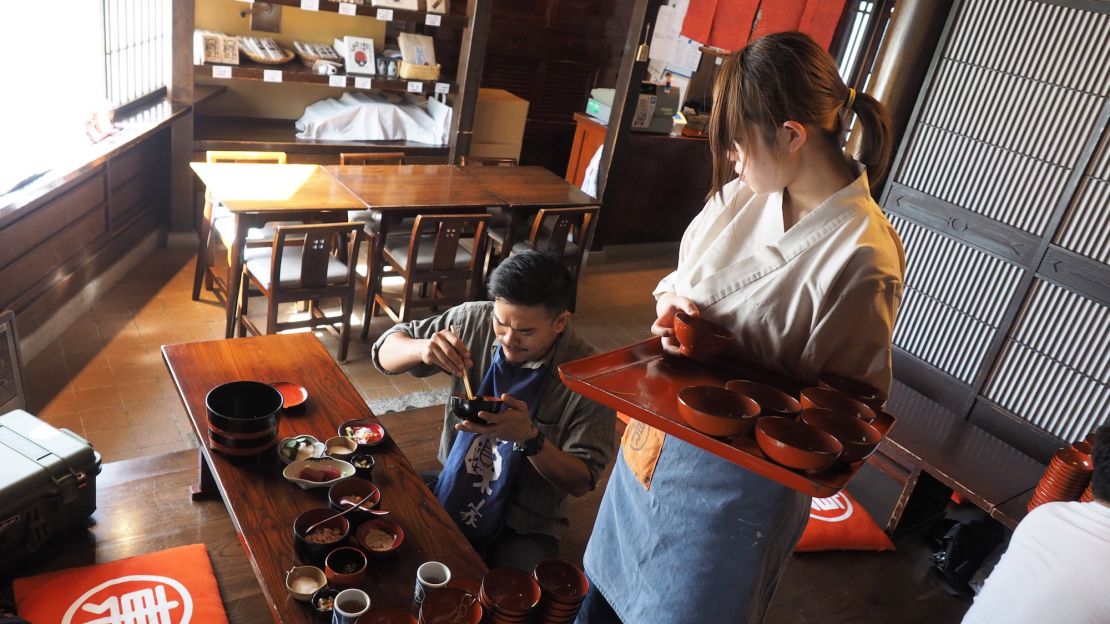 The record: 570 bowls
I opted to try it at the Azumaya Soba Shop in Morioka, Iwate's capital city, which offers English-language menus.
You don't have to take the challenge. There are regular set menus, including a kaiseki-style lunch. But where's the fun in that?
The wanko soba challenge costs 3,240 yen ($31.80) and comes with nine side dishes, such as tuna sashimi, mushrooms with grated radish and other local specialties.
After it's all over diners get a souvenir – a certificate and a plaque stating the number of bowls they ate. Fifteen wanko soba bowls is said to be the equivalent of a single, average-sized bowl of soba noodles.
I thought my 33-bowl tally was kind of impressive – till I looked at the stack of bowls next to the man at the table behind me. He told me he managed to eat 111 bowls of wanko soba. And he had the certificate to prove it.
As for the record, Azumaya's staff say someone once ate 570 bowls in one sitting.
Wanko soba challenge: Rules and tips
There are a few rules involved.
For starters, you have to eat continuously. You can't take a break and digest your noodles then come back to the table for more. You can nibble on the side dishes but it's best to save them for when you're done with the soba noodles. Just don't ignore them. They're all delicious.
Another pro tip: Avoid drinking too much wanko soba soup. There's a bowl in front of you to dump it into after you've slurped back the mouthful of noodles.
Chewing? Optional. The restaurant recommends ju