Story highlights
Lockheed Martin and partner sales company set to start taking orders for its LMH1 hybrid airship
Airship is designed to transport cargo to remote areas with no paved roads or other infrastructure
First deliveries of the craft, which has been developed over 20 years, are planned for 2018
If you've always dreamed of soaring through the skies at the helm of your very own airship, it's time to get out your checkbook: Orders are now open, and you could be flying by 2018.
Aerospace and defense company Lockheed Martin has partnered with sales firm Hybrid Enterprises to market its new LMH1 hybrid airship.
The LMH1, versions of which have been in development for 20 years, has room for a crew of two, and up to 19 passengers.
Oh, and the small matter of a cargo bay big enough to carry 20 tons of supplies and equipment.
It can fly up to 1,400 nautical miles at speeds of up to 60 knots, and is designed to land on all surfaces, including water.
The only issue may be where to keep it – the helium-filled LMH1 is the size of a football field, so you'll need a pretty big backyard.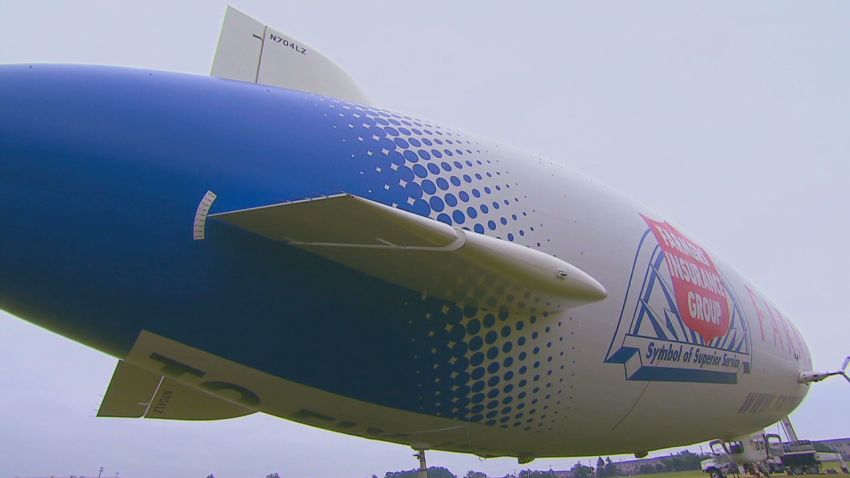 Riding the world's largest airship
On the other hand, providing you can find a space big enough, there's no need for a hangar or any kind of anchoring system – the airship lands on a hovercraft-like cushion of air and "sticks" itself to the ground using a vacuum, meaning mooring ropes are a thing of the past.
Of course, the company isn't expecting many of its customers to be private enthusiasts – the list price of the airship is still under discussion, but is likely to be out of budget range for individuals.
The airship's likely buyers are large corporations or leasing companies which need to transport large quantities of cargo to regions with little or no infrastructure – Lockheed Martin's tagline for the project is "the road not needed."
Rob Binns, CEO of Hybrid Enterprises, says he expects it to appeal to companies in the mining, oil and gas industry, with large projects in remote areas; he says it could also be used in humanitarian relief and disaster recovery.
But those behind the project haven't ruled out the possibility of military customers in future.
Can a high-tech blimp find Bigfoot?
"If a military customer was interested, we would do all we can to facilitate that," Orlando Carvalho, Lockheed Martin's executive vice-president of hybrid enterprises told reporters at the Paris Air Show.
The LMH1 isn't the only airship on display in Paris – Thales Alenia Space is showcasing a model of its Stratobus drone-satellite-airship hybrid.
The Stratobus is a five-ton, 100-meter-long solar-powered balloon designed to sit 20 kilometers up in the sky for a year at a time. Unlike satellites, which orbit the Earth, the Stratobus is equipped with engines that hold it in a set position at all times.
It's designed for use in the fields of communications and surveillance, for example to provide Internet and telecoms links in remote regions or in the wake of a disaster, or to monitor borders, pollution or maritime traffic.
For now, it's simply a concept craft, but Thales says the Stratobus is likely to be turned into a prototype by 2018 or 2019, and commercialized by 2020.
READ MORE: World's biggest aircraft closer to take-off
READ MORE: Dawn of the dirigibles - new age of the airship?
READ MORE: Can airships revolutionize transportation?