If you own an iPhone, Dell computer, Microsoft tablet – or really, any digital device – you're already more connected to Shenzhen than you might realize.
Dubbed the Silicon Valley of tech hardware, this city in southern China has seen explosive growth. The population skyrocketed from 300,000 to 11 million people since its inception as a Special Economic Zone in 1980.
What Shenzhen lacks in ancient temples and historic monuments to lure the travel set, it makes up for in modern architecture (unveiling 11 new skyscrapers in 2017), artsy pedestrian districts, cocktail bars and Cantonese cuisine.
It's also an epicenter of luxury hotels, with the Hard Rock Hotel (No. 9 Mission Hills Road, Shenzhen; +86 755 3395 2888) opening in September 2017, the first Muji Hotel (Upper Hills, 5001 Huanggang Road, Futian District, Shenzhen) opening this month, and a new Mandarin Oriental set to open later this year.
And it's better connected than ever: Shenzhen and neighboring Hong Kong are already linked by rail, but a new bullet train opening this fall will cut the travel time from 1.5 hours down to just 20 minutes.
Whether you have two days or two weeks, here's how to make the most of a visit to this UNESCO Creative City:
Lay of the land
On the map, Shenzhen might look like it's an extension of Hong Kong, but it's firmly in China territory. In terms of logistics, that means most travelers (including US citizens) need a Chinese visa to visit.
The city's imposing urban sprawl and cloud-piercing towers can make it an overwhelming destination at first.
But the 1,965-foot-high Ping An International Financial Center – the fourth-tallest building in the world – provides a helpful landmark, marking the city's Futian central business district. To the west, there's a cluster of theme parks and museums. To the east, you'll find glossy malls, art villages and even some beaches along Mirs Bay.
An efficient metro provides easy access to most sites and neighborhoods, but taxis are also widely available and affordable.
Take a hike
Most travelers kick off a Shenzhen trip with shopping and eating. But we'd recommend a short walk up to Lianhua Mountain in the middle of the city to get your bearings and take in the views.
It takes about 15 minutes to reach the peak, which provides excellent panoramas of the expansive urban sprawl below.
While you're there, say hello to the city's founding father: Deng Xiaoping, a former Chinese leader, who shaped Shenzhen into the economic powerhouse it is today. There's a bronze monument at the top, surveying the city.
Go shopping
If you arrive in Shenzhen by train you'll essentially be ejected into Luohu Commercial City – next to the terminal.
Home to affordable tailors who can replicate your favorite outfit in less than a day, the dense, five-story commercial complex offers everything from custom-made curtains to tailored suits, knockoff accessories, DVDs and electronics.
While vendors have storefronts, prices tend to fluctuate and it's recommended to negotiate aggressively.
The chaotic shopping experience isn't for everyone.
If it's more of a relaxed setting you're after, then we'd suggest checking out modern megamalls such as the entertainment-slash-fashion mecca that is Coco Park – boasting more than 200 stores, restaurants and bars.
Quirky theme parks
Shenzhen might be a hub of shopping and manufacturing, but it's also endearingly offbeat.
A walk through the Window of the World theme park (9037 Shennan Ave, HuaQiaoCheng, Nanshan Qu, Shenzhen Shi, Guangdong Sheng; +86 755 2660 8000), for example, will take travelers around the globe with more than 100 miniature replicas of major landmarks. That's right, you can walk from the Taj Mahal to the Sydney Opera House and over to Mount Rushmore within a few hours.
Likewise, Splendid China Folk Culture Village (Nanshan District, Shenzhen 518000; +86 755 2660 2043), just a few minutes east, offers a trip through history, chronicling the country's diverse cultural heritage.
Located near Shenzhen Bay, the vast site features full-scale replicas of ancient Hakka villages and Beijing hutong courtyard-style homes, as well as miniature versions of the Great Wall, the Terracotta Army and the Summer Palace.
Then there's Happy Valley ((Nanshan District, Shenzhen; +86 755 2694 9168), a popular family amusement park that's brimming with rides, water parks, acrobatic performances and games. Stretching across 86 acres, the amazing playground is divided into themes, from Gold Mine Town to Cartoon City – each brimming with rides, acrobatic performances, magic shows and lots more.
Beach trips
Shenzhen might have a reputation as one of China's fastest-growing cities, but it's also home to peaceful parks and long stretches of coastline. While not quite the Philippines, side by side Dameisha and Xiaomeisha beaches – in eastern Shenzhen – provide a sunny escape from the urban buzz.
There's a sprawling Sheraton resort (9 Yankui Road, Dameisha, Yantian Shenzhen, Guangdong 518083; +86 755 8888 6688) along the coast of Dameisha with oceanside restaurants, plus a peppering of waterfront restaurants.
Word of advice: Avoid visiting the beaches on public holidays or in the height of summer vacation, when you'll be pressed to find a spot in the sand.
For peace and quiet, a trip in spring and autumn is usually advised.
Spa day
If you love a good spa day, Shenzhen will be heaven.
One of the most popular among travelers – thanks to a no-smoking policy and a little English – is Water Cube spa hotel (1-6/F, Gangchenghuating Building, Yunong Village, Futian, Shenzhen; +86 755 8297 8888), located near the Hong Kong-Shenzhen train station.
The gaudy, gold-dipped complex contains multiple floors of dimly lit massage rooms (including one communal foot-massage zone), massage pools, karaoke, video games, gym equipment, food, Wi-Fi… Essentially, you never need to leave.
And for $10 an hour for a reflexology massage – or $20 for a full-body massage – why would you?
Art walks
Shenzhen has quickly become a hub of art and design in China – and it's not hard to see why.
Not only does the city play host to gorgeous futuristic architecture, but the city recently welcomed an outpost of London's V&A Museum (1187 Wanghai Road, Shekou, Nanshan, Shenzhen). The gallery is part of Design Society, a much larger arts-and-culture district emerging in the Shekou Peninsula, in western Shenzhen.
Running through August 2019, the opening Values of Design exhibition will explore the influence of design on culture both in Shenzhen and around the world.
Well before international names began moving in, Shenzhen already dedicated 37 acres of urban area to the OCT Loft (Kaiping St, HuaQiaoCheng, Nanshan Qu, Shenzhen Shi, Guangdong Sheng), just east of Happy Valley theme park (but a world away).
Evolved from a defunct factory zone, the creative culture park comprises leafy lanes and open squares with exhibition spaces, large-scale installations and alfresco coffee shops.
It's an idyllic enclave for wandering through the gardens or catching a bout of live music at one of the stylish bars. This is also where the annual Design Week takes place every April.
Farther east, the city is set to welcome a futuristic Museum of Contemporary Art and Planning Exhibition, though the opening date has yet to be announced.
Of course, we can't discuss art in Shenzhen without mentioning the famous Dafen Oil Painting Village (247 Busha Road, Buji Town, Shenzhen 518112; +86 755 28723729), said to have produced 60% of the world's replica oil paintings at its peak in the 2000s.
While you might not be in the market for a giant Mona Lisa, the area is fascinating, with many artists at work in their studios or in the street.
More recently, the art district has transitioned its focus to original artwork, aimed at the domestic market.
That means travelers will not only find copies of classic masterpieces – lots of Van Goghs and Monets – but also custom prints, calligraphy and paintings from up-and-coming Chinese artists.
Eat all day
When it comes to culinary cred, Shenzhen is often overshadowed by gastronomic powerhouses like neighbors Guangzhou and Hong Kong.
But the city's dining scene is coming into its own, with diverse options – from $5 noodles to $150 dinners.
Of course, being by the Pearl River Delta, seafood is a staple on most Cantonese menus. To sample it at the most authentic spots, take a walk down Leyuan Street, in the eastern Luohu district, where you can choose your dinner fresh from a tank.
Those seeking a Chinese feast may consider the addictive dumplings at Shang Palace at Shangri-La Hotel (East Side, Railway Station, Jianshe Road, Shenzhen, 518001; +86 755 8233 0888), or splurge on Peking duck at 1881, inside the Grand Hyatt (1881 Baoan Nan Road, Luohu District, Shenzhen; +86 755 8266 1234).
The city has no shortage of western options too. On the 96th floor of the St. Regis Hotel, for example, The Drawing Room tends to draw a crowd for its 96th-floor views, Bloody Marys, signature high tea and industrial-chic design (No. 5016 Shennan Road East, Luohu District Shenzhen; +86 755 8308 8888).
Meanwhile, LSD Party – (a drug-free) restaurant in the OCT Loft area – pairs international art and design exhibitions with upscale Italian cuisine and boutique wines (105A, Building F1, Creative Culture Park, Shenzhen; +86 755 8610 6344).
Then there's contemporary cafes like HEYTEA, which draws a massive following. The brand's best known for its fresh brews, from smashed fruit to addictive cheese foam-topped teas.
After-dinner drinks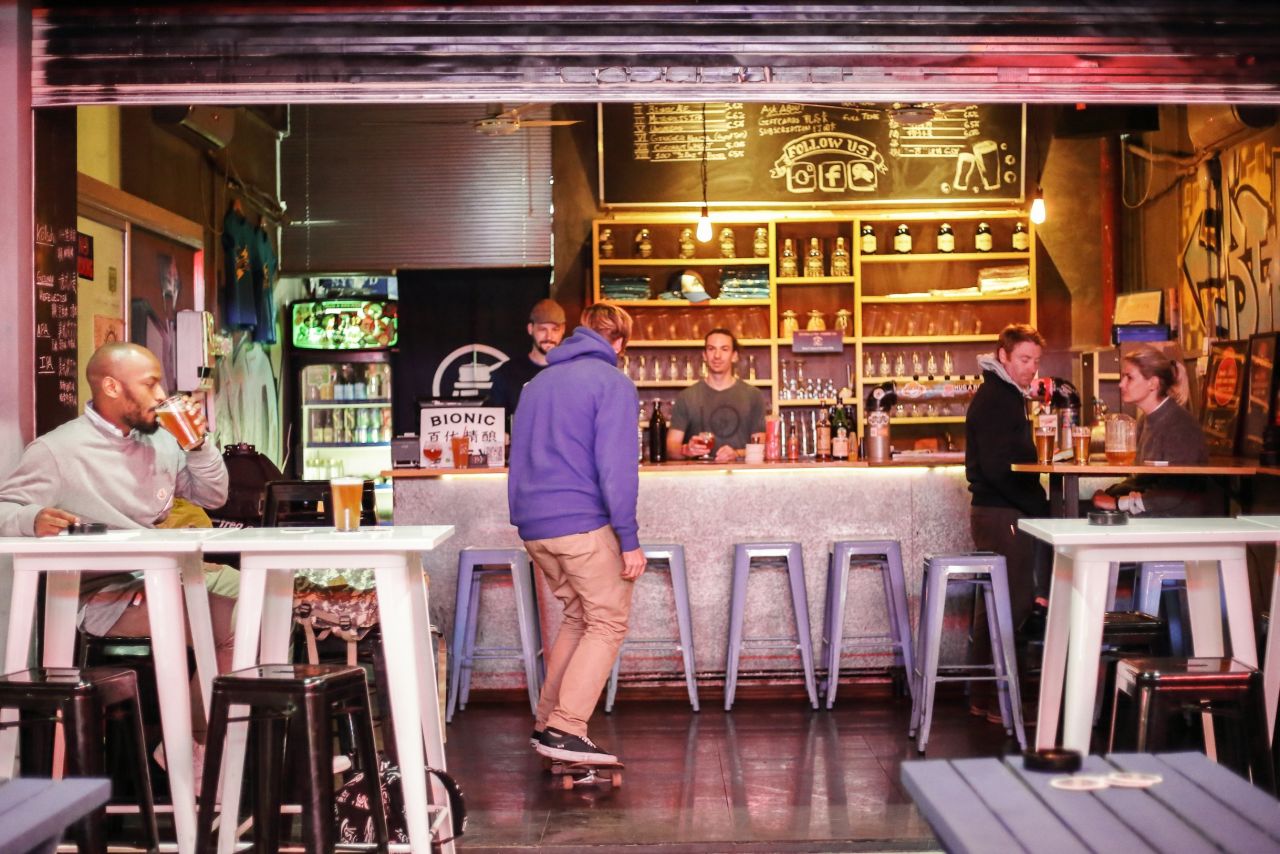 From craft beer to handcrafted cocktails to wild clubs, a night out in Shenzhen makes for a very good time.
For a homegrown pale ale, try Bionic Brew – there's a low-key taproom on a pedestrian street in the Baishizhou area, in western Shenzhen (Shahe Jie Shangye Buxing A-1F02/03, Nanshan, Baishizhou, Shenzhen; +86 139 2466 8864).
The place also serves beer cocktails as well as non-alcoholic numbers like mate and even kombucha.
But plan accordingly: the brewery accepts cash, Bitcoin or WeChat payments… but no credit cards.
If it's cocktails you're craving, Providence Cocktail Bar (82 Furong Road, 107A, Xiasha, Futian, Shenzhen; +86 136 8667 1974) provides a lovely setting in the Futian District, complete with comfy leather seats and dangling Edison bulbs.
The Asian-inspired cocktail menu outlines a few "Bartender Favorites" – like a refreshing Sipsmith Summer Tonic – or "Customers' Favorites," featuring a rum Old Fashioned.