"There is no love sincerer than the love of food," George Bernard Shaw said. Judging by the number of amazing dishes out there, he was right.
But which are the tastiest? Which are the best foods? And what are the destinations that serve them?
We've scoured the planet for what we think are 50 of the most delicious foods ever created. For now, feast your eyes and control your drooling, as we reveal some of the world's best foods that can help inspire your travel plans:
50. Buttered popcorn, United States
Corn – the workhorse of the industrial world – is best when its sweet variety is fried up with lashings of butter till it bursts and then snarfed in greasy fistfuls while watching Netflix late at night.
49. Masala dosa, India
A crispy, rice-batter crepe encases a spicy mix of mashed potato, which is then dipped in coconut chutney, pickles, tomato-and-lentil-based sauces and other condiments. It's a fantastic breakfast food that'll keep you going till lunch, when you'll probably come back for another.
48. Potato chips, United Kingdom
It's unclear when and where the potato chip was born. US legend has it that they were invented in New York in 1853, but the earliest known recipe for "Potatoes Fried in Slices or Shavings" appears in a bestselling 1817 cookbook by Englishman William Kitchiner.
Whatever the case, they're now one of the world's most child-friendly and best foods. But think of them this way – if a single chip cost, say, $5, it'd be a far greater (and more popular) delicacy than caviar, a prize worth fighting wars over.
47. Seafood paella, Spain
The sea is lapping just by your feet, a warm breeze whips the tablecloth around your legs and a steamy pan of paella sits in front of you. Shrimp, lobster, mussels and cuttlefish combine with white rice and various herbs, oil and salt in this Valencian dish to send you immediately into holiday mode. Though if you have it in Spain, you're probably there already.
46. Som tam, Thailand
To prepare Thailand's most famous salad, pound garlic and chilies with a mortar and pestle. Toss in tamarind juice, fish sauce, peanuts, dried shrimp, tomatoes, lime juice, sugar cane paste, string beans and a handful of grated green papaya. Grab a side of sticky rice. Variations include those made with crab (som tam boo) and fermented fish sauce (som tam plah lah), but none matches the flavor and simple beauty of the original.
45. Chicken rice, Singapore
Often called the "national dish" of Singapore, this steamed or boiled chicken is served atop fragrant oily rice, with sliced cucumber as the token vegetable. Variants include roasted chicken or soy sauce chicken. However it's prepared, it's one of Singapore's best foods. The dipping sauces – premium dark soy sauce, chili with garlic and pounded ginger – give it that little extra oomph to ensure whenever you're not actually in Singapore eating chicken rice, you're thinking of it.
44. Poutine, Canada
French fries smothered in cheese curds and brown gravy. Sounds kind of disgusting, looks even worse, but engulfs the mouth in a saucy, cheesy, fried-potato mix that'll have you fighting over the last dollop. Our Canadian friends insist it's best enjoyed at 3 a.m. after "several" beers.
43. Tacos, Mexico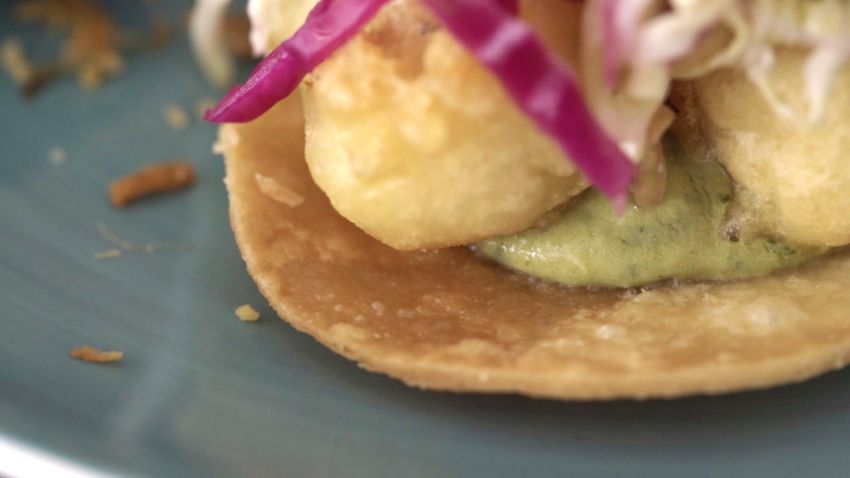 Are tacos the world's most popular meal?
A fresh, handmade tortilla stuffed with small chunks of grilled beef rubbed in oil and sea salt then covered with guacamole, salsa, onions, cilantro or anything else you want – perfect for breakfast, lunch or dinner. This is the reason no visitor leaves Mexico weighing less than when they arrived.
42. Buttered toast with Marmite, UK
OK, anything buttered is probably going to taste great, but there's something about this tangy, salty, sour, love-it-or-hate-it yeast extract that turns a piece of grilled bread into a reason to go on living. For extra yum (or yuck) factor, add a layer of marmalade.
41. Stinky tofu, Southeast Asia
Nothing really prepares you for the stench of one of the strangest dishes on Earth. Like durian, smelly tofu is one of Southeast Asia's most iconic foods. The odor of fermenting tofu is so overpowering many aren't able to shake off the memory for months. So is the legendarily divine taste really worth the effort? Sure it is.
40. Marzipan, Germany
Don't be fooled by cheap imitations, which use soy paste or almond essence. The real stuff, which uses nothing but ground almonds with sugar, is so good, you'll eat a whole bar of it, feel sick, and still find yourself toying with the wrapper on bar number two.
39. Ketchup, United States
If Malcolm Gladwell says it's a perfect food, then it's a perfect food. Let's face it, anything that can convince 2-year-olds to eat their carrots rather than spitting them onto the floor is worthy of not just a "delicious" title, but a "miracle of persuasion" title, too.
38. French toast, Hong Kong
Unlike its more restrained Sunday brunch counterpart, Hong Kong-style French toast is like a deep-fried hug. Two pieces of toast are slathered with peanut butter or kaya jam, soaked in egg batter, fried in butter and served with still more butter and lots of syrup. A Hong Kong best food, best enjoyed before cholesterol checks.
37. Chicken parm, Australia
Melted Parmesan and mozzarella cheese, and a peppery, garlicky tomato sauce drizzled over the top of a chicken fillet – Aussie pub-goers claim this ostensibly Italian dish as their own. Since they make it so well, there's no point in arguing.
36. Hummus, Middle East
This humble Middle Eastern spread, made with chickpeas, garlic, lemon juice and tahini has become a fridge staple all around the world. This tangy treat tastes good as a dip, with breads, with meats, with vegetables, beans or – hear us out – on a Marmite rice cake.
35. Chili crab, Singapore