People have been making marks in the sand throughout history. For some, it's a meditative practice. For most, it's a way to sign your name on a vacation beach. For Dubai-based Filipino artist Nathaniel Alapide, it's how he became a Guinness World Record holder.
Dubai's 72 kilometers (45 miles) of sun-bleached coastline, and the vast Arabian desert, are his canvas. Using only a simple garden rake, each morning (after checking the weather, wind and tide reports) Alapide, 45, draws enormous calligraphic strokes across the beaches and deserts, rendering huge and complex designs that are soon erased by wind or waves.
"I try to really imagine the rake as a brush," he said. "When you move it at a certain angle it will give a different stroke, a thinner line."
The average drawing for Alapide is around 20 meters (66 feet) squared. "Sometimes I'll do a work that will take an hour," he said. "Or sometimes I work every day for hours to create."
When he includes a written message, the pieces can be more than 100 meters long.
Alapide's sand art began in 2014, when he sketched a tree in tribute to his late grandmother into an expanse of sand on Umm Suqeim Beach, in the shadow of the iconic wave-shaped Jumeirah Beach Hotel.
The scale of the drawing impressed the hotel, who offered him his first full-time job as a sand artist in 2015.
Since then, he has decorated the UAE's sands with around 1,900 drawings. He's been commissioned by big brands like Burberry and Adidas, and he created a work for National Geographic for the series "The UAE from above."
The UAE government even used Alapide's work to turn the beach into a public service announcement to notify the public of Covid restrictions, with a giant slogan reading "#STAY HOME" visible from the sky.
An ephemeral artform
In 2022, Alapide set a new record for the world's largest sand image. The drawing, measuring more than 23,000 square meters (250,000 square feet), was commissioned by Abu Dhabi Aviation Club and showed the rulers of the United Arab Emirates (UAE). It took 30 days to create and required 12,000 tons of sand in four colors, sourced from across the UAE desert.
Though he has crafted a career from the practice, Alapide says creating an artwork from sand isn't without its challenges.
"On the 20th day of creating the world-record piece, we were almost 70% done but then there was this weather that happened," he said. "It was raining, and the wind was so strong, it erased almost the whole piece."
"I think that's why I find this kind of work interesting," he continued. "Because it's ephemeral, it's fleeting. It's like a ritual for me now, like the morning prayer. I work on something in the morning and by the evening it's washed away by the tide"
Alapide says that the temporary nature of his work reminds him that everything is in constant change, particularly in a city like Dubai.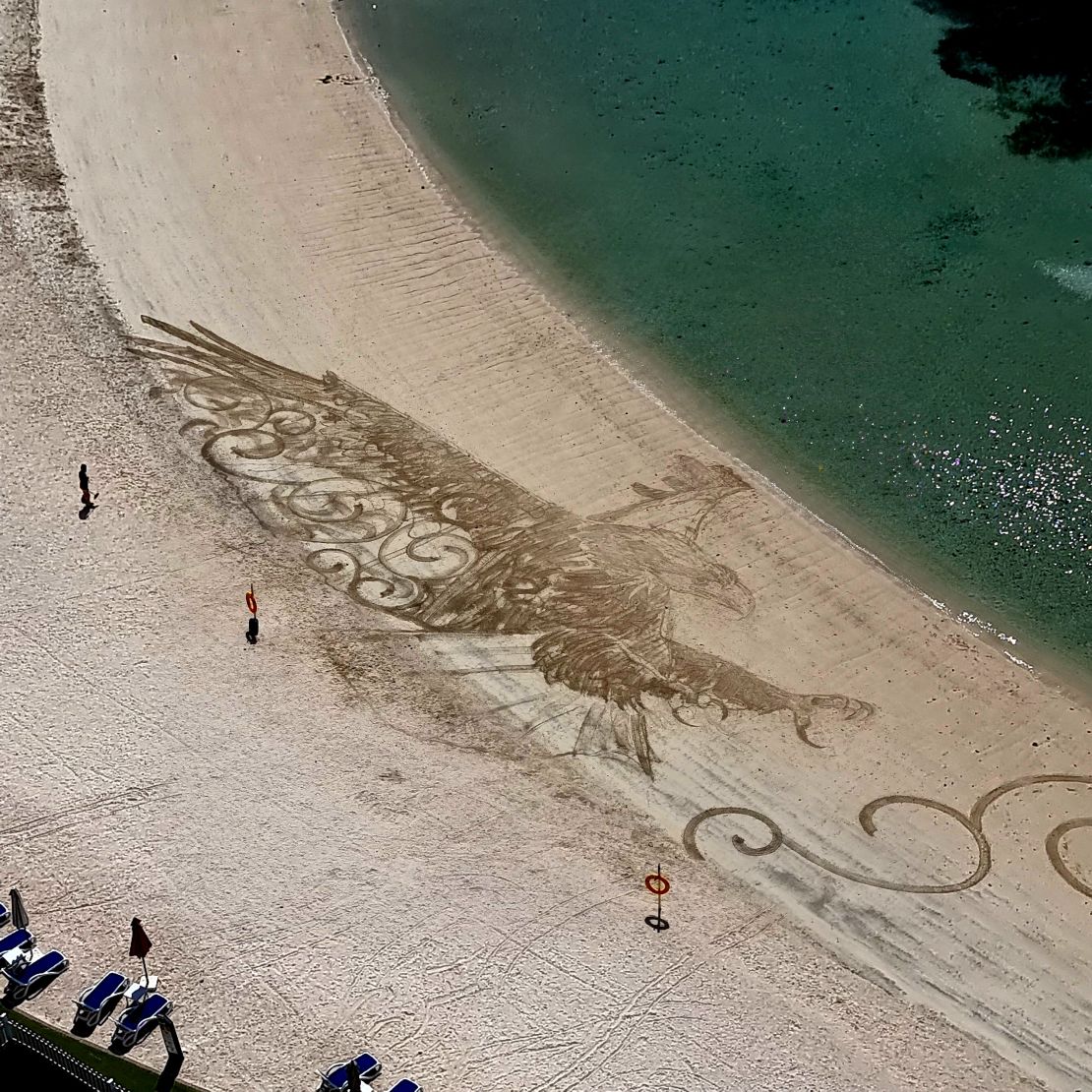 "When people see the sand art, they see both beauty and loss," said Alapide. "Beauty in the work and then loss when it's washed away."
"I think making sand art is a great way to connect with people," he added. "I like to watch how people interact with the work and I have found that the kids notice the drawings more than the adults. I think because they're more aware of their environment. For adults, we can be blinded by our own lives and our busy days."