The coronavirus pandemic has been the most financially disastrous force in the century-old history of commercial air travel.
With most of the world's planes grounded, the airline industry is looking at a potential $314 billion drop in revenue this year.
The crisis has also thrown up some unusual aviation landmarks, as airlines employ unprecedented measures for unprecedented times.
In March, a Qantas A380 made an historic direct flight between Australia and London, to circumnavigate a travel ban in Singapore.
And now, in the US, a requirement to keep essential air connections intact in order to qualify for government bailout money means that airlines are introducing temporary short-hop routes. So, for a short time only, North America's newest shortest domestic flight has entered service.
Want to fly across Colorado today on the 29-mile route between the mountain communities of Eagle-Vail and Aspen? A one-way trip will costs you $251 on American Airlines, but we'd hope you'd have a very good reason for booking.
Aviation blog A View from the Wing reports that airlines are introducing multi-hop "tag flights" to meet their service obligations as efficiently as possible at a time when demand for air travel has dropped by 96%.
American Airlines confirmed to CNN Travel that the Eagle County Airport (EGE) to Aspen-Pitkin County Airport (ASE) flight is scheduled through June 1, 2020 and is part of a wider Dallas/Fort Worth – Eagle – Aspen – Montrose – Dallas/Fort Worth round-trip. The Eagle-Vail to Aspen leg takes just 35 minutes.
To mark this, and to while away these weeks when most of us are firmly grounded in our own neighborhoods, here is a list of air routes that, prior to the Covid-19 crisis, stood out for being the shortest commercial flights on the planet. What's it like to fly when you are within sight of your final destination?
Shortest regular commercial flight in North America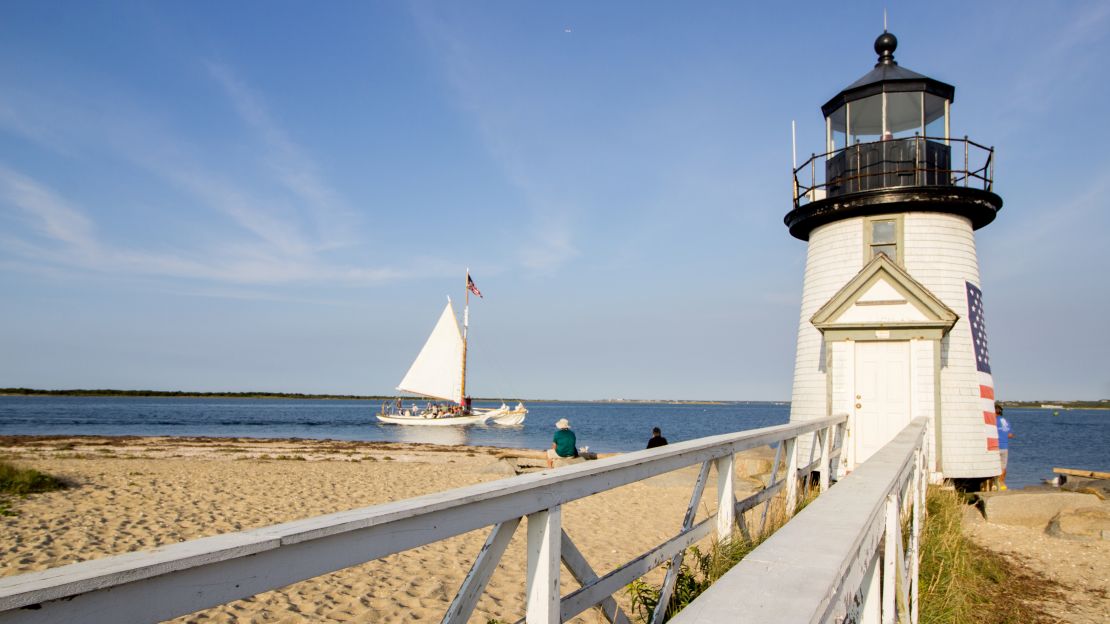 Barnstaple Municipal Airport to Nantucket Memorial Airport (Massachusetts)
Airline: Cape Air. (HYA-ACK). Distance: 30.49 miles (49.07 kilometers).
There are a few regular North American commercial flights hovering around the 30-mile mark – the 32.16-mile jaunt between Canada's Billy Bishop Toronto City Airport and Niagara District Airport, the 31.09-mile trip between Alaska's Petersburg Municipal Airport and Wrangell Airport – but the shortest of all can be found in Massachusetts.
It's just 30.49 miles between Barnstaple Municipal Airport on Cape Cod to Nantucket Memorial Airport, which itself likes just three miles outside of Nantucket town center.
The route is regularly serviced by Cape Air, which is based out of Barnstaple Airport.
Shortest international commercial flight
Sint Maarten (Dutch Caribbean) to Anguilla (British Overseas Territory)
Airline: Anguilla Air Services. (SXM-AXA). Distance: 11.87 miles (19.11 kilometers).
Not only is the airport approach to the Caribbean island of Sint Maarten regularly voted one of the world's most scenic, it's home to the world's shortest international commercial flight route: the 10-minute, 12-mile trip between Princess Juliana International Airport (SXM) and Anguilla's Clayton J. Lloyd International Airport (AXA).
Other super-short international routes from Sint Maarten include the 15-minute, 20-mile journey to the French Overseas Collectivity of St Barts.
Shortest regular commercial flight
Westray to Papa Westray (Scotland)
Airline: Loganair. (WRY-PPW). Distance: Two miles (three kilometers).
A narrow stretch of water separates the Orkney islands of Westray and Papa Westray, off the north coast of Scotland. Scottish airline Loganair has been running an air bridge between these two tiny Scottish islands for around 50 years, making it the shortest nonstop regular flight anywhere in the world.
The flight, operated by a Britten-Norman Islander eight-seater aircraft, takes just over a minute, but on occasions has been as short as 53 seconds, depending on tail wind.
"This route is used mainly by the people of the Orkney Islands going about their daily routines," says Andy Thornton, Loganair's director of flight operations. "It is used by teachers, the local police officer, the banker and children going to school. However it is also a keen route for tourists and aviation enthusiasts."
(Possibly) the shortest commercial flight
Kegata to Apowo (Papua, Indonesia)
Distance 1.3 miles (two kilometers)